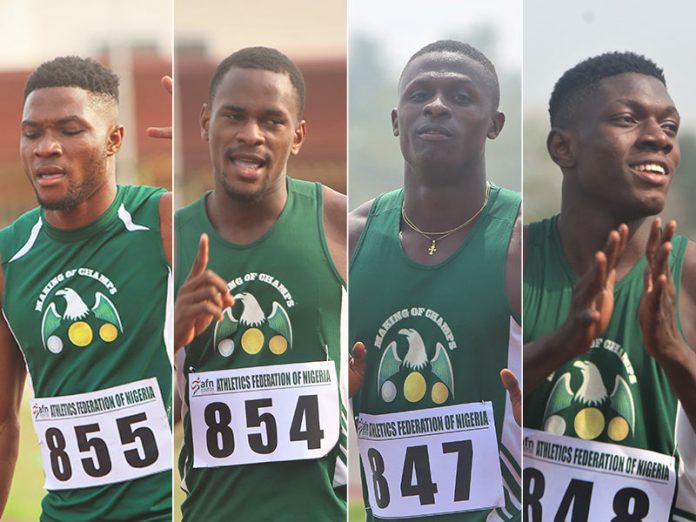 Federal University of Technology Akure (FUTA), is proving to be a good hunting ground for Making of Champions' (MoC) athlete, Emmanuel Ojeli who each time he competes there, leaves with a new Personal Best (PB).
Having travelled with a club record 22 athletes for the inaugural competition of the season, MoC Track Club had the largest contingent of clubs and states who were in Akure this Saturday for the Athletics Federation of Nigeria (AFN) All Comers meet.
While it could be particularly rewarding to Ojeli, FUTA has also been a favourable venue for some of his other club teammates who equally excel there and account for new PBs in their respective events as well.
Commencing his 2021 season with the shorter sprints and replicating his programme last season, Ojeli ran two new PBs competing in the men's 100m and 200m last Saturday.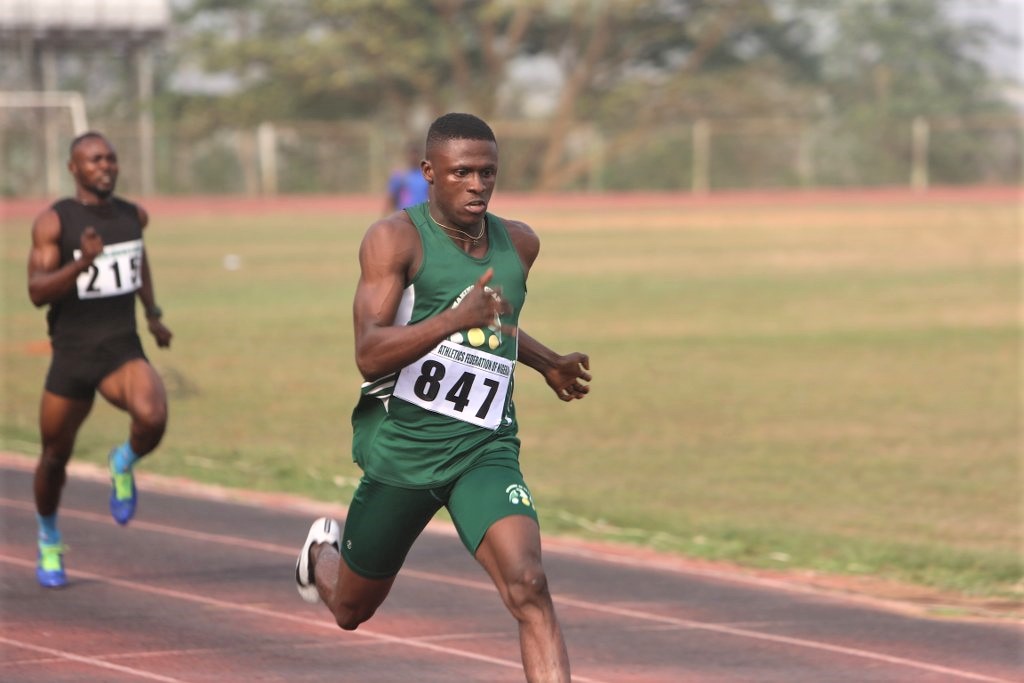 He had a good start, blazing through unchallenged in heat 3 of men's 100m, and when he had crossed the line to emerge a clear winner, 10.46s popped up! But that was not the official time. When the official time had been released, he realized he had posted a new PB of 10.40s (+1.2), shaving off one-hundredth from his previous PB of 10.41s which he ran two years ago in Potchefstroom.
Interestingly, Ojeli was oblivious of his new PB, not until few minutes to the final. He was chuffed with the unofficial time of 10.46s, which still made him the fastest qualifier from all 16 heats, but he had renewed vigour when he saw the official time, going into the final as an instant favourite.
Not having the start he would have wanted in the 100m final, and in a race the winner (Enoch Adegoke) emerged with a World Leading time of 10.16s, Ojeli tried his best to stay with them right to the end. Although he finished in 5th place, he had run a fast 10.42s, an impressive time for a quarter-miler.
Introspectively, Ojeli might have felt he could have run faster in the final, it was written on his face when he didn't win. However, he dissipated all that disappointment into the 200m, running to atone for his 100m placement and like one who had a point to prove. Not only did he run the fastest time of all 16 heats, Ojeli inspired an MoC 1-2-3 in the men's 200m.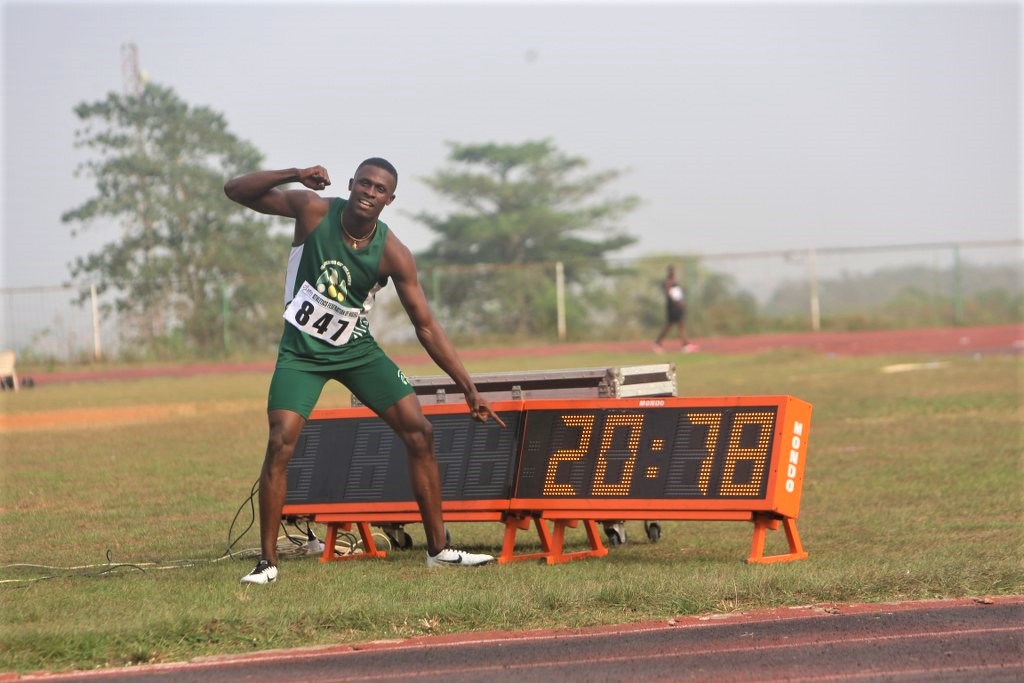 In 2020, Ojeli ran a then PB of 20.94s in Akure, and returned to run an even faster PB of 20.78s (+0.3) to emerge as the fastest overall this year, now topping as the fastest Nigerian over the 200m, and the 2nd second fastest in the world (outdoors).
Meanwhile, Jerry Jakpa who only ran one race on Saturday, took things easily while opening his account for the season, and he was only the second athlete to go under 21s in the 200m, winning heat 11 with an SB of 20.94s (+1.4). With that result he finished as the second-fastest overall in the 200m in Akure.
Jakpa finished last season as the second-fastest Nigerian in the world, running 20.71s in Nairobi. In 2019, he ran a PB of 20.59s, a time he matched while competing at home and abroad. When he gets going and into full rhythm this season, Jakpa would fancy his chances of qualifying for the Olympics later this year.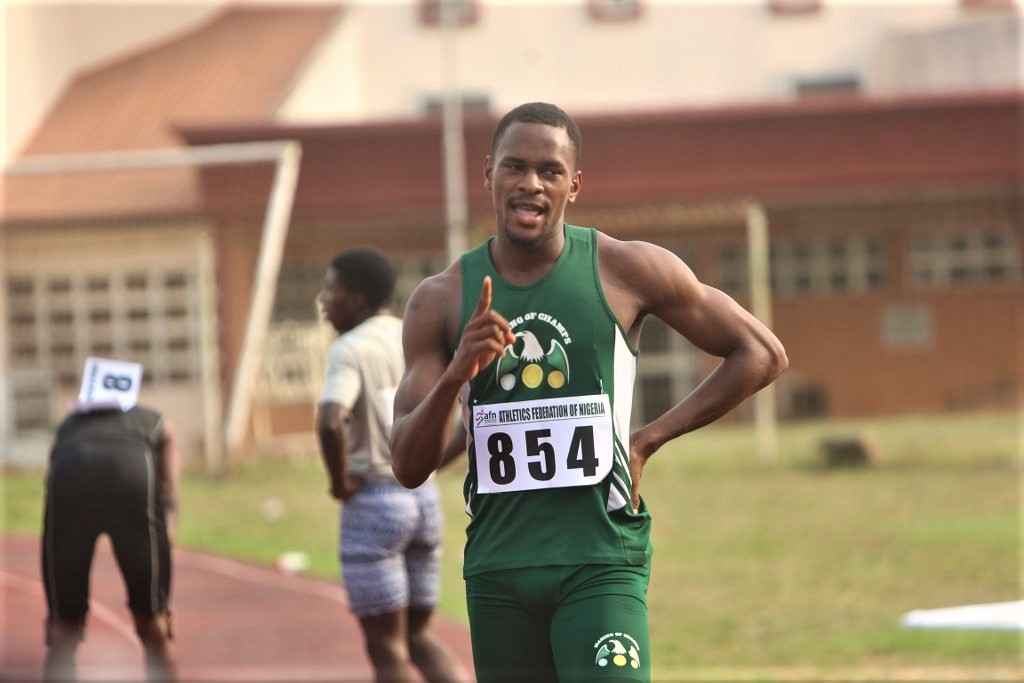 Another MoC athlete who completed the top 3 positions in the 200m, was John Clifford who when he came out from the bend, motored all the way to the finish line in a new PB of 21.17s, the fastest time he has ever run in his life.
Clifford massively improved from his previous PB of 21.67s which he ran two months ago in Asaba, cutting off 0.50s from that time. It's remarkable that he ran with blisters after injuring himself earlier in the 400m, an event he also ran a PB of 48.48s.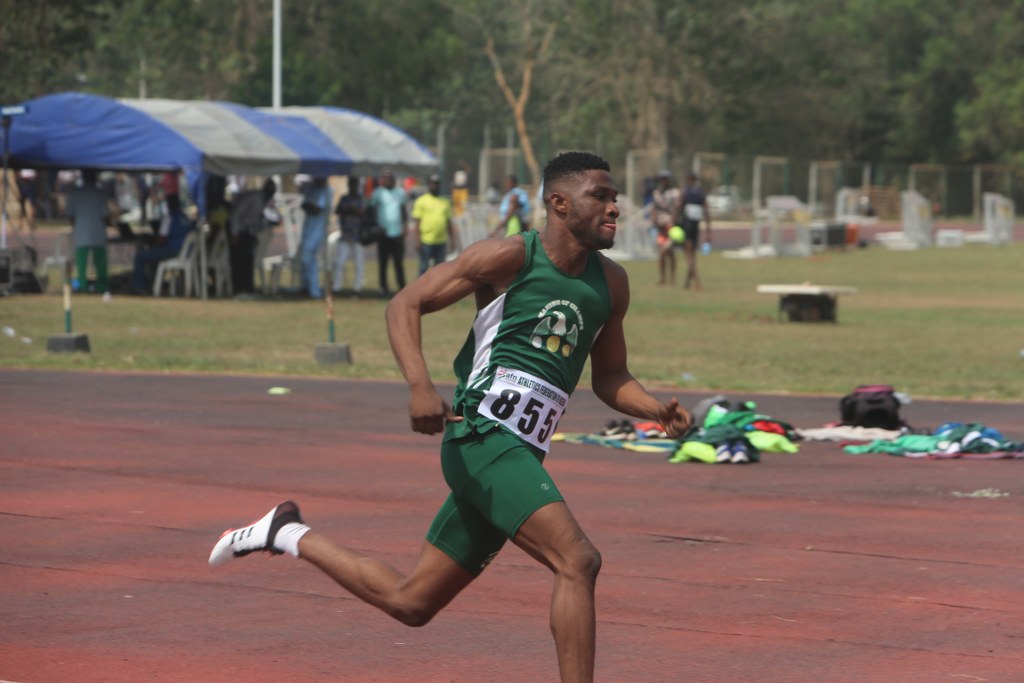 Ayo Adeola was another MoC athlete who got on the PB train, going under 48s for the first time in his career to win his 400m heat in a PB of 47.87s. It's the manner he won it that was impressive, converting a losing position into a win, moving up from 4th to 1st when he got into the home straight.
The flurry of good performances rubbed off on many MoC athletes, and with the good times came qualification for major international Championships, backing the club's policy of giving young athletes the needed platform to flourish.
Favour Ashe who was making a return from an injury layoff, secured qualification for the World Junior Championships in Kenya, blazing to a Season's Best of 10.50s (+0.0) to win the 100m Final B. The qualification mark for Kenya is 10.58s, and if Ashe could run that fast in only his second 100m this year, he is one huge prospect to keep an eye on.
Last year in Akure, he had posted a staggering 10.40s, a then U20 World Lead and was in a good shape before the Covid 19 pandemic disrupted the season and effectively saw the Junior Championship moved to this year. In a way, it favoured him as he got injured that period.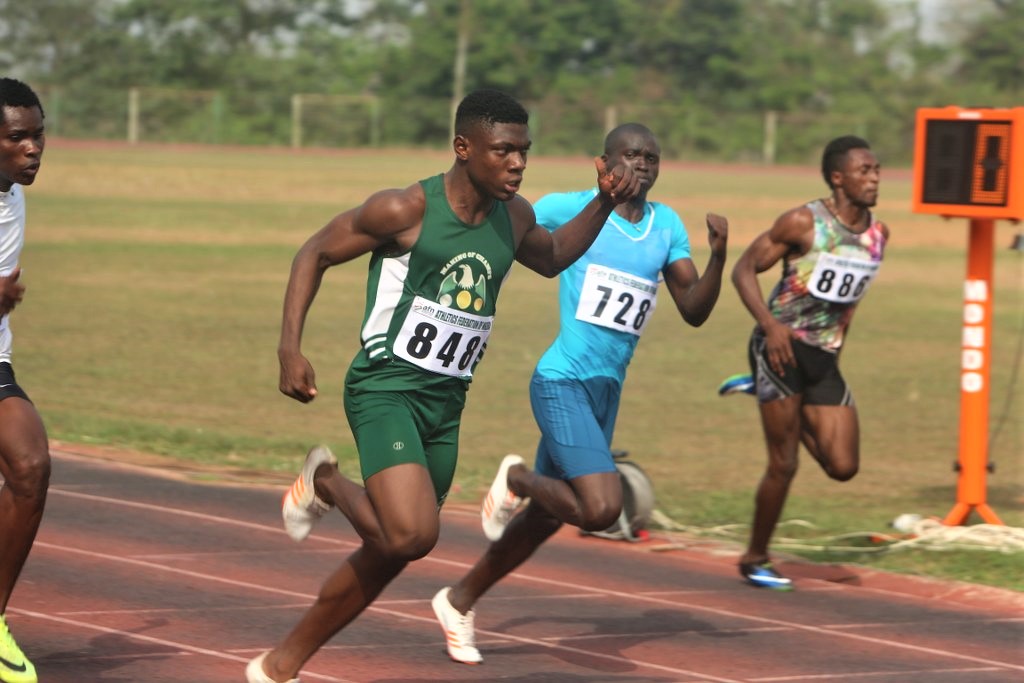 An in-form Ashe is always going to be menacing to watch, more so because he is a very good prospect on the right path to the Athletics summit. Ashe will only turn 19 in April, and if he continues improving as expected, he will one day become a dominant athlete for the country.
In the women's 100m, Joy Udo-Gabriel was the one to beat as she claimed two round victories and won the final with an SB of 11.72s (+1.5). Udo Gabriel pulled clear of Praise Idamadudu who came in 2nd in 11.81s, with Esther Okon 3rd in 11.87s. Although she struggles to run in the 200m, Udo-Gabriel is now trying to embrace it, finishing 3rd fastest overall with a time 24.39s to win heat 6.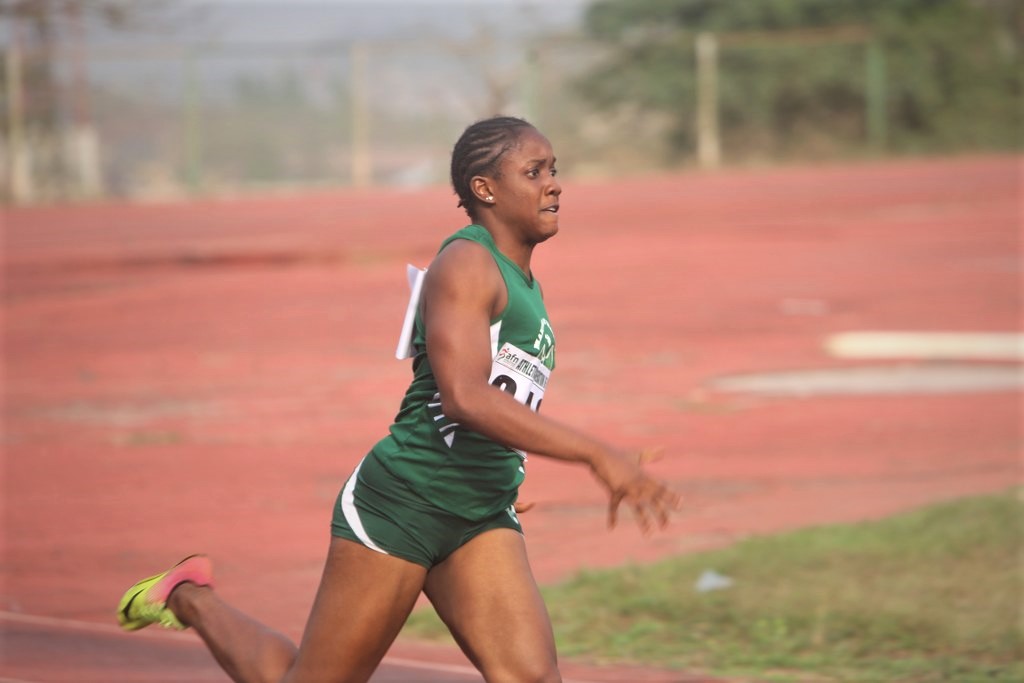 For Blessing Oladoye, she had to gain a lot of ground in heat 5 of women's 400m, doing quite well in the home straight while trying to close the gap on her other competitors, and finishing 3rd in that race and 3rd fastest overall in the five heats with an SB of 55.38s. Her teammate, Mercy Umoibang who was also in the same heat, ran very well to finish 5th and then 7th fastest overall in 56.38s.
Oladoye would come back to finish 3rd in heat 3 of women's 200m in a time of 25.33s, but for Umoibang, she went under 25s for the first time in her career, finishing 2nd in heat 1 with a PB of 24.83s.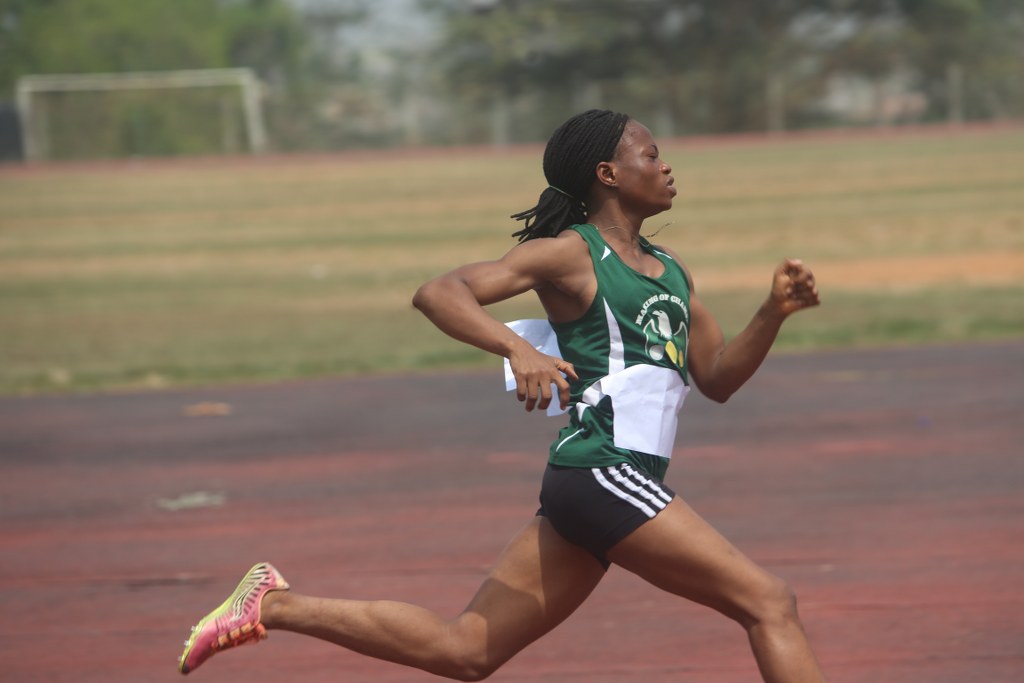 Miracle Thompson continued her journey of switching to the Hurdles, just a year after she started competing in it, finishing 4th in women's 100m Hurdles with an SB of 14.61s.
Ifeanyi Christain is the only Para-athlete in the MoC Track club, and he is repaying the faith the club has shown in him with good performances, finishing 3rd in heat 1 of men's 400m with a time of 50.20s. With a dearth of Para-Athletics competitions in Nigeria, Christian has to make-do with competing against non-disabled athletes in order to be in the best shape.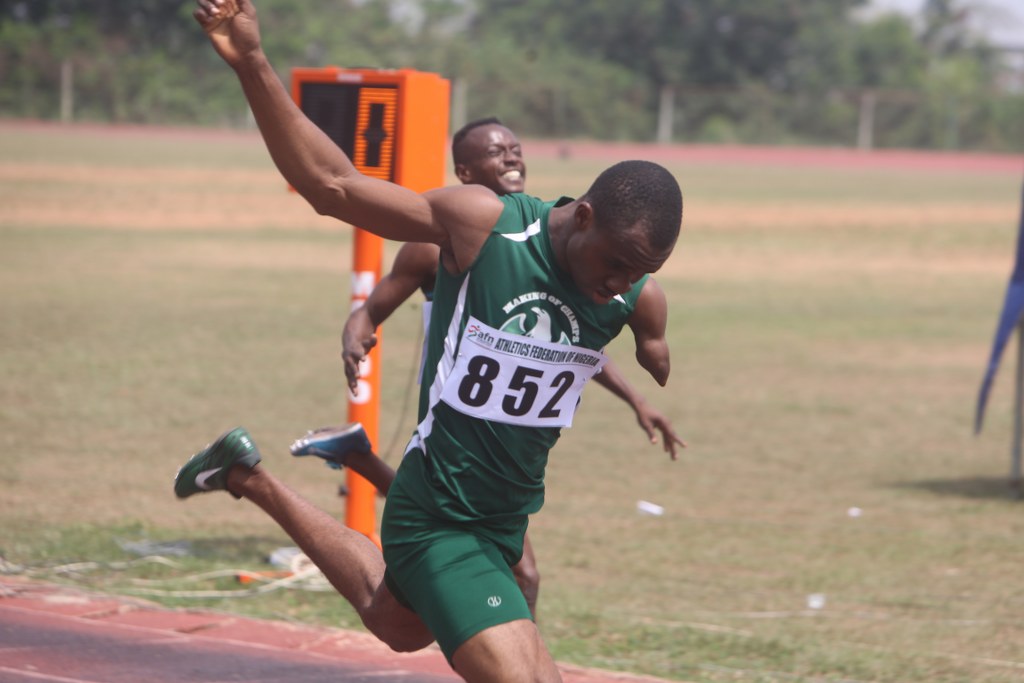 He is the best Nigerian T46 (single arm amputee) athlete in the 100m, 200m and 400m. With many more competitions and exposure, Christian will be a potential medal challenger at the Tokyo Paralympics.
It's still very early in the season, but going by the performances witnessed in just the first competition, it offers a reassurance of the big things MoC athletes could achieve this season.