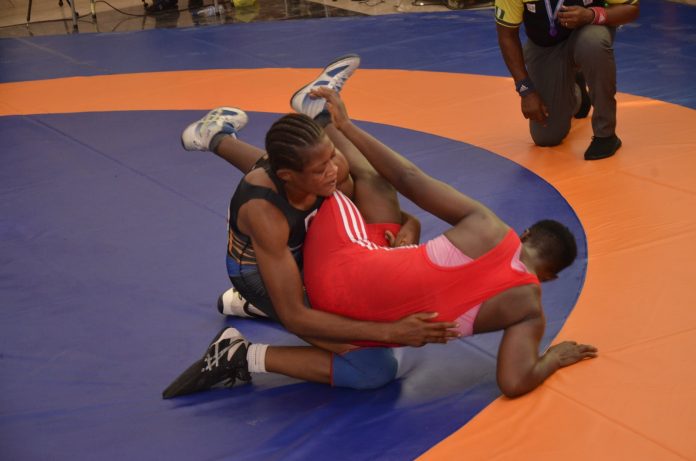 Reigning Commonwealth Games Champion and World No.2 Odunayo Adekuoroye returned to the mat in 2021 in winning fashion, claiming GOLD at the Baraza Champion of Champions National Invitational Wrestling Tournament held in Yenagoa, Bayelsa State from January 16 to 18.
After almost a year of competitive inactivity, Adekuoroye dominated the 57kg class by easily discarding Patience Kakaga and Esther Kolawole by same result, 10-0 via Technical Superiority. Adekuoroye went on to defeat Aboje Isioma of Delta State 2-0 via pinfall to claim the GOLD medal.
"Kudos to our President for organizing this competition, because if you are just training, training and acquiring knowledge without being to competition, I think it is meaningless. The competition here has really added value to our wrestling and preparation for the African Championships and Olympic qualifiers as well", Adekuroye stated.
Similarly, Commonwealth Games Gold medallist Blessing Oborududu struck GOLD in the women's 68kg class. The 10-time African Champion  showed her superiority by ruthlessly defeating 2-time African champion Hannah Reuben 11-0, Biogos Ebi 10-0, while it took only two minutes to dispatch Eke Rachel in her final bout.
"I want to really appreciate God for giving me the strength to wrestle today," an excited Oborududu said after her impressive win. "And for the fact that we have not been active for almost a year, you know, there is that joy and anxiety in you that makes you want to wrestle. My opponents said I was taking it too hard on them. That is how I feel, I just want to wrestle all out. I feel so great; I can't wait to go to the Olympics", concluded Oborududu.
There was also a surprise win for youngster Kadijat Idris, who caused an upset on her way to victory in the 50kg class.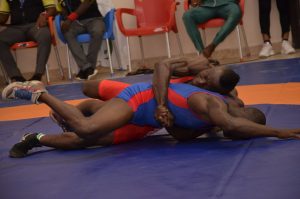 African Champion Ekerekeme Agiomor grabbed GOLD in the 86kg category while Soso Tamarau also did same in the men's 97kg class to wrap up action on Sunday.
The Baraza Champion of Champions tournament will come to an end on Monday with stiff competition expected in the 53kg and 76kg Women Wrestling, as well as 65kg Freestyle.
Full list of winners on Day 2 of competition:
62kg WW
Gold – Aminat Adeniyi (Ondo State)
Silver – Bisola Makanjuola (Ondo State)
Bronze – Esther Ayodele (NPF)
68kg WW
Gold – Blessing Oborududu (Bayelsa State)
Silver – Hannah Reuben (N/Army)
Bronze – Biogos Ebi (Bayelsa State)
86kg FS
Gold – Ekerekeme Agiomor (Delta State)
Silver – Oluwafemi Jackson (Ondo State)
Bronze – Yahuza Yahaya (FCT)