They have longed for it and now respite is in sight for Nigerian athletes who have eagerly anticipated competition after the 2020 season was halted, following the outbreak of the Coronavirus pandemic across the globe.
This Friday, an invited cast of athletes comprising former and current National Champions will grace the Stephen Keshi stadium in Asaba to compete in what has been dubbed the 'Okowa COVID-19 Athletics Resumption Meet'.
With the approval from government authorities for sports to return in Nigeria, this is the first Athletics meet that will be staged since February when the last one took place in Ado-Ekiti. Coincidentally, it's the first major Athletics competition in Asaba since the city hosted the African Senior Championships in 2018.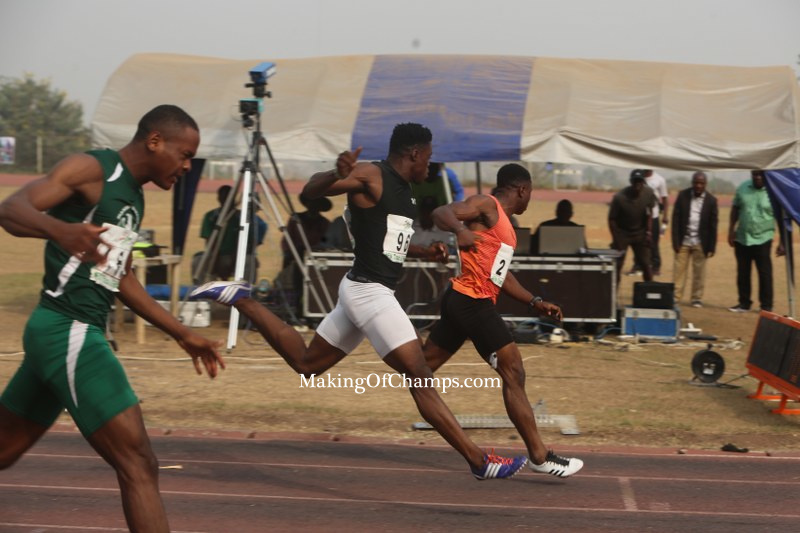 Inspite of their delight at having a competition at hand, athletes may not be at their best for obvious reasons. With over seven months of inaction, this should be the perfect tune-up needed for a possible season-finale in December, should the National Sports Festival (NSF) go ahead in Benin after it was postponed in March.
Ogho-Oghene Egwero, Enoch Adegoke, Emmanuel Arowolo, Jerry Jakpa all make up a stellar Men's 100m startlist. If you are solely judging by the Delta State Trials in March, then no one will touch Idjesa Uruemu who posted a brilliant Personal Best (PB) of 10.23s to beat Egwero. However, in the rematch in Benin, Egwero came clutch and matched Uruemu's PB, racing to a Season's Best (SB) of 10.23s, with the latter settling for 2nd place in 10.32s.
Almost the same lineup will be replicated in the men's 200m, but new candidates would emerge as favourites. One month after returning from the World Athletics Continental Tour in Nairobi, MoC's Jakpa is undoubtely the favourite to glitz through with a win, being the fastest of the field this year, and the second-fastest Nigerian athlete in the 200m this year with an SB of 20.71s.
Yet again, we will be treated to another 200m rivalry between Arowolo and Jakpa, a rivalry that was birthed in 2017, when the former dipped in to claim the 200m National title. Just like Jakpa, Arowolo travelled out of the country last month to get some action, winning the 200m in Cameroon in with an SB of 21.39s to retain the title he won there last year.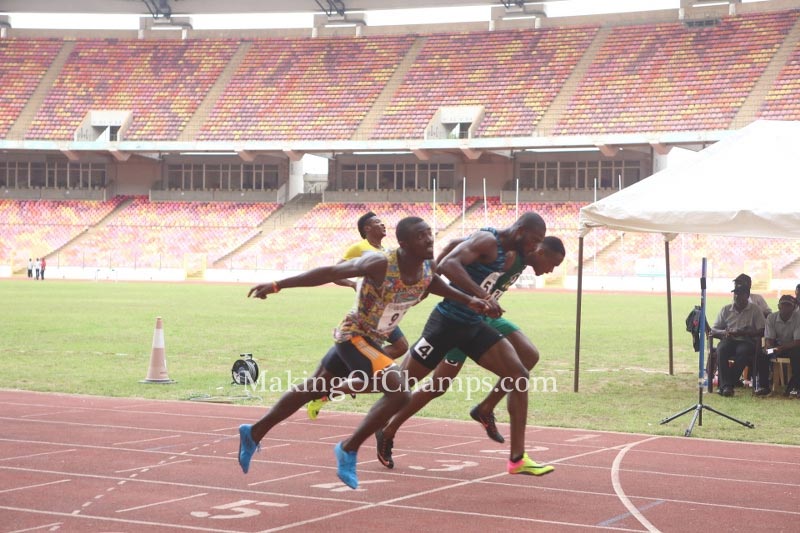 If there is an early award for the breakout athlete of the season, even though the season has barely been scratched, it has to be Grace Nwokocha. Such has been her improvement that she was tipped to secure Olympics qualification in the women's 100m just before the Games got postponed. Nwokocha was in the form of her life, and it is left to be seen how much, if at all, the mandatory break has taken a toll on her rhythm. Her progression is impressive and has not gone unnoticed.
Starting the year with a 100m PB of 11.67s, Nwokocha in her first race in 2020 ran a then PB of 11.52s in Akure. She then massively improved on that two weeks later, racing to a Lifetime's Best of 11.38s. She is the installed favourite on Friday, but she will still be wary of a familiar opposition – MoC's Joy-Udo-Gabriel who had beaten her last year to land the National crown.
In the 200m, it should be a straight contest between Nwokocha and the prodigy, Favour Ofili, who is still trying to figure out which event she is more adept at between the 200m and 400m. Ofili is on the cusp of a sub 23s in the 200m, clocking an impressive PB of 23.07s earlier in Akure.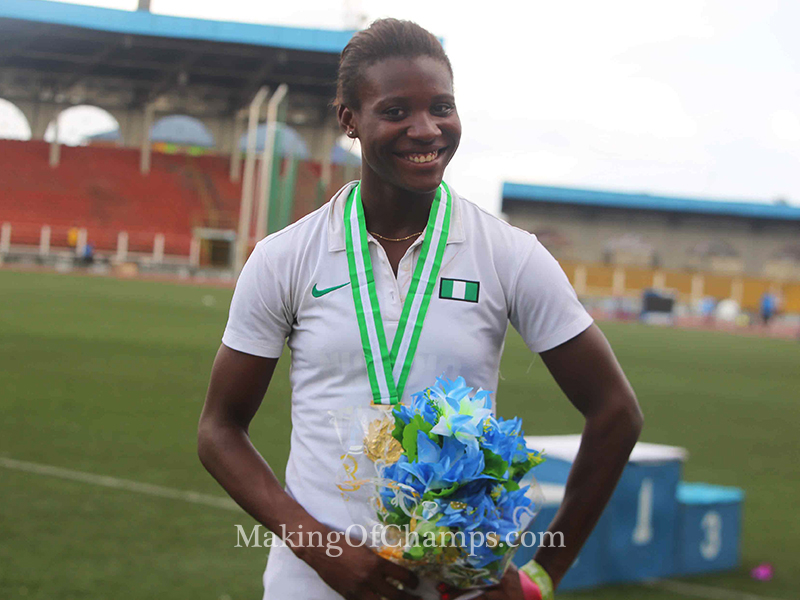 Meanwhile, Praise Idamadudu, a 2015 National 200m champion, wouldn't just be a spectator when she goes up against Ofili and Nwokocha. She will definitely be with the top challengers all the way to the finish line.
While many may be salivating at the prospect of a match-up between Ofili and Imaobong Nse Uko in the 400m, that may have to wait as the former has been listed for just the 200m. Meanwhile for Uko, it will be a long-awaited return to the track after more than a year out with an injury.
Blessing Ovwighodjabre and Blessing Oladoye are the two young 'Blessings' who would be challenging for a Top 3 spot, but Glory Patrick (53.90s) is a fierce competitor who is also in the mix. All three athletes have dipped under 55s this season.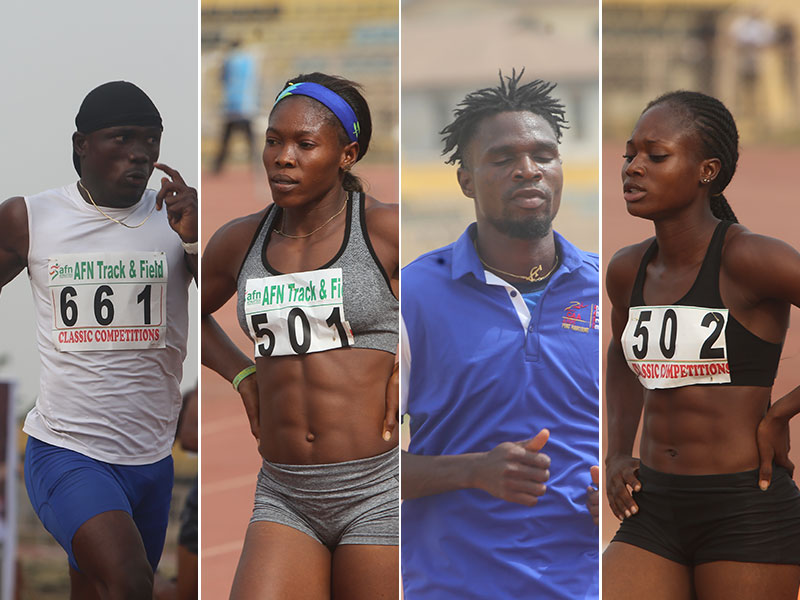 Ranked Nigeria's 1 & 2 respectively, Orukpe Eraiyokan and Emmanuel Ojeli will possibly face each other for the first time in the 400m since the National Championships in Kaduna last year. Both athletes have each had one competitive 400m race in 2020 and are the two fastest athletes in the entry list, although they are yet to hit second gear to attain their best form. Orukpe has an SB of 46.42s, slightly ahead of Ojeli (46.49s), and this is shaping up nicely for a good race in prospect.
Abejoye Oyeniyi, Samuel Osadolor, Timothy Emoghene, Henry Okorie are some of the best male hurdlers already confirmed for both the 110m and the 400m Hurdles, while in the women's 100m Hurdles, young Hurdler Miracle Thompson will look to continue her fairytale in this event, having gone under 15s three times this season. Thompson just started hurdling this season, and already has a PB of 14.41s in less than six competitive 100m Hurdles races.
With Athletics now back in Nigeria and the Olympics qualification window opening in a few weeks, this meet is coming in handy with impeccable timing, serving as the perfect tune-up for athletes to get back into shape just before bigger meets start trickling in.