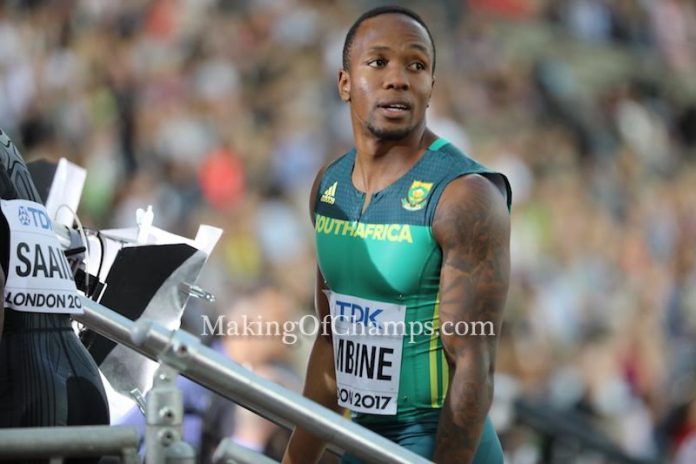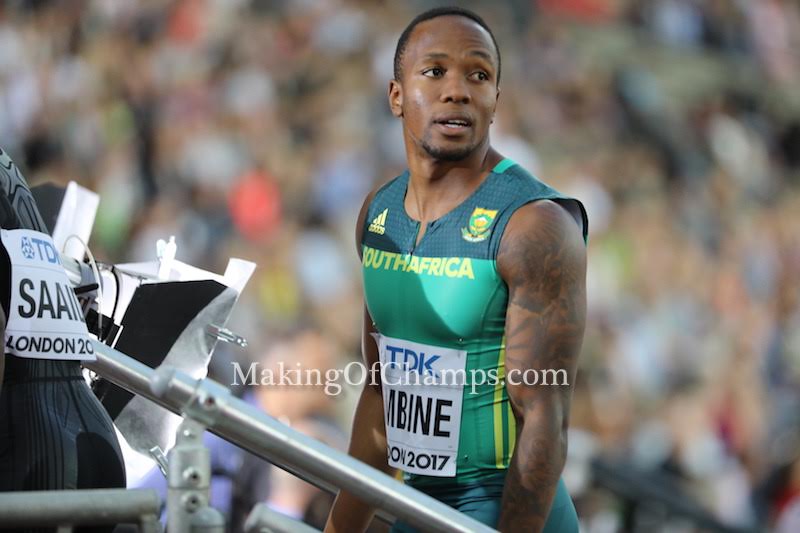 Reigning Commonwealth Games Champion Akani Simbine powered to the win in the men's 100m at the Meeting d'Athlétisme Marseille in France where he clocked 10.19s (+0.3m/s), just holding off Ivorian Arthur Gue Cisse who ran 10.21s (opener) as Mike Rodgers placed 3rd in 10.27s, a hundredth off his Season's Best (SB).
Marie Josee Ta Lou topped the women's equivalent in 11.40s (-1.1) ahead of Frenchwoman Carolle Zahi who clocked 11.52s.
Meanwhile steeplechaser Soufiane El Bakkali was in brilliant form in the men's 1500m where he stormed to a huge Personal Best (PB) of 3:34.51 for a thorough win over Azzedine Habz who also came through in a PB of 3:35.87.
El Bakkali thus becomes only the 3rd athlete to have ever dipped under 8 minutes in the steeplechase event and also 3:35 in the 1500m, taking well over 10 seconds off his previous PB in the latter. Kevin Lopez finished 3rd in 3:35.98 (SB), while Jimmy Gressier ran 3:36.22 for 4th.
Already the World Leader in the women's 800m, Jemma Reekie extended her brilliance over to the 1500m where she ran an SB of 4:02.20, a tenth of a second off her outdoor PB to win the event ahead of Belgium's Claudia Bobocea who ran 4:02.67 (SB). Marusa Mismas followed through in an impressive PB of 4:03.05, while Eilish McColgan placed 4th in 4:05.59.
Having secured his first win of the season a little over a week ago in Chorzow, World Bronze medallist Ferguson Rotich rounded nicely into form in the men's 800m where he raced to an SB of 1:44.34 to win the event.
While his time moves him up to 4th on 2020 Global Toplist, he finished ahead of Great Britain's Elliot Giles who ran a big PB of 1:44.68 in 2nd, breaking his previous best from 2017. He was followed by his compatriot Guy Learmonth in 1:46.57.
In the women's race, Laura Muir ran a very much controlled 2:00.16 for the win, well clear of Swiss Lore Hoffmann who broke ground to a big PB of 2:01.48. Cinthia Anais finished 3rd in an SB of 2:01.77, followed closely by Adelle Tracey in 2:01.86.
Orlando Ortega was again slick in the men's 110m Hurdles where he ran a very fast 13.15s (-0.3) for a clear win over Wilhem Belocian who also posted a quick 13.27s. Pascal Martinot-Lagarde finished 3rd in 13.63s, while Antonio Alkana was 4th in 13.81s.
Sasha Zhoya, the World U-18 Record holder in the men's 110m Hurdles, ran a big PB over the U-20 barriers (0.99cm) as he posted 13.28s (-1.3), beating Kenny Fletcher who ran 13.65s (SB). Paul Chabauty finished 3rd in 13.69s.
Meanwhile, Natassia Mironchyk-Ivanova won the women's Long Jump with a mark of 6.66m (NWI). She finished ahead of Taliyah Brooks who leapt 6.57m, just holding off Caterine Ibarguen who pulled a late effort of 6.56m. Yanis David got 4th place with a best of 6.48m.