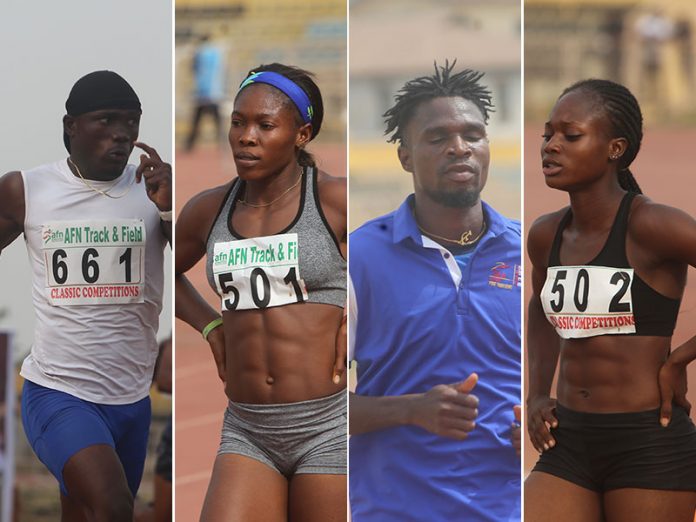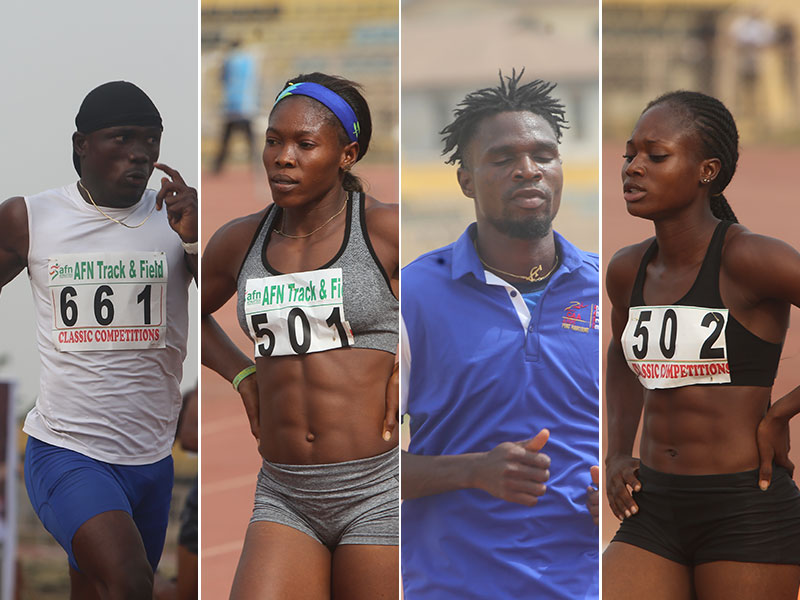 Two weeks ago, she raced to a Personal Best (PB) of 11.52s while competing in the 100m heats at the Akure All-Comers and this time around at the Athletics Federation of Nigeria (AFN) Classics in Ekiti, Grace Nwokocha sped to another PB of 11.37s (0.0) to extend her winning streak on the domestic scene as Praise Idamadudu followed in 2nd (11.59s, PB), while Praise Ofoku was 3rd in 11.80s.
Following her impressive performance, Nwokocha was named the Most Outstanding Performer of the meet. She also got a cash reward of N50,000 for her efforts, courtesy of former sprinter and Beijing 2008 4x100m Silver Medallist – Damola Osayomi who hails from Ekiti State.
In the men's 100m final, Enoch Adegoke secured victory ahead of Ogho-Oghene Egwero, winning in 10.50s. Egwero finished 2nd in 10.55s with Idjesa Uruemu coming in 3rd with a time of 10.62s.
Meanwhile Emmanuel Ojeli inspired an MoC 1-2 in the men's 200m final, easily winning the race with a time of 21.06s. John Clifford ran a PB of 21.55s to finish 2nd, while Ayomide Oyetunji finished 3rd in 21.62s.
In the women's race, a visibly tired Favour Ofili still came back to win the 200m final in a time of 23.44s, 20 minutes after being chased down by Idamadudu in the 400m. She inspired Anita Taviore to a new PB of 23.56s to finish 2nd as Esther Okon settled for 3rd in 24.13s.
The women's 400m was a battle of superiority between Ofili and Idamadudu but it was the former who narrowly edged out the latter by a margin of 0.01s, nicking the win in an SB of 52.54s. Blessing Ovwighoadjebre finished 3rd in 54.40s.
Daniel Atinaya set the pace for the rest in the men's 400m, running very well from Lane 8, but Sikiru Adeyemi Sikiru covered enough ground to edge him out, winning in 47.02s. Atinaya settled for 2nd place in 47.18s, with Atanda Akindele placing 3rd in 47.55s.
Timothy Emoghene was the man to beat in the 400m Hurdles where he raced to an SB of 50.51s, just 0.05s off his PB to win the race ahead of David Olowookeere who ran an SB of 51.69s to finish 2nd while Henry Okorie was 3rd, also with an SB of 51.75s.
Coming towards the last barrier, Daisy Akpofa was narrowly ahead of Sarah Kadiri but Akpofa found the drive to steer clear of her counterpart and win the women's 400m Hurdles final in a time of 58.47s, with Sarah Ochigbo following in 59.42s as Kadiri finished 3rd in 59.76s.
Oluwakemi Francis clocked an SB of 14.12s to win the women's 100m Hurdles, beating MoC's Miracle Thompson who ran a new PB of 14.41s to finish 2nd. Hope Idhe was 3rd in the race with a time of 14.60s.
In the men's 110m Hurdles, Oyeniyi Abejoye was pushed all the way to the finish to a Season's Best (SB) OF 13.96s for the win ahead of Samuel Osadolor who placed 2nd.
Joseph Edafiadhe jumped the farthest distance he's ever jumped in his career, winning the men's Long Jump with a new Personal Best of 7.80m. He was also named the second best performer at the Ekiti Classics.
In the men's Triple Jump, Zola Nzube leapt to victory with an SB of 15.57m, as Destiny Udumebraye finished 2nd with a mark of 15.19m and Blessing Oluwayemi 3rd, jumping a distance of 15.16m. Ibrahim Baba landed a mark of 49.30m to claim victory in the men's Hammer throw, consistently throwing marks that were over 45m.