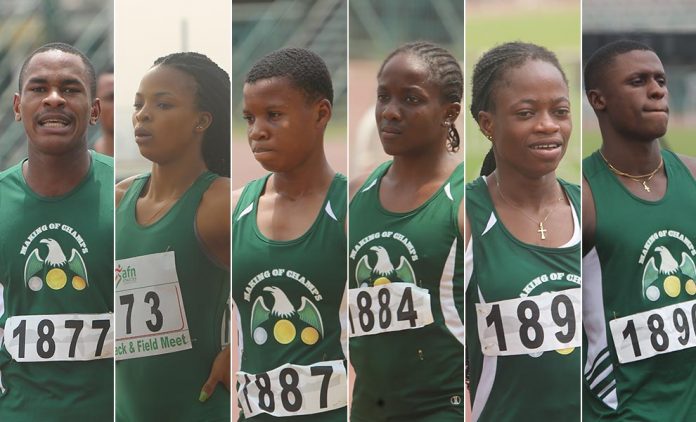 Athletes from Making of Champions (MoC) Track Club put up a dominant display at the Lagos State Athletics Trials for the forthcoming National Sports Festival (NSF), which took place on Friday, February 21, at the Teslim Balogun Stadium, snatching victories in most of the sprint events including the men and women's 100m, men's 200m, men and women's 400m and women's 100m Hurdles!
Topping the list of outstanding athletes is Jerry Jakpa who was unstoppable in the men's 100m and 200m! Having dominated the men's 100m Heat 2 with a time of 10.50s (the overall fastest time across all 10 heats), Jakpa cemented his status as the man to beat by winning the A Final with a time of 10.51s, inspiring a 1-2-3 for MoC as youngster Favour Ashe followed in 10.76s, while Gafar Audu placed 3rd in 10.79s. Kingsley Bassey was 4th in 10.82s.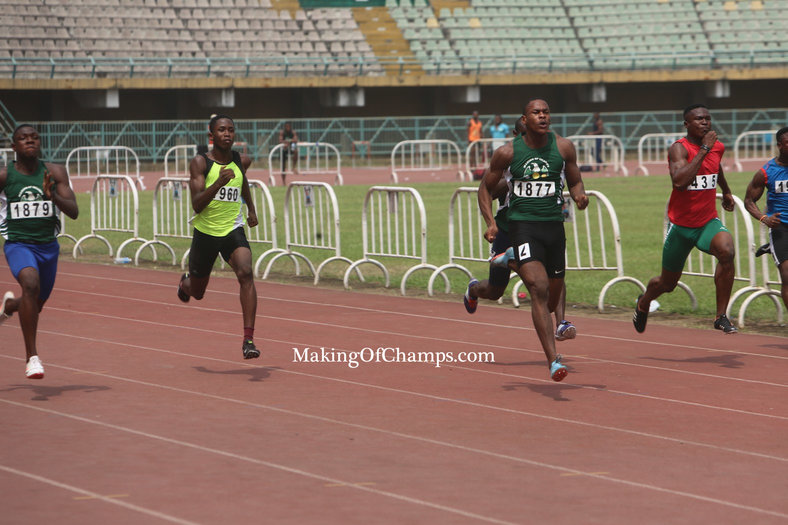 The men's 100m B Final was taken by Hammed Yusuf in 10.94s as MoC's Bowofoluwa Egbeyemi followed in 11.06s while Emmanuel Ajibodu settled for 3rd in 11.08s.
Having conquered the 100m, Jakpa extended the dominance to his favourite event, the 200m where he clocked the overall fastest time across all six heats, once again setting up a 1-2-3 for MoC as he won Heat 4 in 21.34s as Gafar Audu and Favour Ashe clocked 21.60s and 21.61s.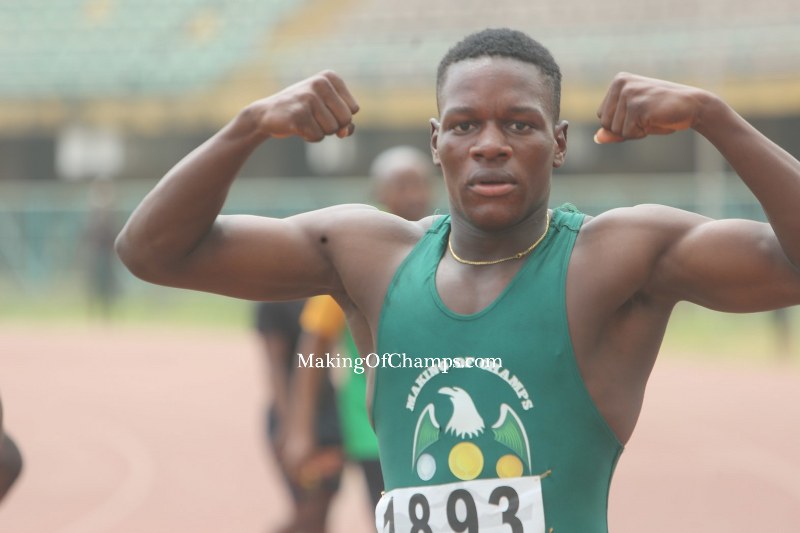 The second fastest heat in the 200m was Heat 5 where Gracious Ushie, another MoC athlete, clocked a Personal Best (PB) of 21.65s as Olaolu Olatunde followed in 21.99s, breaking 22s for the first time. Olatunde had earlier set a PB of 10.64s to win Heat 3 of the men's 100m ahead of Hanson Dianabasi (10.85s).
African Championships double medallist Joy Udo-Gabriel was the woman to beat in the 100m where she stormed to victory in the A Final in 11.79s to finish ahead of Anita Taviore (11.89s) and Balikis Yakubu (12.19s). Teammate Maria Umoibang won the B Final with a time of in 12.48s as Goodness Afam and Victoria Adunbi followed in 2nd and 3rd respectively.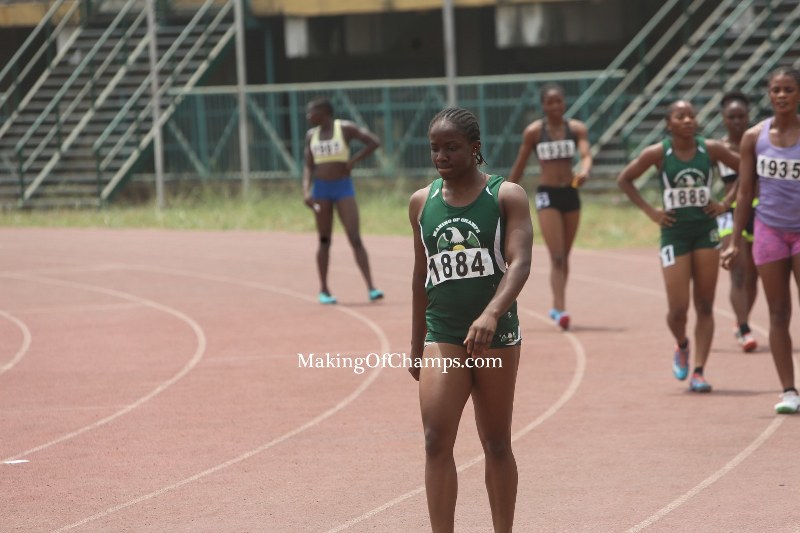 Taviore exerted her revenge in the women's 200m, claiming the win in Heat 1 (the overall fastest heat) with a time of 23.72s as Udo-Gabriel followed in 24.60s, and Balikis Yakubu 3rd in 24.63s. Heat 2 was won by Stella Ayanleke as Maria Umoibang followed in 2nd place.
Emmanuel Ojeli continued his impressive run into the season as he competed in his first 400m race in 2020. Running in Heat 2, the Rabat 2019 Bronze Medallist was the overall fastest in the event as he returned a time of 46.26s as Sewekan Segun (47.71s), Adedoyin Fatola (48.08s), and Jare Folarin (48.15s) followed.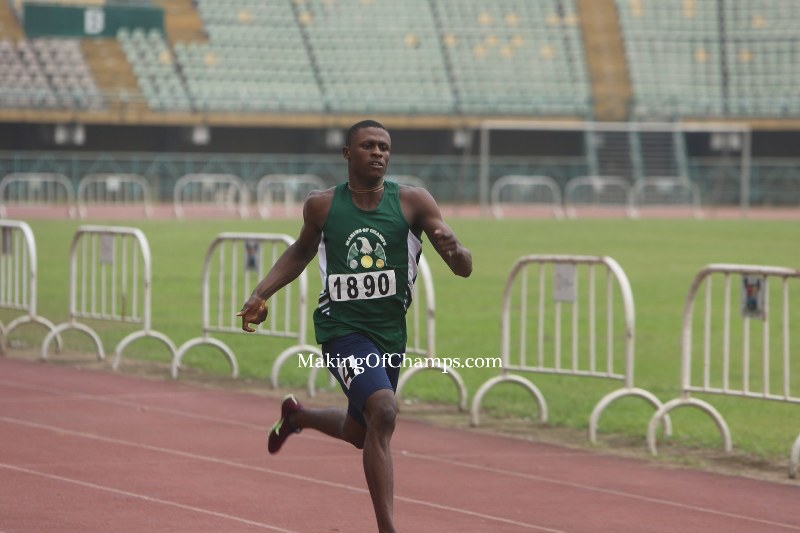 Rabat 2019 GOLD Medallist Blessing Oladoye topped the standings in the women's 400m, clocking the overall fastest time of 55.13s to spur teammate Mercy Umoibang to a Personal Best (PB) of 55.61s, while Bright Ada and Blessing Onome of Arena posted 55.74s and 55.95s respectively.
In Heat 2 of the women's 400m, Charity Adegoke beat Feyisara Edun to the win, taking the race in a time of 59.09s as the latter followed in 59.28s.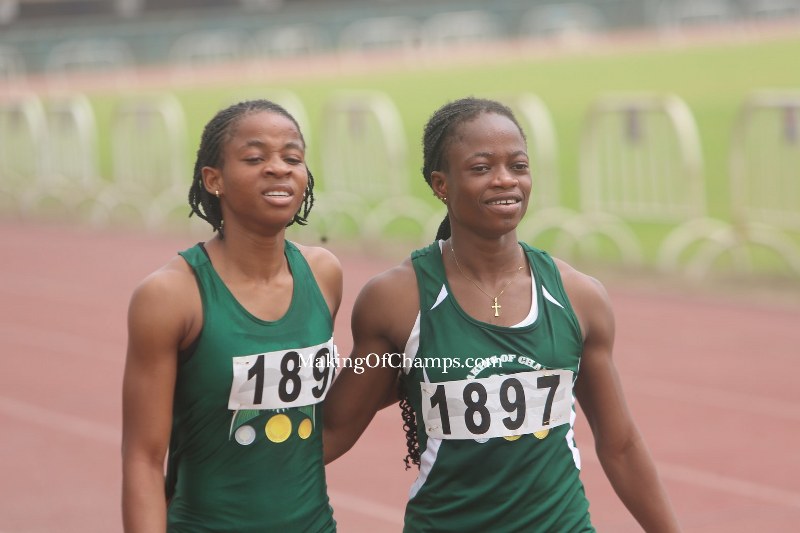 Miracle Thompson raced to a PB of 14.54s to win the women's 100m Hurdles ahead of Victoria Adunbi who settled for 2nd in 14.58s, while Fidelia Ucheobi also clocked a PB of 15.95s in 3rd. Abejoye Oyeniyi was unruffled as he won the men's 110m Hurdles with a time of 14.06s.
The 2020 NSF is billed to take place in Edo State from March 20 to April 1.