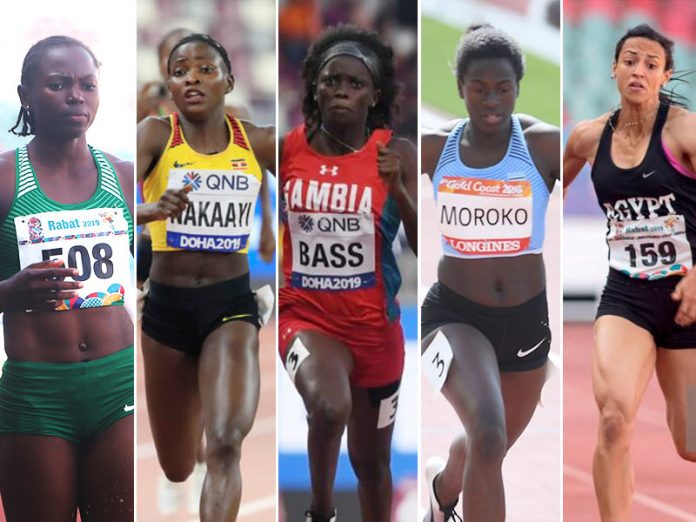 African female athletes have always held their own in the world of Track and Field, and this year wasn't any different as we witnessed several women rise to the occasion to make history for their respective countries at the African Games in Rabat and World Championships in Doha amongst other competitions.
In Part 1 of this series, we feature Nos. 10 to 6 of our Top 10 African Female athletes in 2019! Here we go:
BASSANT HEMIDA (EGY)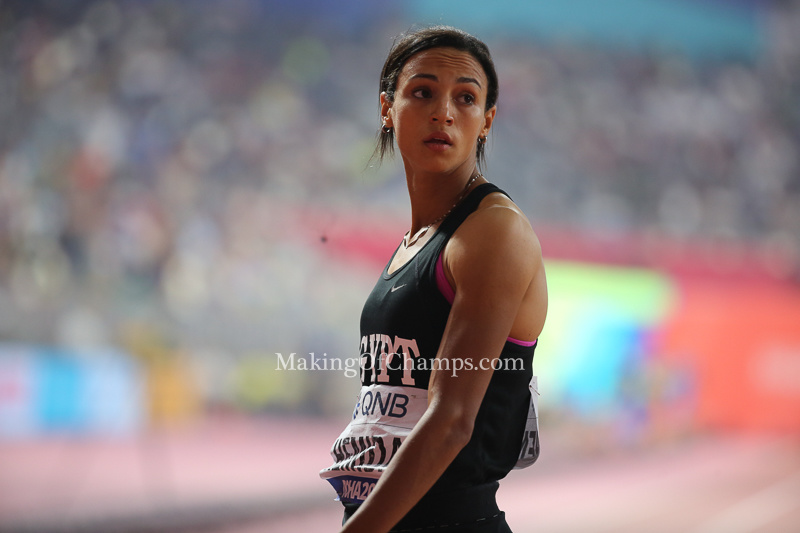 Over the years, West Africa has been regarded as the sprint power house on the continent, but this year, Egypt's Bassant Hemida made history for her country by becoming the first female sprinter to make the finals of the sprint double at the African Games and to clinch medals in both events.
It's been an incredible year for the 23-year old who studies at the Arab Academy for Science and Technology and Maritime Transport, and represented the institution at the World University Games in Napoli, Italy, placing 7th in the final of the 100m where she clocked a time of 11.53s.
She was impressive at the African Games in Rabat where she won her heat in a time of 11.86s. Hemida raced to a new Personal Best (PB) of 11.41s, finishing 2nd to Gina Bass of Gambia in the semis, which put her on the right footing ahead of the final. The Egyptian sped into the history books of her country by storming to a National Record (NR) of 11.31s to win the Bronze medal behind Marie Josee Ta Lou and Bass.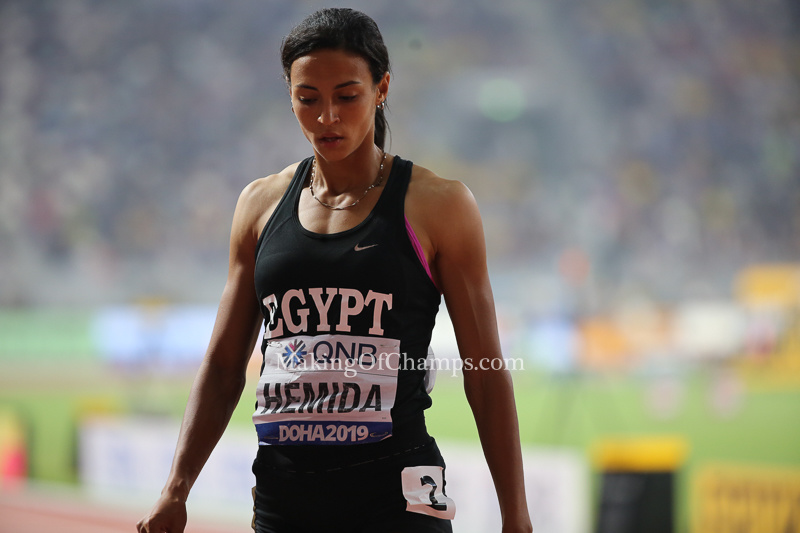 Running against the much-improved Bass proved helpful to Hemida as she also bettered her times in the 200m, opening her campaign with a time of 23.22s to place 2nd in her heat behind the former. In the semis, she raced to another NR of 22.83s to finish 2nd behind the Gambian and even retained the same position in the final, winning Silver in 22.89s ahead of favourite Ta Lou.
This is a massive feat for Hemida who was unable to make the final of the women's 100m at last year's African Championships in Asaba after placing 8th in her semifinal race. Her achievement in Rabat makes her the first Egyptian to win medals in the 100m/200m at the African Games!
She made another slice of history by becoming the first woman from her country to compete in the sprints at the World Championships, finishing 14th overall in Doha in the women's 200m after placing 4th in her heat and 4th in the semis. That notwithstanding, Hemida will look back at 2019 with so many fond memories. She tells us how much it means to her to compete at the World Championships.
MoC Ranking: 10
World Athletics African Ranking: 202
GALEFELE MOROKO (BOT)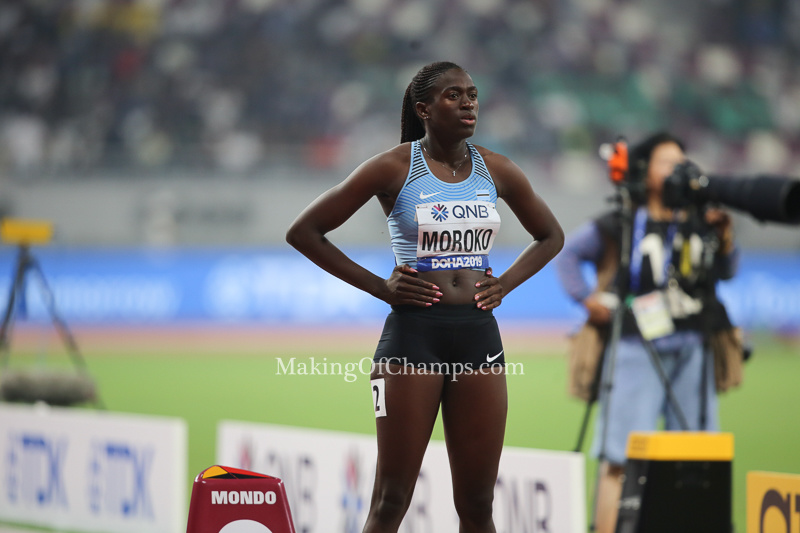 The 400m is what comes to mind when Botswana is mentioned in the Athletics world, and the emergence of the likes of Galefele Moroko will further strengthen the grip of the South African nation in the event.
Moroko is certainly toeing the path of the likes of Isaac Makwala, Amantle Montsho and most recently Baboloki Thebe, following the trajectory of her career since winning a Bronze medal at the 2013 African Youth Championships in Warri.
2019 was indeed a breakthrough year for the sprinter who opened her season with 53.65s back in February at the UBAC Classic Showdown, Gaborone, and ended with a Personal Best (PB) of 50.59s at the World Championships in Doha. To put things into perspective, Moroko improved on her PB not less than five times this year.
She clocked a lifetime best of 52.85s to place 2nd at the Sasol/NWU-Pukke International Athletics Meeting, Sasolburg in April, and then five days later, bettered her time to 51.63s to win her race at the Athletics Grand Prix Series, Potchefstroom.
She also ran a few meets in Europe before heading to Rabat for her first African Games. This talented quartermiler turned out to be the woman to beat at the Games and opened her campaign with 52.70s to win her heat. She upped her game in the semis where she stormed to a new PB of 51.53s to win her semifinal race and qualify for the World Championships!
In the final, Moroko came from behind to attack the bend and was first down the home straight, crossing the line in a new PB of 51.30s. She also ran a brilliant anchor for Botswana, having collected the baton in 4th place to finish in 2nd position behind Nigeria.
From just competing in the 4x400m at the World Championships in London two years ago, Moroko was a key player in Doha as she dominated her heat, charging through from behind over the final 150m to usurp Stephanie Ann-McPherson's lead and eventually take the win in a big PB of 50.59s.
Unfortunately, she could not replicate same in the semis as she Did Not Finish (DNF) her race after copping an injury, which brought a premature end to her outing at the worlds. Nevertheless, Moroko will be hoping to build on her successes from 2019 ahead of Tokyo 2020.
MoC Ranking: 9
World Athletics African Ranking: 214
GINA BASS (GAM)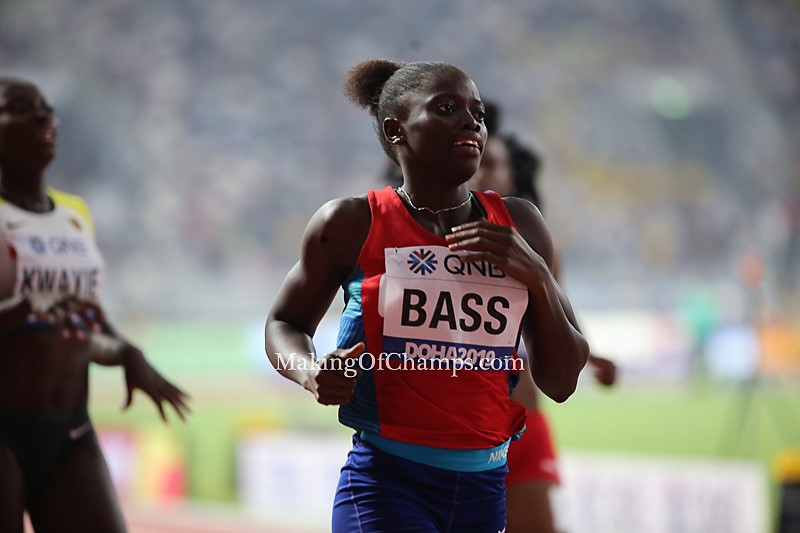 "In my country they call me the poorest Olympian but I accept it. I don't have a car or a house. The government don't treat athletes the way they treat footballers; they give them a lot of money but for us we suffer before getting the allowance that they do give us. My dream is to break the World Record (WR) in the 200m. I know I will achieve it; I will be somebody tomorrow."
The above quote was a summary of Gina Bass' life before Rabat 2019! However, one championship can make a world of difference in an athlete's life, and in this case, the African Games was the gamechanger (pun intended) in Bass' story.
Bass is the first female Olympian for her country, the Gambia, and was the flagbearer at the Rio Olympics three years ago. She did not start her 2019 season until June and her first outing, which was the Meeting National in Hérouville, France, saw her clocking a time of 11.66s in the heats and 11.64s in the final. Almost two weeks later, she returned a time of 11.81s at the Meeting Elite de Montgeron, and then she came for the African Games.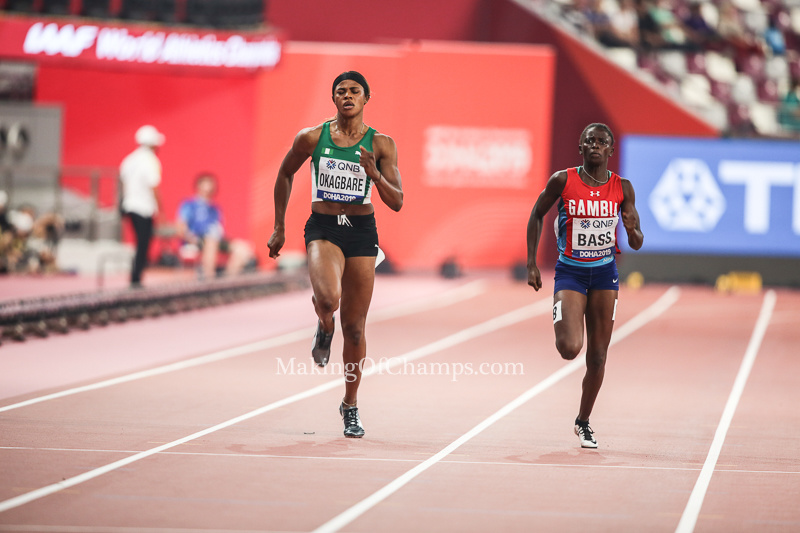 The Durban 2016 200m Bronze Medallist won her heat with a new National Record (NR) of 11.38s, and then bettered her time to 11.36s to win her semifinal race. It was clear that the final was going to be a two-horse race between Marie Josee Ta Lou and Bass, and the Gambian ensured she pushed her Ivorian counterpart all the way down to the line, eventually claiming Silver with an impressive NR of 11.13s to qualify for the World Championships and 2020 Olympics!
She fared even better in the 200m, dominating her heat and semis with 23.08s and 22.76s respectively. The latter was a new NR! Bass braced up for the final and left no room for error as she came from behind with about 20m to go, and overtook tournament favourite Ta Lou to cross the line 1st in a new NR of 22.58s!
Bass' new status as continental champion earned her a well-deserved recognition from her country as she became the first athlete from Gambia to win a GOLD medal at a major competition. She had fans and well-wishers waiting for her on her arrival from Morocco. She was also rewarded by the President of her country with title deeds.
"Winning a GOLD medal at the African Games really changed a lot because I'm being treated like a celebrity now", she said.
The next step for Gina was the World Championships where she raced in the 100m and 200m and put up a decent performance. She clocked 11.25s to finish 3rd in her 100m heat and 6th in the semis with a time of 11.24s, which wasn't enough to get her to the final.
She had a better outing in the 200m where she placed 3rd in her heat with 22.67s and retained the same position in the semis with a time of 22.60s to grab one of the fastest losers spots into the final, eventually placing 6th with 22.71s. Bass says her plan for the future is to further her education.
MoC Ranking: 8
World Athletics African Ranking: 92
HALIMAH NAKAAYI (UGA)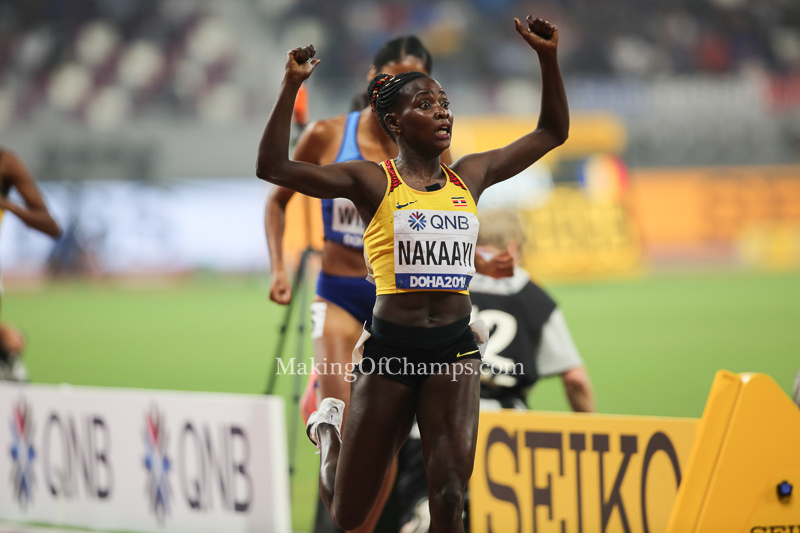 Many consider Halimah Nakaayi's emergence as World Champion in the women's 800m as the major upset at the 2019 World Athletics Championships. It was quite unexpected, seeing she had never made any World Championships or Olympic final before, but for Nakaayi, winning GOLD in Doha had always been part of the plan.
The former Commonwealth Youth Games Champion started her season on a high to win the Ugandan Trials in a time of 2:03.11. Ten days later, she finished 3rd both at the IAAF World Challenge in Nanjing (2:00.58) and then the IFAM Meeting in Oordegem in Belgium where she clocked 2:03.23 a few days later.
Nakaayi had a fair outing in the Diamond League circuit as she raced to victory in Oslo (2:01.93), finished 5th in Rabat (2:00.91), 2nd in Lausanne (1:59.97, Season's Best), 5th once again in Monaco where she lowered her SB to 1:59.57, and then a distant 8th in Birmingham with a time of 2:03.40. Nakaayi proceeded to the African Games in Rabat and looked in good shape to take the title.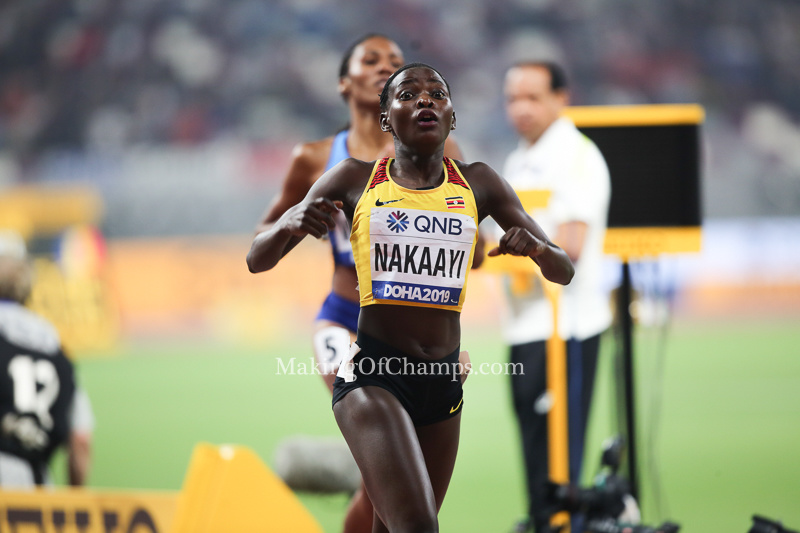 She dominated her heat in 2:02.44 and seemed to extend that performance to the final, leading the pack during the first lap, but at the sound of the bell, Ethiopia's Hirut Meshesha overtook her and sped away, with the Ugandan on her heels. Nakaayi fought hard to regain the top spot but Meshesha held on to cross the line 1st, while Morocco's Rababe Arafi followed in 2nd as Nakaayi faded into the Bronze medal position – her first major medal of any colour.
The Ugandan Champion learnt from her mistakes in Rabat and proceeded to the World Championships. She was drawn in Heat 1 alongside championship favourite Ajee Wilson, and Nakaayi did enough to finish 2nd to the American. She held her own to win her semifinal race in an SB of 1:59.39 – a premonition of things to come in the final.
Interestingly, Nakaayi and teammate Winnie Nanyondo became the first set of women from Uganda to make the final of the 800m at the World Championships!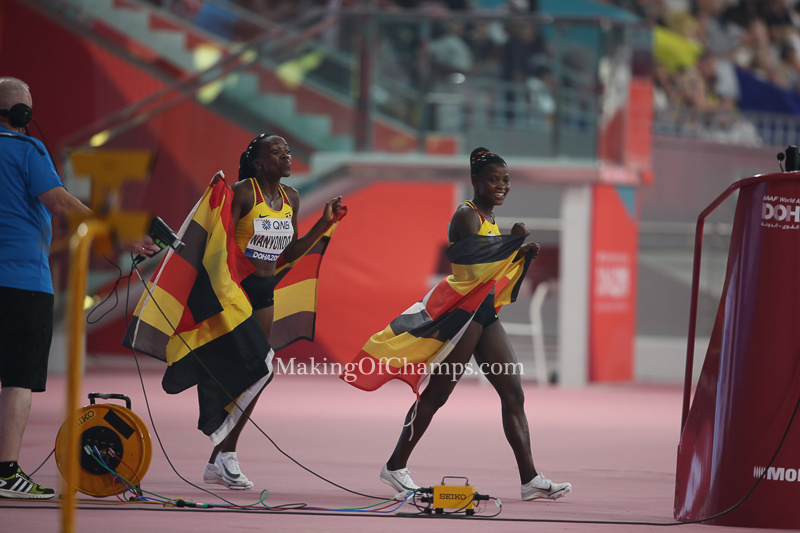 Wilson took charge of the race but Nakaayi held on, waiting for the perfect moment to kick, which she did with less than 300m to go. She sped down the home straight, stunning her rivals to take GOLD with a National Record (NR) of 1:58.04, thus becoming Uganda's first women's 800m World Champion! Training partner Nanyondo crossed the line in 4th place and moments later, the pair came together for a celebratory dance.
Nakaayi said afterwards, "I expected this because it has been a long-term preparation; I have been preparing for this. A big team has been preparing me so that this day can happen in a colourful way. Being a champion is not an easy task but I lead a simple life. I'll remain the same Halimah always. I'll keep on listening to my training partners, coaches, the mangers. Training is the key to everything; train hard, you will win easily."
MoC Ranking: 7
World Athletics African Ranking: 28
ESE BRUME (NGR)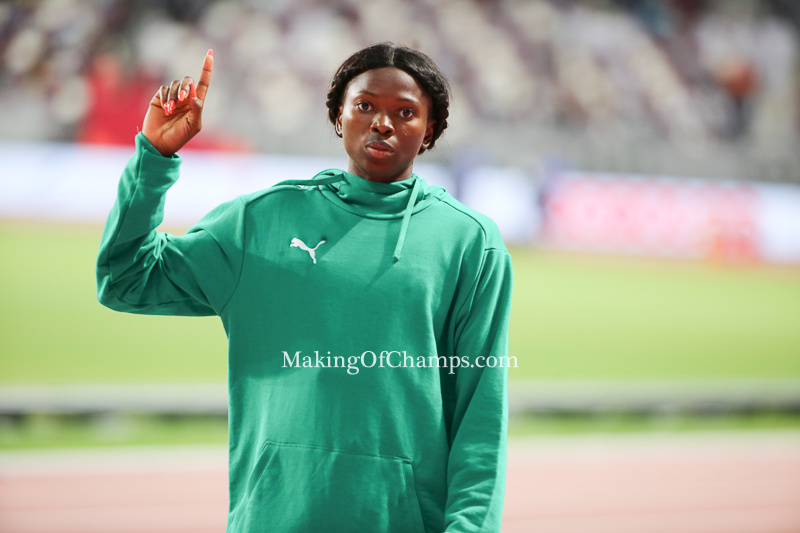 Nigeria's Ese Brume may soon run out of space in her medals cabinet because 2019 was the year she clinched two elusive medals – GOLD at the African Games and Bronze at the World Championships, adding to her three African Championships GOLD medals (2014, 2016, 2018), and Commonwealth Games GOLD (2014)! This was also the season the Nigerian got to soar above the 7m mark in the Long Jump!
Despite being faced with visa hitches that stopped her from competing in the Diamond League, Brume made lemonade out of the lemons life handed to her by ensuring she produced good leaps in the few meetings she competed in. Brume jumped 6.76m to win the Turkish University Championships in May, then leapt to a new Personal Best of 6.96m (-2.1) in Erzurum in July.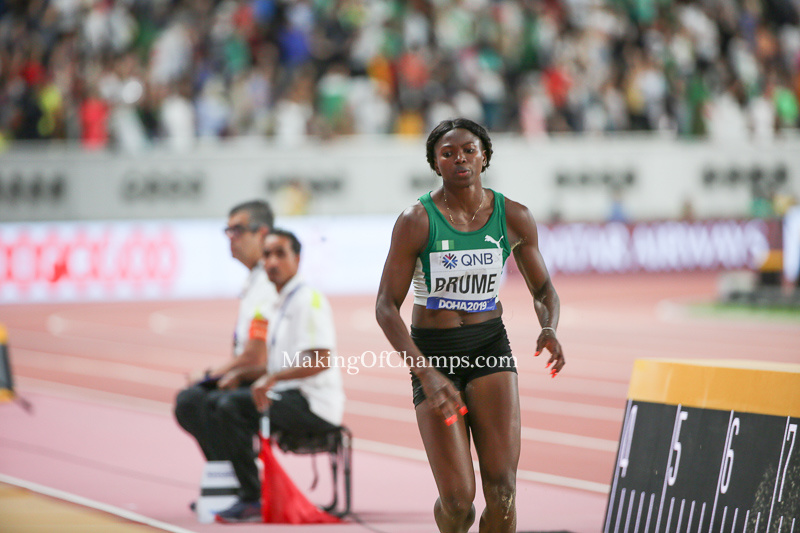 In August, the ever-smiling Brume hit the 7m mark for the first time in her career while competing in Bursaspor, winning the event with a new PB of 7.05m, which put her at No.2 in the world in 2019, only behind Germany's Malaika Mihambo. That mark made her the third Nigerian after Chioma Ajunwa and Blessing Okagbare, to attain the 7m mark, and the second farthest jumper after Ajunwa (7.12m).
She came to the African Games as the woman to beat and having finished outside of the podium in Brazzaville four years ago, Brume sought to make amends in Rabat. This she did by striking GOLD with 6.69m, and it was an emotional moment for her as she received the medal which had long eluded her.
This boosted her confidence going into the World Championships in Doha. Unlike in London two years ago where she was unable to advance to the final, all Brume needed to seal her place in the final in Doha was just one jump (6.89m). In the final, it was the Nigerian who laid down the gauntlet, going straight into the lead with a jump of 6.91m on her first attempt.
Mihambo struggled with her first two attempts and faced elimination, but then dug deep to produce an extraordinary leap on her third attempt, jumping a massive 7.31m, which no one else matched. Brume settled for Bronze, which felt like GOLD to the Nigerian as she became the first athlete in six years to win a World Championships medal for the country.
She said, "I wish I can express my feelings. I'm super grateful to God. This is a big one for me. My hard work and dedication has paid off. God has put a big smile on my face. There's no rest for me, I'm going to train and prepare for next season and I pray I do well next year. Next year is the Olympics." Having secured a World Championships medal, Brume will be gunning for the big one – an Olympic medal, come 2020!
MoC Ranking: 6
World Athletics African Ranking: 32