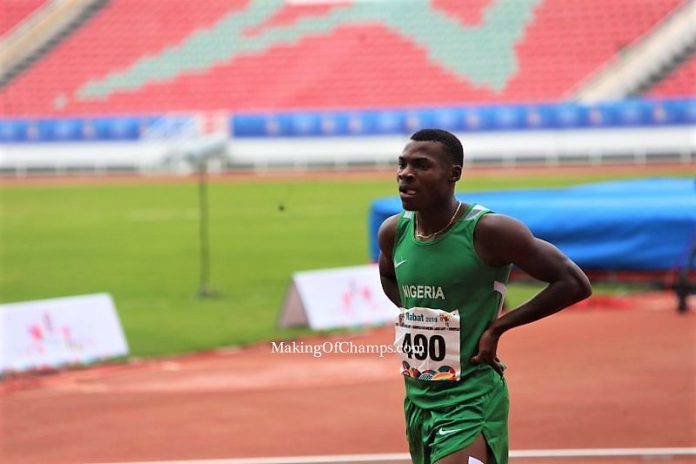 Here's the full schedule of ALL Team Nigeria events on Day 12 of the African Games taking place in Morocco. Follow Making of Champions on any of our social media platforms for LIVE TWEETS on Twitter and POSTS on Facebook and Instagram throughout the day.
ATHLETICS (RABAT)
9:00am: Men's Decathlon 110m Hurdles – Samuel Osadolor
9:45am: Men's Decathlon Discus Throw – Samuel Osadolor
11:05am: Men's Decathlon Pole Vault – Samuel Osadolor
3: 30pm: Men's Decathlon Javelin Throw – Samuel Osadolor
3:40pm: Women's High Jump Final – Doreen Amata, Grace Anigbata & Esther Isah
3:50pm: Women's 100m Hurdles 1st Round – Tobi Amusan & Grace Ayemoba
4:15pm: Men's Shot Put Final – Chukwuebuka Enekwechi & Ayomidotun Ogundeji
4:30pm: Men's 400m Semi-Final – Orukpe Eraiyokan, Chidi Okezie & Emmanuel Ojeli
4:55pm: Women's 100m Final – Joy Udo-Gabriel & Aniekeme Alphonsus
5:00pm: Women's Hammer Throw – Queen Obisesan & Temilola Ogunrinde
5:05pm: Men's 100m Final – Raymond Ekevwo & Usheoritse Itsekiri
5:15pm: Men's Decathlon 1500m – Samuel Osadolor
5:25pm: Men's 110m Hurdles Final – Oyeniyi Abejoye
5:30pm: Women's 400m Semi-Final – Favour Ofili, Amarachukwu Obi & Patience Okon-George.
5:45pm: Men's 800m Semi-Final – Edose Ibadin
6:45pm: Women's 4x100m Relay 1st Round
6:55pm: Men's 4x100m Relay 1st Round
BADMINTON
9:00am: Men's Singles 3rd Round Match 2 – Habeeb Temitope Bello (NGR) vs Ruan Snyman (RSA)
9:30am: Women's Singles 3rd Round Match 1 – Dorcas Ajoke Adesokan (NGR) vs Megan De Beer (RSA)
10:00am: Men's Singles 3rd Round Match 4 – Zainab Damilola Alabi (NGR) vs Ogar Siamupangila (ZAM)
10:00am: Women's Singles 3rd Round Match 5 – Uchechikwu Deborah Ukeh (NGR) vs Jana Ashraf (EGY)
10:30am: Women's Singles 3rd Round Match 7 – Sofiat Arinola Obanishola (NGR) vs Hadia Hosny (EGY)
FOOTBALL
1:00pm: Men's Semifinal – Nigeria vs Mali
VOLLEYBALL (BOUAZZAOUI)
3:00pm: Men's Preliminaries Group A: Nigeria vs Cameroon
WEIGHTLIFTING (RABAT)
12:00pm: Women's 59kg – Folashade Lawal, Chinenye Fidelis
3:00pm: Women's 64kg – Joy Ogbonne Eze