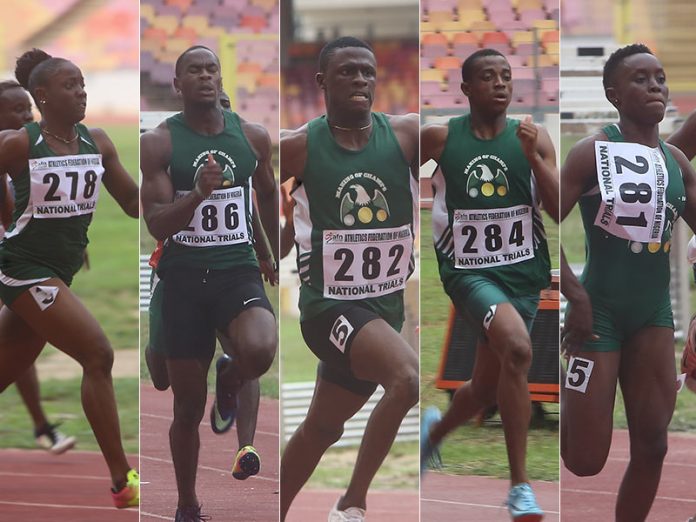 It is said that every cloud has a Silver lining! That turned out to be the reality for Making of Champions (MoC) athlete, Jerry Jakpa, at the National Open Trials for the African Games held over two days (June 25th and 26th) at the Moshood Abiola National Stadium in Abuja, where he raced to the fastest time in three years in the men's 200m on Nigerian soil, clocking a new Personal Best of 20.59s to win his first national competition.
Having worked so hard to put up an impressive show at the 2nd Making of Champions (MoC) Grand Prix a couple of weeks back, the 21-year old was forced to pull out of the 200m after experiencing some pain and restriction in his muscles; it was a disappointing moment for Jakpa who had to watch from the sidelines while his favourite event took centre stage in Lagos.
Coming to Abuja, Jakpa raced in the 100m on Day 1, winning his heat with a time of 10.51s. He eventually sat out the semis as he was fully focused on delivering an impeccable performance in the 200m.
On Day 2, he easily won his heat in 21.13s under rainy conditions. However, the weather had cleared up by evening when it was time to run the final, setting the stage for what was to come. Jakpa tore away from the rest of the pack at the sound of the gun, executing the race with such brilliance and dominance to stop the clock at 20.57s (eventually timed at 20.59s). This makes him the second fastest Nigerian (behind Divine Oduduru) in the 200m this season.
MoC Grand Prix two-time 200m Champion Emmanuel Arowolo followed in a Season's Best (SB) of 21.03s, while National 200m Junior Champion Favour Ekpekpe, who is currently being sponsored by Shell, was inspired to a PB of 21.11s, a remarkable improvement from his previous lifetime best of 21.38s set at the 2019 African U-20 Championships in Abidjan, back in April.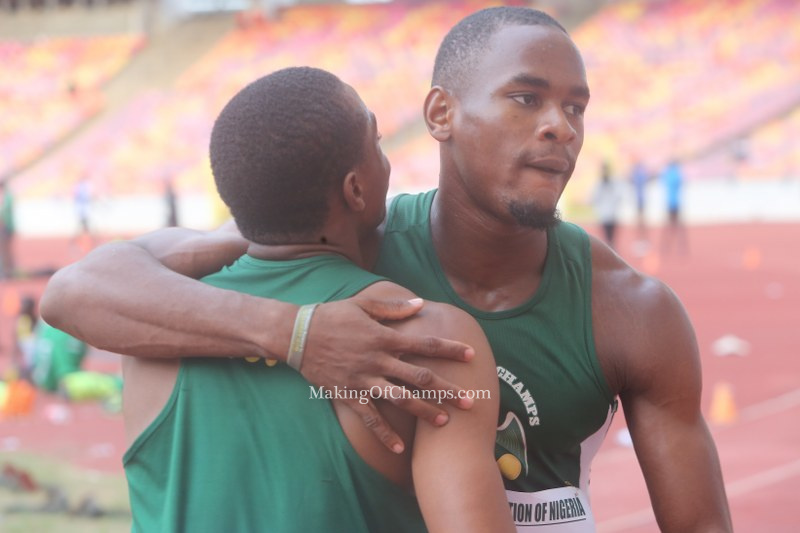 It was also an impressive outing for Shell-sponsored Emmanuel Ojeli who came of age at the competition, underlining his status as the man to beat in the 400m this season. Coming to Abuja as the fastest Nigeria home or abroad in the 400m this season, he had to prove that his clocking of 45.91s in April was no fluke.
The men's 400m A Final in Abuja was a sort of replay of the National Sports Festival (NSF) final, but this time around, there was a switch in positions as Ojeli ran the second fastest time of his career, working hard to get to the line first and win with a time of 46.16s ahead of Samson Nathaniel (46.26s) and Adeyemi Sikiru (47.00s).
Commonwealth Games 4x100m Bronze medallist Joy Udo-Gabriel raced to a 2nd place finish in the women's 100m A Final where she returned a time of 11.56s, same time she clocked as the overall fastest time in the semis.
African U20 4x400m Bronze medallist and Reelfruit's Blessing Oladoye was in action in the women's 400m where she secured a 5th place finish in the A Final with a time of 55.38s.
Both Kelechi Christian and Reelfruit's Success Umukoro competed in the women's 100m and 200m respectively, getting to the semis in the former and making the A Final in the latter where they placed 5th and 6th. Christian, who is the 2017 African U20 100m Champion, clocked a time of 24.44s – a new PB, as Umukoro posted a time of 24.46s.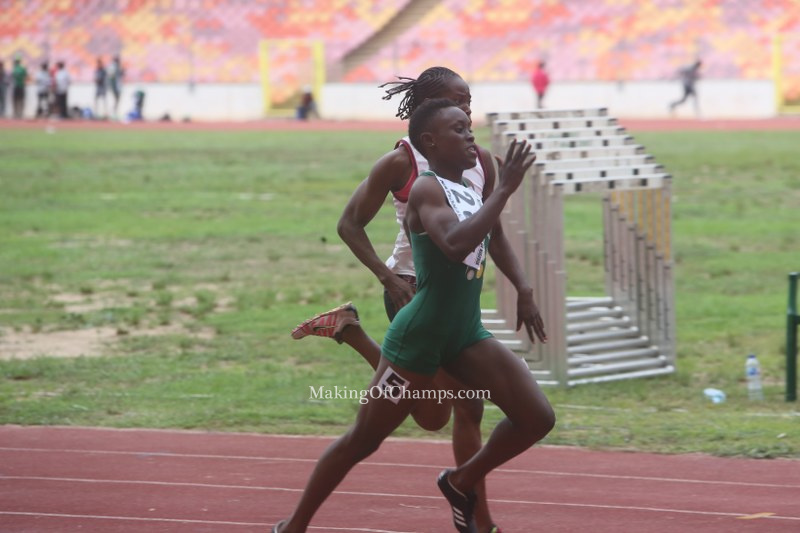 The National Open Trials was a meeting to remember for Victory Owhovoriole who sped to victory (pun intended) in the B Final of the women's 200m with a PB of 24.70s, bettering her former PB of 24.77s set at the MoC Grand Prix a fortnight ago.
John Clifford broke 22s for the first time in his career, setting a time of 21.94s in his 200m heat, and went on to secure 3rd place in the B Final with a time of 21.99s as teammate Favour Ashe settled for 4th in 22.31s.
Segun Akhigbe clocked PBs in both the 200m/400m. The quartermiler had clocked a new time of 48.84s to place 2nd in his heat at the 2nd MoC Grand Prix, and this time around lowered his time to 48.68s to place 4th in his heat. Coming with a PB of 22.36s in the 200m, Akhigbe once again bettered his mark to 22.02s after placing 3rd in his heat.
Gracious Ushie also improved his times in the 200m/400m, clocking 22.12s in the former and lowering his time from 48.65s to 48.54s in his 400m heat where he placed 4th.