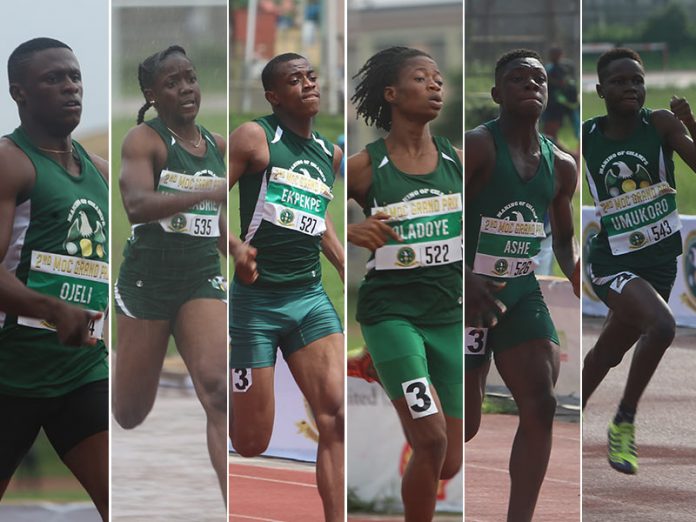 Nigeria's fastest quartermiler in 2019, Emmanuel Ojeli, was Making of Champions' (MoC) standout athlete at the 2nd MoC Grand Prix held at the Yaba College of Technology on June 15th and 16th, where he raced to the second fastest time of his career – a Meeting Record (MR) of 46.25s to retain the men's 400m title.
Coming to the meeting as the favourite, the Shell-sponsored athlete lived up to his status as defending champion as he ran a calculated race and pulled clear from Sikiru Adeyemi around the top bend, clinching the win ahead of Adeyemi and Abdulramon Afeez whom he inspired to Personal Bests (PB) of 46.86s and 47.06s respectively.
Commonwealth Games Bronze medallist Joy Udo-Gabriel settled for 2nd in the women's 100m A Final where she raced to a Season's Best (SB) of 11.52s, having dominated her heat with a time of 11.66s in her second competition over the distance this year. The ARCO-sponsored athlete also clocked 24.71s in the 200m heats.
Meanwhile reigning National Junior Champion in the men's 200m, Favour Ekpekpe upgraded from running the heats at the 1st MoC Grand Prix, to making the A final of the men's event at the 2nd MoC Grand Prix, underlining his massive improvement in the course of one year.
The finalist at the 2019 African U20 Championships in Abidjan, who is currently being sponsored by Shell, won his heat in 21.59s to secure a spot in the A Final where he clocked an impressive 20.8s to finish 2nd behind Emmanuel Arowolo.
2019 African Junior Championships 4x400m Bronze medallist, Blessing Oladoye showed fine form in the women's 400m A Final where she ran a technical race to finish 3rd in a PB of 55.13s, bettering her former lifetime best of 55.75s. Indeed, the Reelfruit-sponsored athlete has come a long way since winning the B Final at the 1st MoC Grand Prix.
African Championships semifinalist Jerry Jakpa narrowly missed a Top 3 finish in the men's 100m A Final where he returned a time and SB of 10.40s. This was Jakpa's second outing in the 100m this season, and the ARCO-sponsored athlete will be looking forward to a better outing at the National Trials in Abuja next week.
2017 African Junior Championships 100m GOLD medallist Kelechi Christian, competed in the 200m and was the woman to beat in her heat where she set an SB of 24.54s, as teammate Victory Owhovoriole followed in 24.77s – a massive PB for the teenager whose former lifetime best was pegged at 26.21s. The former went on to place 4th in the 200m A Final (24.53s), while the latter clocked another PB in the 100m, a time of 12.26s.
Reelfruit-sponsored Success Umukoro put up an impressive performance at the meet as she erased her former PB of 25.24s, replacing it with a superior time of 24.35s to finish 2nd in her 200m heat, and then went on to win the women's Final B with a time of 24.53s. In the 100m, she also improved on her former PB of 12.26s, lowering it to 12.21s in the heats, and then 12.16s in the C Final.
Talented sprinter Favour Ashe was not left out of the PB rain. The 17-year old put a good show in his maiden outing at the MoC Grand Prix, clocking a PB of 10.81s to win his 100m heat – a spectacular improvement from his former PB of 10.99s set at the National U-18 Trials in Ilaro in March.
Not done with setting PBs, he clocked a time of 21.90s in the 200m heats to break 22s for the first time in his career. He went on to equal the mark in the C Final which he won ahead of teammate Gracious Ushie who followed in 2nd with 21.96s, also a PB for the quartermiler.
MoC's youngest athlete Maria Umoibang continued to show great promise as she also improved on her former PB. The 14-year old came with a PB of 12.63s but left the 2nd MoC Grand Prix with a new time of 12.32s to place 4th in her heat. She also sped to another PB of 25.10s in the 200m, and would be pleased with her outing. Her older sister, NDEP-sponsored Mercy Umoibang also clocked a new PB of 12.27s in the 100m.
John Clifford, in his first competitive race in the men's 110m Hurdles, raced to 2nd place in the B Final with a new PB of 15.30s.
Segun Akhigbe was another MoC athlete that set a new PB at the meet. Coming with a lifetime best of 49.55s, Akhigbe clocked a new time of 48.84s to place 2nd in his heat.
Saheed Jimoh (22.06s), Inioluwa Mebawondu (22.93s) and Uthman Yusuff (23.29s) improved on their lifetime bests in the 200m, while Adeola Ayo (51.35s) and Eze Owoh (50.71s) replicated a similar feat in the 400m.
Fidelia Ucheobi and Miracle Thompson both raced to new lifetime bests in both the 100m and 200m, while Halima Badmus did same in the 100m.