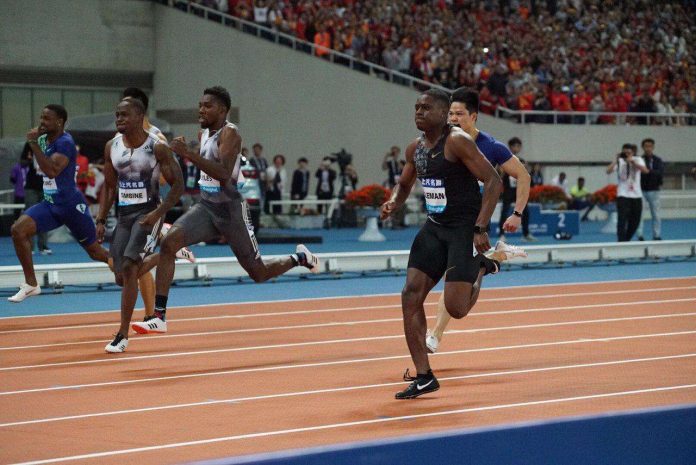 Billed as the clash to watch out for at the Shanghai Diamond League, the men's 400m Hurdles certainly did not disappoint as both Abderrahman Samba and Rai Benjamin produced a fascinating race that matched the hype.
Being the 2nd & 3rd fastest men in history in the 400m Hurdles, many spectators looked forward to the match-up between Samba and Benjamin who were coming up against each other for the first time in their careers.
Benjamin led into the ninth barrier, but Samba who wasn't afar off, accelerated on approaching the tenth barrier, storming to victory in a Meeting Record (MR) of 47.27s. Benjamin settled for a 2nd place with a Season's Best (SB) of 47.80s and Thomas Barr 3rd in 49.41s.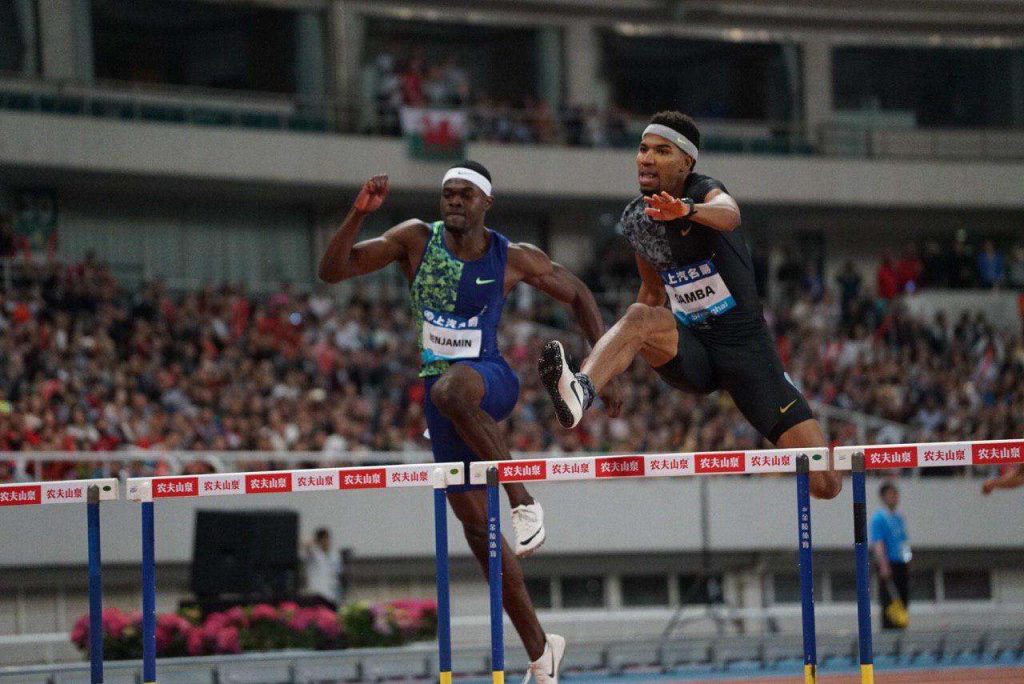 The match up undoubtedly propelled both Samba and Benjamin to run quick times as they respectively ran their second fastest times ever.
If the 400m Hurdles was that exciting, the men's 100m which drew the curtians on the Shanghai meet, produced an even more captivating finale.
When it looked like Christian Coleman was comfortably coasting to victory, Noah Lyles showed that he had other ideas, blazing through from 30m out to nick the win right at the line, pipping his compatriot to win in 9.86s.
Not only was that time a World Lead (WL), Lyles also ran a Personal Best (PB) in a race he would remember for a long time to come. South Africa's Akani Simbine finished with an SB of 9.95s to take 3rd place.
In the women's 3000m Steeplechase, World Record holder, Beatrice Chepkoech ran a dominant race to win with an MR of 9:04.53. Chepkoech was almost going to miss out on Ruth Jebet's former MR of 9:04.78, but she did just enough to get the mark which is also a WL.
Her Kenyan national teammate, Celliphine Chespol finished 2nd with an SB of 9:11.10, with Uganda's Peruth Chemutai coming in 3rd in 9:17.78.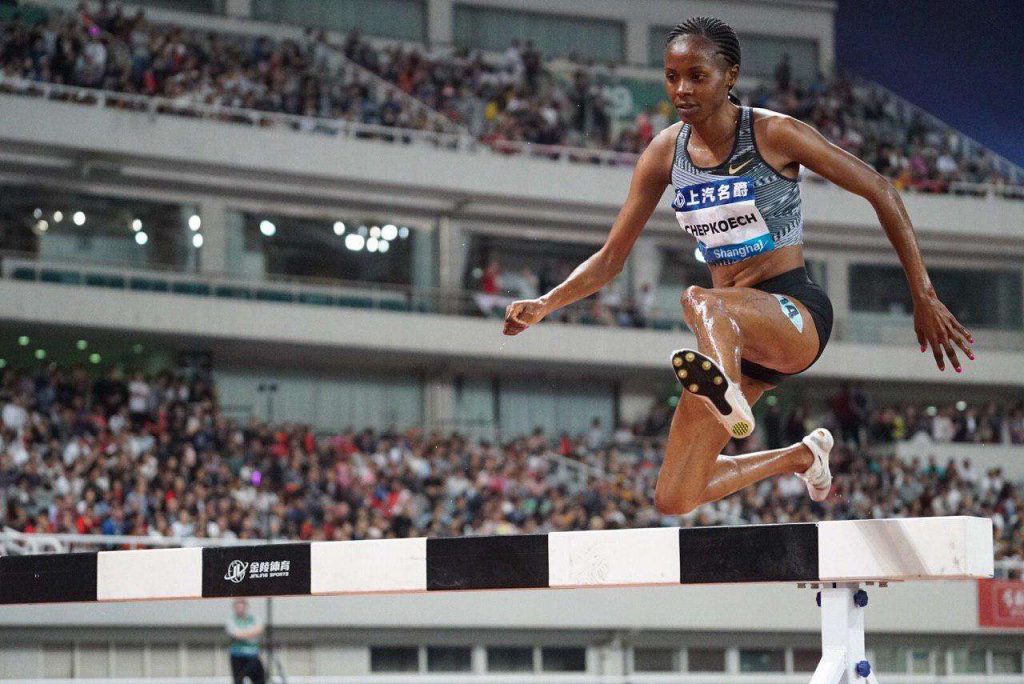 Nigeria's Blessing Okagabre-Ighoteguonor ran a fantastic last 60m to close up on Aleia Hobbs who won the women's 100m with a time of 11.03s. Okagbare ran a Season's Best of 11.07s to finish 2nd and Elaine Thompson was 3rd in 11.14s.
Meanwhile in the men's 110m Hurdles where it looked at some point as though China's Xie Wenjun would catch up with Omar McLeod, however it was the Jamaican who recently lost someone, shaking off his grief to win the event with an SB of 13.12s. Xie ran a PB of 13.17s to finish 2nd & Sergey Shubenkov 3rd in 13.28s.
Making her Diamond League debut, America's Sydney Mclaughlin applied a late pressure on Salwa Eid Naser, but the latter held on to win in 50.65s. McLaughlin finished 2nd in 50.78s and Botswana's Christine Botlogetswe ran an SB of 51.29s to finish 3rd.
USA had a 1-2-3 in men's 400m. Fred Kerley secured victory in 44.81s, with Michael Cherry 2nd in 45.48s and Nathan Strother 3rd in 45.52s. Sadly for Botswana's Isaac Makwala, he pulled up and Did Not Finish (DNF) while Steven Gardiner's Did Not Start (DNS).
Morocco's Rababe Arafi powered to victory in women's 1500m with a WL of 4:01.15, beating Gudaf Tsegay who was 2nd in 4:01.25 & Uganda's Winnie Nanyondo running a National Record of 4:01.39 to finish 3rd.
Yomif Kejelcha was better off over his countryman Selemon Barega who beat to win men's 5000m with a WL of 13:04.16. Barega was 2nd in 13:04.71 while Hagos Gebrhiwet finished 3rd in 13:04.83
Field Events
China's Lyu Huihui produced a fine display for her cheering home fans in women's Javelin, surpassing her own MR of 66.85m, setting a new one of 66.89m to win the event. Lina Nuze threw a PB of 64.87m to finish 2nd & Christin Hussong 3rd with 64.10m.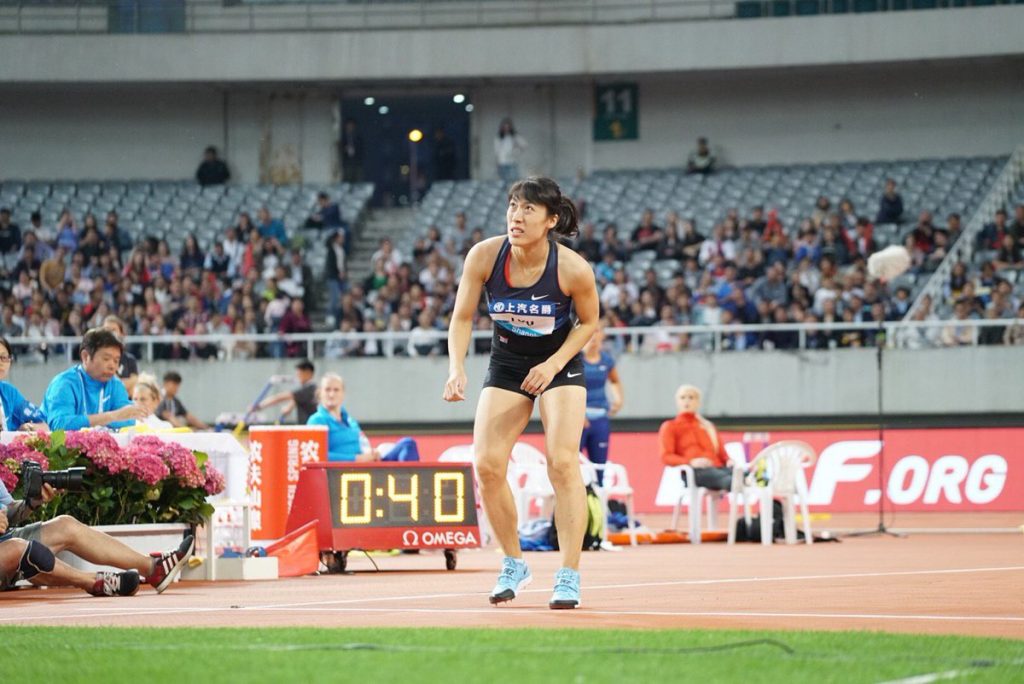 The shocker in the field events came in the women's Shot Put, where home favourite, Lijiao Gong surprisingly lost to Chase Ealey who was making her Diamond League debut in Shanghai. Ealey won with a throw of 19.58m, with Gong finishing 2nd throwing a mark of 19.44m. Aliona Dubitskaya was 3rd with a throw of 18.78m
In the women's Pole Vault, four women were over 4.72m, with Ekaterina Stefanidi who had a clean slate up till that point getting the victory. Nikoleta Kiriakopoulou finished 2nd and China's Li Ling with that mark finished 3rd, jumping an Asian Record and PB in the process.
Jamaica's Tajay Gayle made the use of Luvo Manyonga's absence in the men's Long Jump, winning with a leap of 8.24m. China's Jianan Wang finished 2nd with 8.16m, while Ruswahl Samaai was 3rd with 8.14m
Andreas Hoffman's opener of 87.55m was enough to secure him victory in men's Javelin. Chao-Tsun Cheng was 2nd with a throw of 87.12 and Marcin Krukowski was 3rd landing at a mark of 84.51m