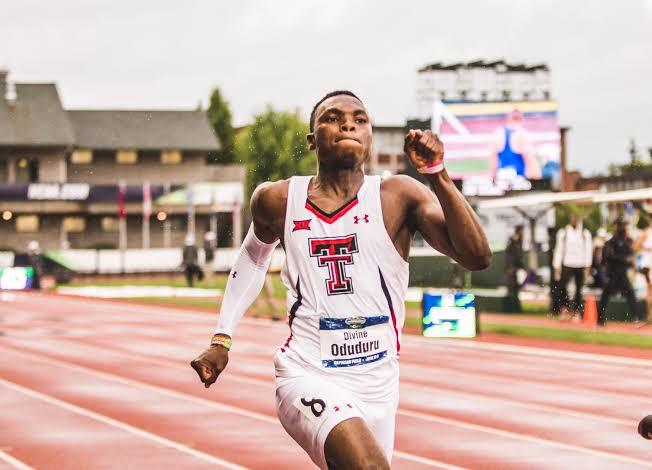 Nigerians finally had their gasp of new things being ushered in on the Track and Field circuit on Saturday, the 20th day of April, 2019.
It was in the form of Divine Ejowkovoghene Oduduru's amazing performance while competing at the Michael Johnson Invitational in Waco, Texas.
He was slated to compete in the men's 100m and the 200m events but totally took the lid off in his first bout at the outing, the 100m where he shattered his Personal Best (PB) and School Record with a 9.94s clocking.
His performance was nothing short of class as it broke an almost 13-year jinx, making him the first Nigerian man to run a sub-10 since Olusoji Fasuba's feat in 2006 when he set the African Record of 9.85s.
The new lifetime record doubles as the fastest time in the world with a tailwind of 0.8m/s and it also takes up the Texas Tech Junior as an equal 3rd fastest Nigerian of all-time. Oduduru became the 139th man to break the sub-10s barrier legally and now has the fastest times ever recorded by an athlete from Texas Tech.
His team mate, Andrew Hudson was 2nd in 10.13s while Baylor's Maxwell Willis finished 3rd in 10.21s.
Exactly 55 minutes afterwards, Oduduru graced the track again in the 200m which is widely regarded as his stronger event. He went all out, storming to an astonishing Personal Best (PB) of 19.76s that broke the Nigerian 200m record set by Francis Obikwelu (19.84s) in Seville as far back as 1999.
He officially becomes the 3rd fastest man over the distance in Africa behind the legendary Frankie Fredericks of Namibia who ran 19.68s as his career best and holds the Area Record at that mark.
He also ties on the all-time list with great men like Carl Lewis and Joe DeLoach who have the same Personal Records at 15th on the IAAF Top Performance list.
With regard to the NCAA, 19.76s puts the Nigerian up as the 2nd fastest man in the history of the event on the collegiate turf, only surpassed by Walter Dix's 19.69s run, while Oduduru moves ahead of Christian Coleman and Justin Gatlin on the same list.
Texas Tech Senior, Andrew Hudson finished in 20.47s while Maxwell Willis consolidated on his 3rd place finish in the 100m with 20.71s in the 200m all on the back of a 0.8m/s wind reading.