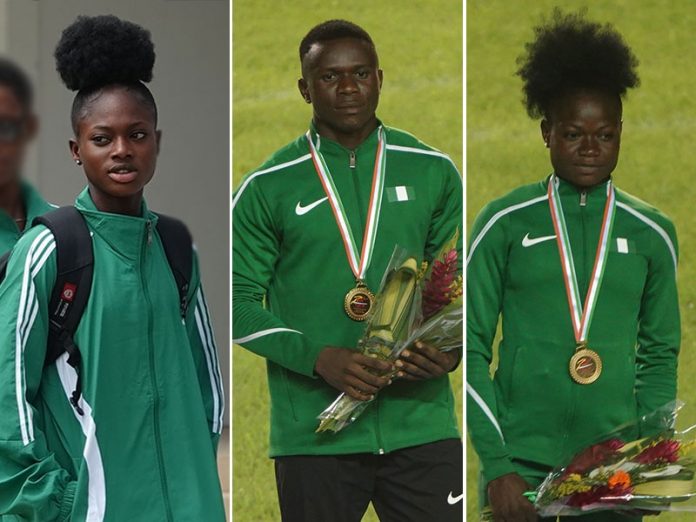 Team Nigeria had a lot cheer about on Day 2 of the African U20 and U18 Championships in ongoing at Stade Félix Houphouët-Boigny in Abidjan, Ivory Coast, winning seven medals to consolidate on their impressive outing from Day 1 of the competition.
Having won all three of their medals from the field events on Day 1, Nigeria transited their good performances to the track events on Wednesday, winning five medals in the short sprints alone.
Enoch Adegoke led the Nigerian charge in the men's 100m, improving on his times from the heats and the semis to clock an impressive Season's Best (SB) of 10.27s to win GOLD in the race, with South Africa settling for the Silver and Bronze medals in the race.
In the women's category, Rosemary Chukwuma was also on the GOLD train, taking full control of the race immediately she got into the upright position and winning also with an SB of 11.62s. Chukwuma's win made it a Nigerian double in both categories, with Grace Nwokeocha also getting on the podium finishing 3rd in the women's 100m.
In the Girls' 100m, Praise Oforku edged out her compatriot Anita Taviore to finish in 3rd place and secure a place on the podium, with South Africa winning the Gold medal in this event.
Nigeria had the taste of what was to come in the Girls 400m Final when Favour Ofili dug deep to produce a good performance in the race, holding off the challenge of her other competitors and storming to a Lifetime's Best of 52.27s.
Less than a year after winning the African Youth Games title with a then PB of 53.57s, Ofili shaved off more than a second from that time to run an impressive time and win two different continental titles.
Although it was still the heats, Nigeria's pair of Wisdom Musa and Yusuf Mohammed looked good for a podium placement in the men's 110m Hurdles, with both making it a Nigerian 1-2 in Heat 2 posting 14.45s and 14.48s.
In the women's 400m final, Glory Patrick also got on the podium for Team Nigeria in her race, finishing 3rd to land the Bronze medal.
Moving to the field events, Nigeria won two medals today in this category, securing their places on the podium in the Boys' Long Jump and Discus events. Both Olutunde Olaoluwa and Esther Osisike finished 3rd respectively in their events, winning the two Bronze medals Nigeria won from the field events on Day 2.
Day 3 should get better for Nigeria, with the 200m heats all coming up on Thursday. Now with a total haul of 10 medals overall, Nigeria comfortably leads on the medals' table and it possibly would remain like that after the Championships.