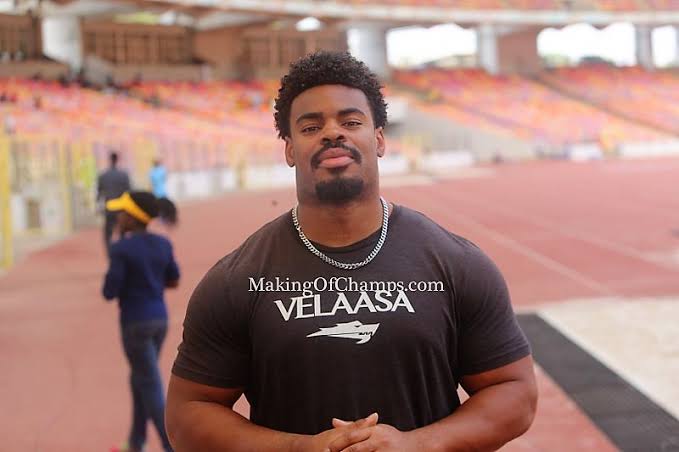 Right at the vanguard of his province in the men's Shot put was Chukwuebuka Enekwechi again. The Nigerian competed at the Illinois Twilight 2019 and was the best in the field by a 'mile' as he had done a week before.
With so much consistency, he built up to an impressive 4th round throw of 21.15m to cart home the win at the meet while he further added another throw past 21m with a 21.01m coming through in the following round.
He went totally unscathed as any of his throws, which were all legal, would have been enough for the win. In 2nd place was Peter Andrew who managed to land a 17.49m heave.
Enekwechi, who is the reigning African Champion in the event, would be looking to build on the back of his recent successes as he had thrown a Personal Best (PB) of 21.28m prior to this equally good showing.
Chidi Okezie, well known as a quartermiler, dropped down in distance to compete in the men's 100m at the Aggies Invitational in Greensboro. After a 10.66s run good for 2nd out of his preliminary round, the lanky Chidi improved to a Season's Best (SB) of 10.58s for 6th place in the final won by Rodney Rowe in 10.10s (PB). It was also a shade off his PB which stands at 10.57s.
Bashiru Abdullahi got a wind legal PB in the men's 110m Hurdles while competing at the Triton Invitational, La Jolla. Abdullahi had run 13.91s at his second meet of the season, which was slightly wind-aided. This time around, he raced off to the same time with a wind reading of 1.5m/s to finish 2nd behind Brazilian, Gabriel Constantino who won in 13.38s (SB), while Nicholas Rack finished 3rd in 14.08s.
Charles Okeze competed at the John McDonnell Invitational in the men's 100m where he finished 3rd in his heat with a time of 10.50s (1.5m/s) which put him up as 3rd in the overall standings while Victor Peka got out to the win in another heat in 10.59s (2.0m/s) to finish 6th.
Okeze further returned in the 200m, clocking the fastest time by a Nigerian this early 2019 season in 20.88s (0.7m/s) ahead of Kristoffer Hari who had won the 100m, and Jayson Ashford in 20.95s and 20.96s respectively.
Middle Tennessee State University Senior, Abike Egbeniyi raced in her customary event, the 800m and showed her mettle by finishing 2nd in 2:04.04 behind Nia Akins who won in a time of 2:03.76.
In the throws chart, the Nigerian women were represented by the National Record (NR) holder in the women's Javelin, Kelechi Nwanaga, who competed in the women's javelin at the Spring Classic. She won relatively with ease and an SB of 51.67m, an opener at that over the course.