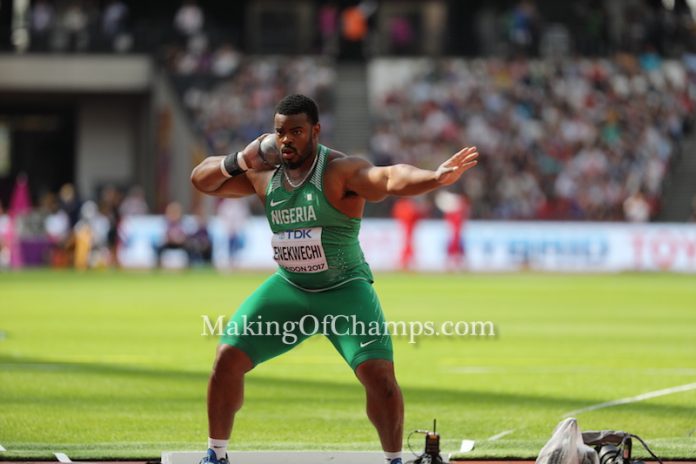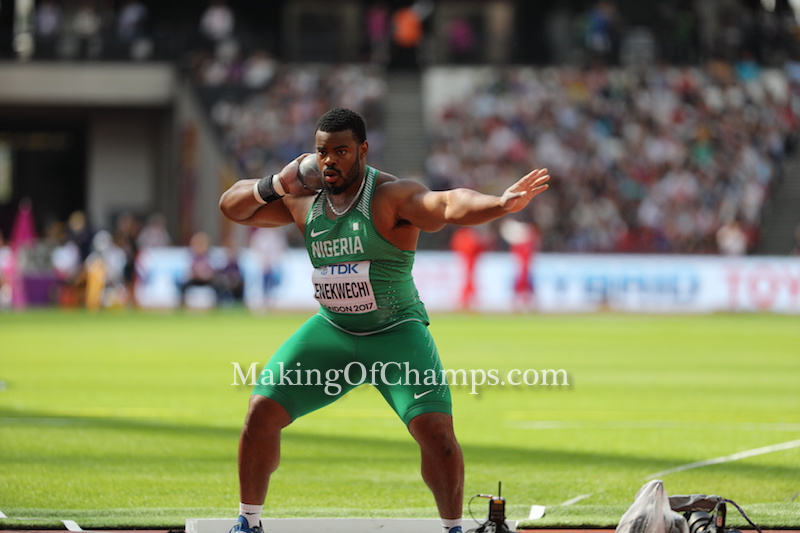 Chukwuebuka Enekwechi's throws have only gotten better with time. The Commonwealth Games Silver Medallist who finished the indoor season with a Personal Best (PB) of 21.09m, has gone ahead to extend the one outdoors to a lifetime best of 21.28m at the Taylor George Glass Invitational in the US.
Enekwechi was a class apart even in less than ideal conditions as any of his throws would have been enough for victory. His best came right on his final try while he had it thoroughly backed with impressive landings at 20.88m and 20.58m on his second and third takings respectively. Further underlining his dominance at the meet was the fact that Brennan Coil who finished 2nd, only managed 16.68m, while Nathan Riley picked up 3rd at 16.32m.
Ogheneakpobo Efekoro also dominated the men's Shotput event at the Home Opener in Charlottesville as he rounded all out to a Season's Best (SB) of 20.37m.
National Record (NR) holder in the women's Hammer throw, Temilola Ogunrinde competed at the Jim Click Shootout in Tucson. The Minnesota Senior  won the women's Hammer with a 65.29m heave on her first try and would have won with any of her legal tries. Sarah Loesch of Purdue finished 2nd as she threw 59.80m.
Meanwhile African Championships Silver Medallist in the 110m Hurdles, Oyeniyi Abejoye raced to an SB of 13.93s to place 2nd in his season opener at the Tiger Track Classic held on April 5th and 6th in Auburn, Alabama. The race was won by Caleb Parker in 13.91s.
NR holder in the women's High Jump, Doreen Amata also returned to action at the same competition and won her event with an SB of 1.75m.
Tega Odele at the University Championships in Stellenbosch, finished 5th in the men's 200m in 21.20s after running 21.01s (-2.3m/s) to win his preliminary round.
Chidi Okezie also made his first appearance this season at the Colonial Relays in Williamsburg, winning the men's 400m in 47.52s.
Red Raider Divine Oduduru was in action at The Reivelle Meet that held at the College Station in Texas. He competed in the men's 100m which he won in a marginally wind-aided 10.13s (2.3m/s) clocking, beating Illinois Senior, Devin Quinn who ran 10.20s, and Texas A & M's Jace Comick into 3rd with a time of 10.30s.
It is an individual season opener for Oduduru who had run a new School Record (SR) of 38.87s in the 4x100m at this year's Texas Relays.
Also competing at the Tiger Track Classic, Middle Tennessee Senior Abike Egbeniyi competed in the women's 400m, which she won by almost a second in 52.64s, ahead of Joycelyn Assafuah who finished in 53.59s, while Cecilia Francis clocked 11.78s (0.6m/s) to place 3rd in the women's 100m final, just behind Ghana's Halutie Hor who clocked 11.68s in 2nd.
Middle Tennessee Junior Fabian Edoki won the men's Long Jump with 7.86m in perfectly still conditions. He beat his teammate both on the collegiate circuit and from home, Benjamin Onyekwelu who finished 2nd with an SB of 7.44m.
Likewise, Aniekeme Alphonsus opened up 2019 with victories at the Mississippi College Twilight Invitational, her first outing for William Carey University, following her transfer from Oral Roberts University. She competed in her trademark events, winning the 100m in 11.55s, running into a headwind of -1.3m/s, while she was the only sprinter to break 12s as Ezra McCraw finished 2nd in 12.17s.
In the 200m, she beat the field by over a second as she coasted to victory in an SB of 23.76s, well ahead of McCraw who finished 2nd again in 25.23s.
At the 2019 LSU Battle on the Bayou, Mercy Abire competed in the women's Long Jump and made a gasp for a domineering win. She reached 6.37m at her best. Though the winning mark won't count as an SB albeit with a wind reading of 3.2m/s, she'll take 6.29m (1.9) as her best legal jump this season, which she secured in the first round of the competition. Breana Gambrell finished 2nd, and that she did with her 6.01m leap.
Ruth Usoro won the women's 100m at the David Noble Relays in San Angelo in a PB of 11.65s (1.5m/s).