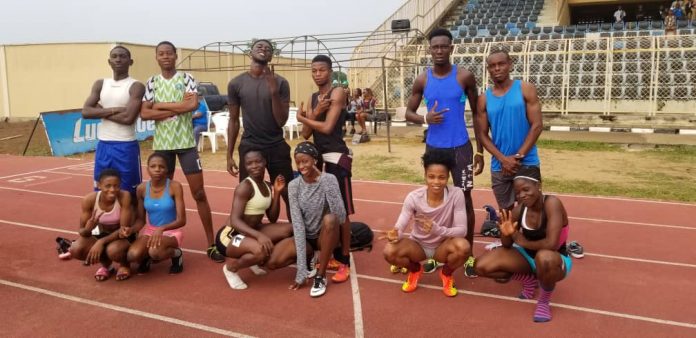 Barely three months after the IAAF approved the Mixed Shuttle Hurdles for the IAAF World Relays set to take place in Yokohama in May, history was made on Day 3 of the National U-18 and U-20 Trials in Ilaro, Ogun State, as the event made its debut in Nigeria.
The Mixed Shuttle Hurdles event is a completely new addition to the World Relays programme, as the event in Yokohama will feature two men and two women on each team, running 110m legs.
The relay involves the women running their standard 100m hurdles race from the finish line towards the traditional start, but running an extra 10m at the end of their leg to account for the extra distance. They will then change over to the first man on the team who will run 110m back up the straight in the adjacent lane and then change over to the second woman, and so on.
The inaugural race in Ilaro featured three teams, with the winning team which had the likes of Esther Isah and Wisdom Musa, taking the victory with a time of 1:03.80, which if ratified, becomes the National Record (NR) in the event.
Also, the Mixed 2x2x400m relay took place for the first time in Nigeria. The Mixed 2x2x400m, designed for middle distance specialists, requires both members of the team (male and female) to each run two 400m legs of a relay respectively.
As with the mixed 4x400m, each team can choose to start with the man or the woman. The two athletes then take turns to run their two legs of the relay in any order.The 2x2x400m replaces the 4x800m relay, which proved to have limited appeal at previous editions of the World Relays.
It was exciting to watch six teams battle for honours in Ilaro, with Hamid Sambo and Yinka Bantefa teaming up for Ogun State to claim victory ahead of their rivals.
Bantefa started the first 400m, while Sambo chose to run his 400m races concurrently in both the second and third legs, before Bantefa withstood a late challenge from Akwa Ibom's Edidiong Udo (who partnered with Comfort James), in her second 400m leg to race to a NR of 3:56:72 (subject to ratification).