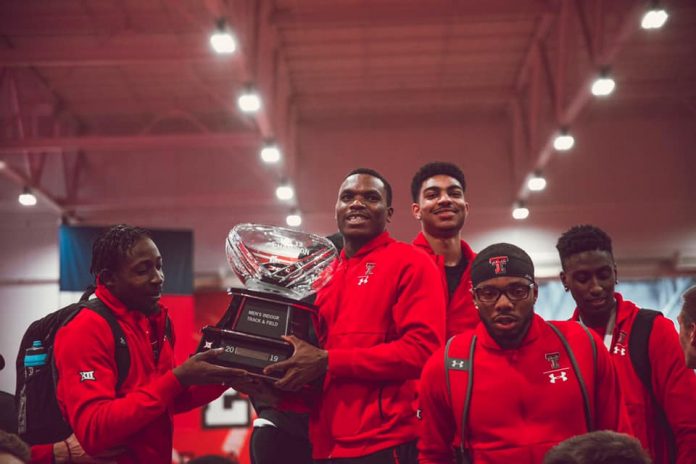 Texas Tech Junior Divine Oduduru was the standout performer at the Big 12 Indoor Championships held in Lubbock, Texas, over the weekend, smashing his Personal Bests (PB) in both the 60m and 200m to claim double titles on Saturday.
Earlier in the day, the Nigerian stormed to a PB and new School Record (SR) of 6.52s to become the Big 12 Champion in the 60m. However, he took his performance a notch higher in the 200m, erasing the Big 12 200m Meeting Record (MR) with an impressive time of 20.08s – a new World Lead (WL), SR, PB, and the second-fastest time in NCAA history.
Oduduru's performance also puts him at No.3 on the 200m all-time Indoor list, just behind Frankie Fredericks (19.92s) and Elijah Hall-Thompson (20.02s).
Just as it was in the 60m, fellow Raider Andrew Hudson clinched Silver with a time of 20.55s, while Maxwell Willis of Baylor took the Bronze with 20.96s.
At the end of the day, the Texas Tech Men's Track and Field team became overall champions of the Big 12 Indoor Championships with 70 points – their biggest victory in the history of the championships, with Oduduru emerging top scorer with 20 points after winning both the 60m and 200m.