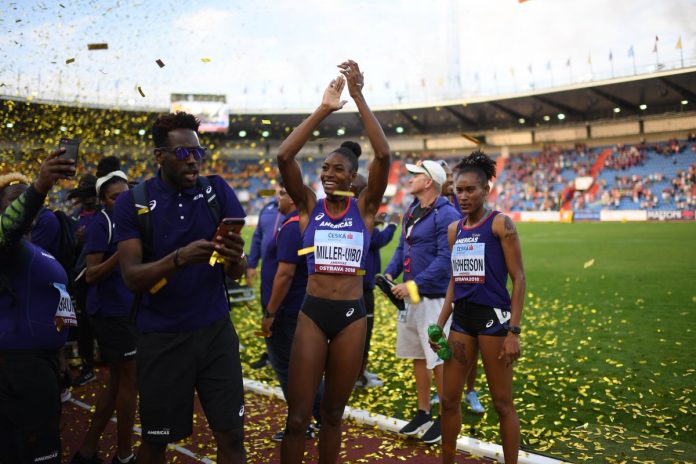 After a pulsating and very thrilling Day 2, Team Americas were the deserving 2018 Continental Cup champions at the Městský stadium in Ostrava, amassing a total of 262 points to secure victory over the three other teams.
Although they did put up a good challenge on the final, Team Europe couldn't overhaul Americas' lead and had to settle for second place with 233 points. Team Asia-Pacific improved on their last standings in 2014, moving up to 3rd with 182 points at the expense of Team Africa who finished 4th with 142 points.
Team Americas were so good that they won 19 of the events they competed in, recording 11 other second place finishes which gave them an unassailable lead even before the final three events were concluded.
There was never a doubt who would win the men's 100m as Team Americas' Noah Lyles did just enough to edge out China's Su Bingtian to win in 10.01s. Although the Team Asia-Pacific athlete put up a good fight to finish 2nd in 10.03s, Lyles underlined his status as the next big thing in the sport coming off with the win. Team Africa's Akani Simbine finished 3rd in 10.11s.
The women's 200m was an event that lived up to the hype and buzz generated before the race. Yet again Shaunae Miller-Uibo had to claw her way back to outrun Dafne Schippers for the win. Schippers was out of the bend very early and was almost in, until Miller-Uibo's endurance came to the fore and she breezed past to win in 22.16s. Schippers was 2nd in 22.28s and Team Africa's Marie Josee Ta Lou also came from a losing position to finish 3rd in 22.61s.
For the men's 400m, Botswana's Baboloki Thebe gave a push as he tried overhauling Abdalelah Haroun's lead in the home straight, but the Qatar athlete held on for his victory in 44.72s. Thebe was 2nd in 45.10s and Nathan Strother 3rd in 45.28s.
What worked more for Team Americas was how they were raking in points from all angles, and in the women's 400m Hurldes they made it a 1-2 finish through a brillant run from Janieve Russell on the outside in lane 1, outrunning Shamier Little and securing the win in 53.62s. Little finished 2nd in 53.86s and Anna Yaroshchuk-Ryzhykova ran a Season's Best (SB) of 54.47s to finish 3rd.
If other continents were dominanting in other events, South Africa's Caster Semenya ensured that she was untouchable in women's 800m for Team Africa, emerging a clear winner with her 29th consecutive 800m victories with a time of 1:54.77. Team Americas had 2 & 3, with Ajee Wilson finishing 2nd in 1:57.16 and Natoya Goule 3rd in 1:57.36.
Going to the men's 1500m, Elijah Manangoi wasn't going to give up a lead once he hit the front. Marcin Lewandowski tried to catch him, but the Kenyan pulled away to win the men's 1500m for Team Africa in 3:40.00. Team Europe had 2 & 3 with Lewandowski 2nd in 3:40.42 & Jakob Ingebrisgten 3rd in 3:40.80
While in the women's 3000m Steeplechase, as soon as Team Africa's Beatrice Chepkoech entered the home straight, she started rousing the crowd, powering to victory in a new Championship Record of 9:07.92.
Field Events:
Caterine Ibarguen would definitely be the major contender for the best athlete from the Continental Cup, following up her Day 1 victory in the women's Triple Jump, this time around in the Long Jump.
Ibarguen not only stunned the field to win, she did so in style, winning with her very last jump, and it was a big one as she leapt to a new Colombian Record of 6.96m.
Christian Taylor who made a return to the scene of his World Junior title 10 years ago, ensured he would leave with something more to commemorate as he leapt to 17.59m to win the event. Team Africa's Hugues Fabrice Zango jumped a new Burkina Faso record of 17.02m to finish 2nd.
There was no contest in the women's High Jump as Mariya Lasitskene won scaling a height of 2.00m. In fact, she was the only one to jump 2m. Sam Kendricks edged out Renaud Lavillenie in the men's Pole Vault, winning with his best height of 5.85m.
Chinese duo of Huihui Lyu & Lijiao Gong won the women's Javelin & Shot Put events with marks of 63.88m and 19.63m respectively, handing Team Asia-Pacific massive points from the two events.
Meanwhile in the men's Javelin, Thomas Rohler snatched victory for Team Europe with his very last throw of 87.07m, beating Team Asia-Pacific's Chao-Tsun Cheng who was 2nd with a throw of 83.28m
Mixed 4x400m
It's always interesting seeing the male and female athletes race against each other, and what a befitting finale it was to bring down the curtains on the 2018 Continental Cup.
Team Americas quartet of Christian Taylor, Luguelín Santos, Stephenie Ann McPherson and Shaunae Miller-Uibo unsurprisingly won the event in 3:13.01. But the impressive performance came from Team Africa's quartet of Christine Botlogetswe, Chidi Okezie, Caster Semenya and Baboloki Thebe who despite being in 4th place in the 3rd leg, still found a way to 2nd in 3:16.19 ahead of Team Asia-Pacific who were 3rd in 3:18.55.