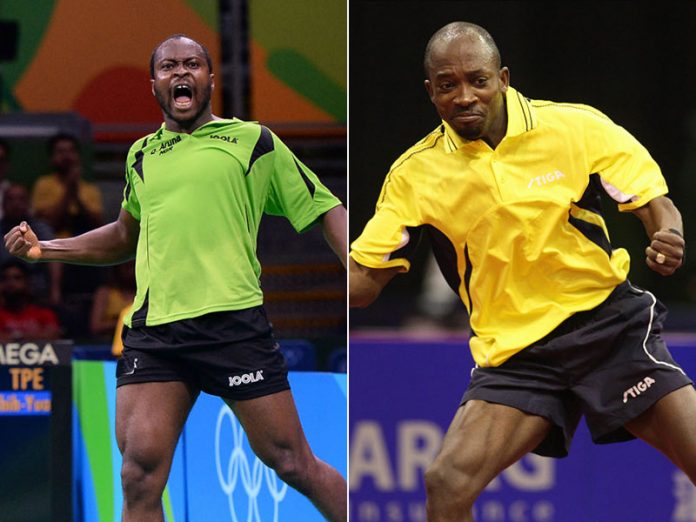 After two days of qualifying rounds, the top seeds at the 2018 ITTF Challenge Seamaster Nigeria Open, will begin their campaigns for honours at the $46,000 Prize Money championship on Friday, 10th August.
With the arrival of No.1 seed and home boy – Aruna Quadri, attention will turn to the main draw of the men and women's Singles events as the tournament enters the knockout stage.
According to ITTF Publication Manager, Ian Marshal, it is not only the fact Quadri tops the list, which puts him in the spotlight; it is the way that he plays and the way he conducts himself: "He is the true sportsman in the very best sense of the way. The Nigerian is exciting to watch; his style with the big forehand stroke, the racket finishing high over his head, is reminiscent of colleague, Atanda Musa, the Men's Singles winner at the 1982 Commonwealth Championships.
Exciting to watch, both Atanda Musa and Quadri Aruna gained the respect of all, as has one player present in Lagos, who assumed the mantle of the former, and is now passing it to the latter; the evergreen 43 year- old Segun Toriola. He is the player who holds a record that may never be equalled and in two years' time.
Eyes focused on Quadri Aruna and Segun Toriola, but they will have to at their best; there is a strong European challenge, especially from France. Alexandre Robinot, the reigning National Champion, leads the invasion.
He is supported by Antoine Hachard, Joe Seyfried and Benjamin Brossier. Notably, Antoine Hachard secured the Men's Singles title on the ITTF World Tour in 2016 in Chile. In the Under-21 Men's Singles event, Joe Seyfried won earlier this year in Germany; in 2015, Benjamin Brossier prevailed in Qatar.
Russia's Alexey Liventsov, a quarter-finalist last year in Slovenia, is on duty in Lagos, as is the 2016 Champion, Finland's Benedek Olah. Likewise, England's Sam Walker, who finished in 4th place earlier this year in the Men's Singles event at the Gold Coast 2018 Commonwealth Games, is named on the entry list.
Brazil's Thiago Monteiro leads the Latin American challenge; Argentina's Horacio Cifuentes also makes the journey from the southern hemisphere.
Alexey Liventsov is the second seed behind Quadri Aruna; Benedek Olah, Thiago Monteiro and Sam Walker are next in the order of merit. Alexandre Robinot, Horacio Cifuentes and Hungary's Tamas Lakatos complete the Top 8 names.