What a way to draw the curtains on the ECOWAS under 20 Athletics Championship for Team Nigeria, completely outclassing other countries to emerge as the overall best nation in Cape Coast, Ghana, winning a total of 33 medals.
After Day of the Championships, Team Nigeria finished top of the medals table amassing: 16 GOLDs, 9 Silver and 8 Bronze medals. Team Ghana finished 2nd overall with 36 medals: 12 GOLDs, 16 Silver and 8 Bronze, while Burkina Faso was the 3rd overall winning a total of 6 medals: 1 GOLD, 1 Silver and 4 Bronze.
Having ended the morning session with 3 GOLDs out of the four finals, it was evident from then that Team Nigeria wasn't going to relinquish a late flourish from Team Ghana, who had so many supporters willing their athletes to great performances.
In what was one of the best highlight of the day, Nigeria's Joy Udo Gabriel ran one of her best ever 200m race, putting up a great display to beat home favourite Halutie Hor clocking a Personal Best of 23.92s to complete the double.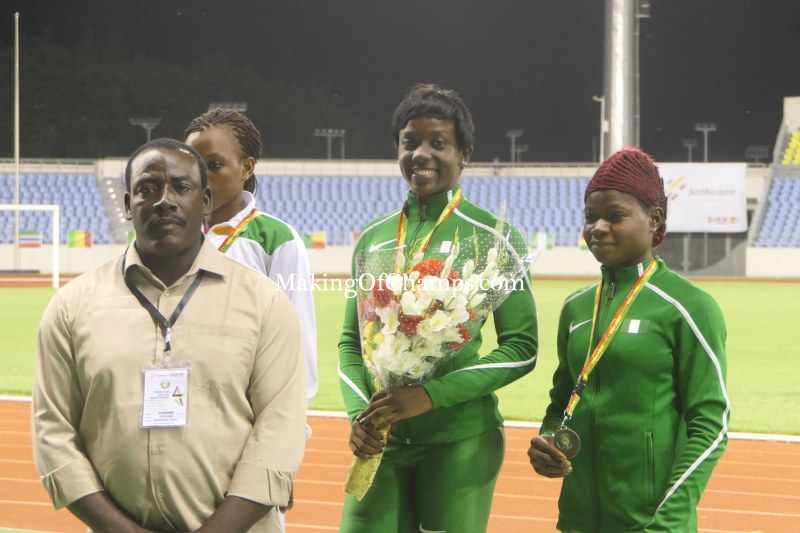 In fact it was a Nigerian 1-2 finish in the 200m final, as Rosemary Chukwuma got the Silver medal in 24.12s and Ghana's Hor settling for Bronze with a time of 24.29s.
Meanwhile team Nigeria's Victoria Adubi was the fastest through the barriers, winning the women's 100m Hurdles with a time of 14.63s. While in the men's 110m Hurdles, #TeamNigeria's Yusuf Muhammed got the Bronze in 14.36s.
Shedrack Akpeki wasn't going to relinquish an opportunity to win GOLD, as he raced to victory in the men's 400m final, clocking a time of 47.25s. Daniel Otibo got the Silver in 47.77s with Francis Nsikak joining his National teammate Akpeki on the podium, finishing 3rd in 48.19s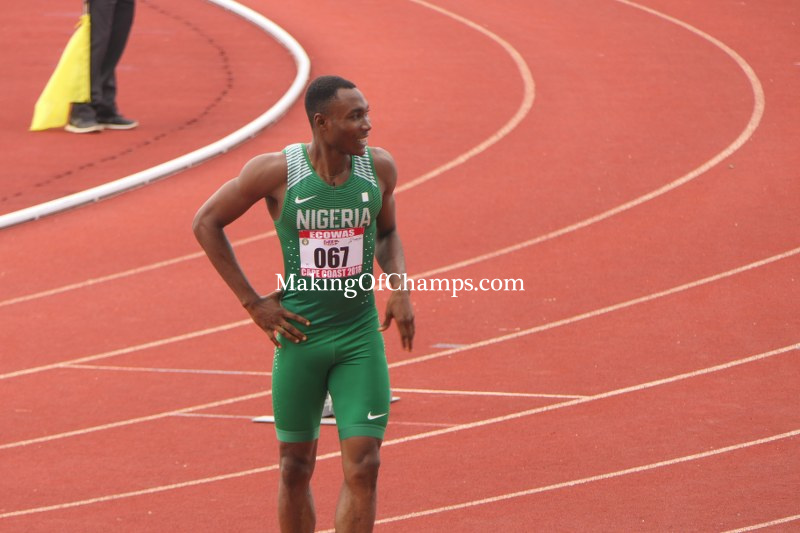 Hamid Sambo also completed the double, winning the men's 1500m in 3:57.66 with Ghana's William Amponsah 2nd in 3:59.88 and Mohamed Aziz 3rd in 4:02.0s.
Yinka Bamtefa joined the double train, leading from start to finish to win women's 800m in 2.15.02, while Sierra Leone's Fatima Sesay was 2nd in 2:21.70 and Ghana's Saraphina Adoumbila 3rd in 2:26.87.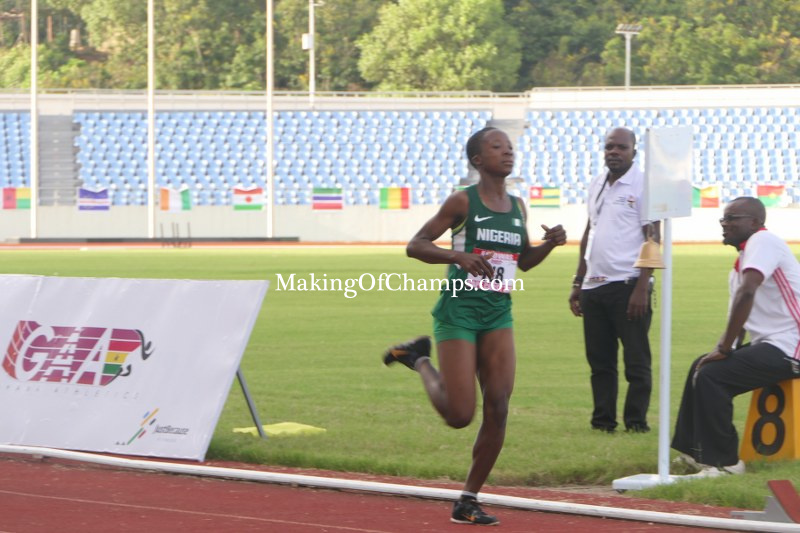 Field Events:
Team Nigeria's Oritsemeyiwa Ineh leapt to GOLD in the men's Triple Jump, winning with a mark of 15.46m as Ghana's Ransfor Nti finished 2nd with 14.97m and Burkina Faso's Franck Zongo 3rd jumping a distance of 14.54m.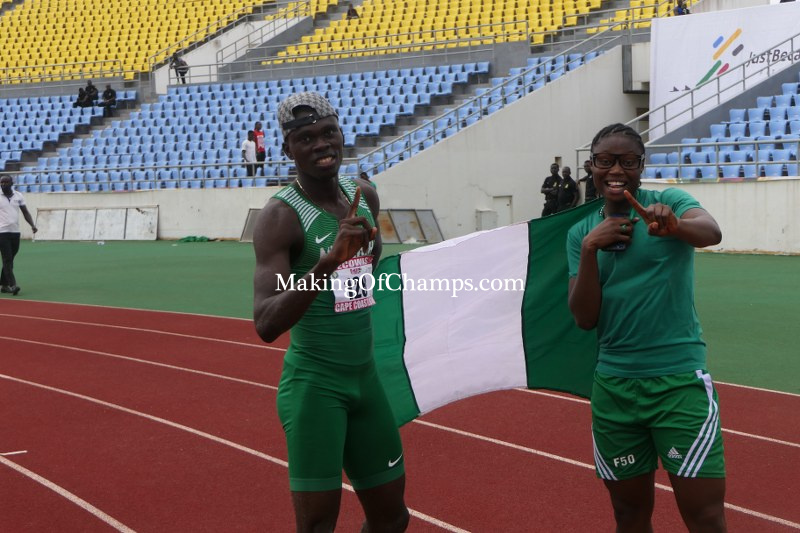 Meanwhile Hannah Kemele made it a double, adding to her Shot Put triumph yesterday with a win in women's Javelin, landing the spear at a distance of 42.45m. Ghana's Margaret Tweneboah got the Silver with a throw of 39.52m and Benin's Brigitte Tchede takin Bronze with 26.78m.
Although he jumped all through with a swollen knee, Team Nigeria's Cyprian Oyedele still endured the pains and won GOLD in the men's High Jump with a mark of 2.02m. Having secured the win, Oyedele passed the opportunity to continue at 2.04m, in order not to further aggravate the injury.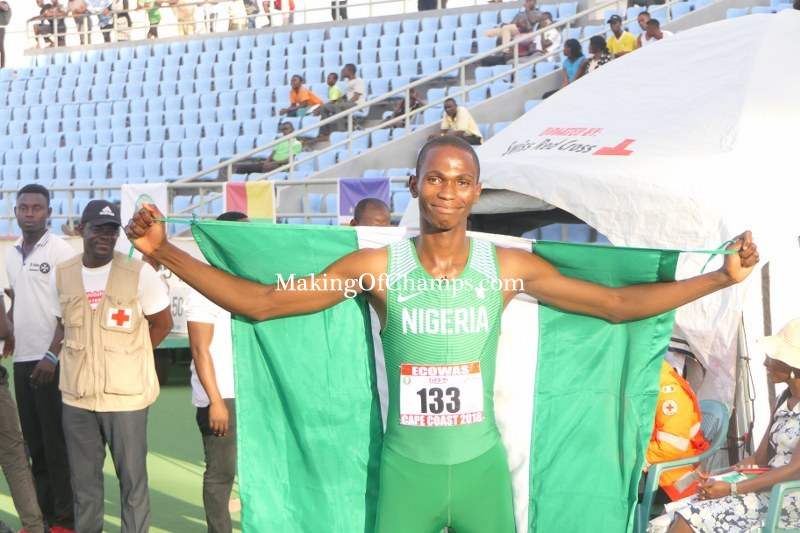 Relays:
Team Nigeria had to count on Abasi ono Akpan's wealth of experience, beating Team Ghana who's massive support seemed like it was going to get them over the line in women's 4x400m final.
With Blessing Ogundiran and Yinka Bamtefa augmenting Nigeria's lean team, there was always going to be uncertainty as both athletes are into shorter sprints and longer distances respectively. However they each tried in their new roles after Joy Abu gave them a good start to build on, helping Nigeria win GOLD in 3:47.07.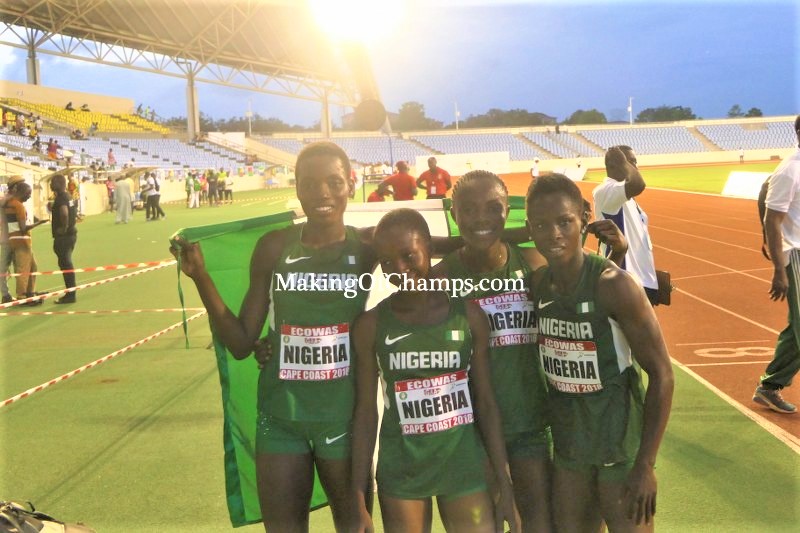 When Ogundiran handed Akpan the baton to anchor, the Ghanaian athlete on the last leg, exerted a lot of energy chasing her, even overtaking her in the first 200m, however Akpan hung on her shoulders, making her move in the home straight to secure the win for Team Nigeria. Ghana won Silver in 3:50.05, with Burkina Faso finishing 3rd in 4:05.55
In the men's category, Ghana got one back over Nigeria, winning with a time of 3:13.61. Team Nigeria's quartet of Nsikark Fancis, David Olowookere, Alaba Akintola and Akpeki finished 2nd with a time of 3:14.71. Sierra Leone got the Bronze in 3:26:52