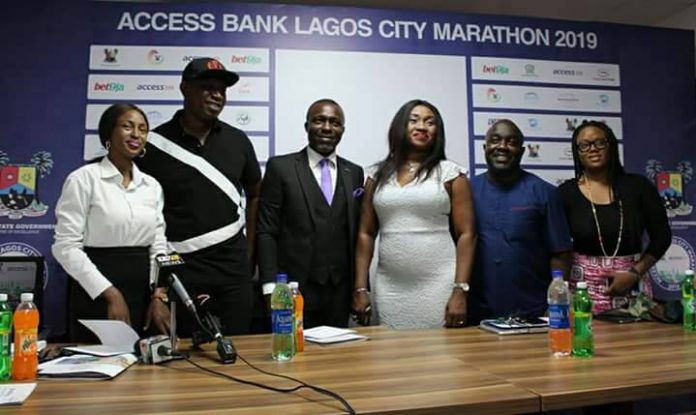 Organisers of the Lagos City Marathon have signed a five-year deal which begins from the 2019 edition of the race, with Real Estate firm, RevolutionPlus Property Development Company, with the organisation now joining the league of title sponsors of the marathon including GAC Motors and 7up Bottling Company.
This was announced at a media briefing held in Lagos during the week which had Project Consultant of the Lagos City Marathon, Bukola Olopade; Managing Director/Chief Executive Officer RevolutionPlus Property Bamidele Onalaja; Executive Director (ED) RevolutionPlus Property Tolulope Onalaja; General Manager Lagos City Marathon Yusuf Alli, and a host of others in attendance.
The ED of the company gave an insight as to the reason RevolutionPlus, which has the vision is to be the No.1 Real Estate Company in Nigeria and sub-Saharan Africa, decided to pitch its tent with the Access Bank Lagos City Marathon.
She said, "I was at this year's edition of the Access Bank Marathon and I can say that my expectation was surpassed because I could see excellence at work. This is a good initiative, and immediately, we made up our minds to be part of this project. We are very happy to be title sponsors of this competition."
When asked what RevoultionPlus hopes to gain from this partnership, the MD/CEO said: "First of all we are looking at it from a point of Corporate Social Responsibility (CSR). It is also an opportunity for our brand to be well known. Each time the Lagos City Marathon takes place, it's as if the whole of Lagos is shut down, so the Access Bank Marathon is a brand we want to be associated with. We may not make immediate profit, but this partnership will certainly create more awareness about our brand, which is key."
General Manager of the marathon Alli reiterated the commitment of the organisers to continue to bring world class athletes to headline the event.
He said, "The winning time for the men's event at the Boston Marathon which was held last week was 2:15.58, meanwhile the winning time at this year's Lagos City Marathon was 2:13.02. In the women's event in Boston, the winning time was 2:39.54 while ours was 2:38.23, showing the calibre of athletes we are bringing in. We will not relent in our efforts to bring you the best athletes in the world."