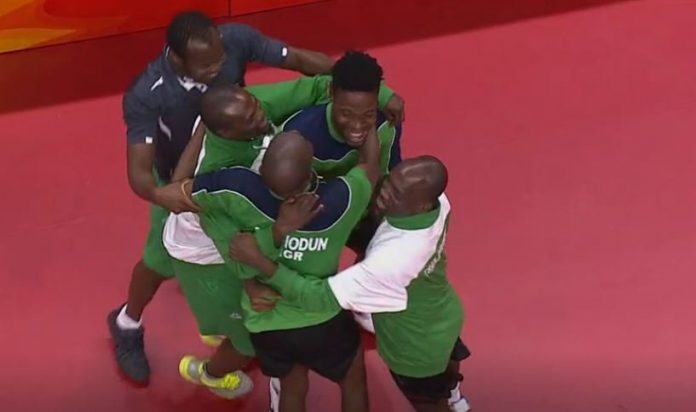 England was a tough nut to crack, but Nigeria's trio of Segun Toriola, Bode Abiodun and Olajide Omotayo proved to be formidable opponents as they battled past the English side with a 3-2 triumph in the semis on Monday to book a final berth against India at the ongoing Commonwealth Games in Gold Coast, Australia.
It was no mean feat for the Nigerian side, considering that England are 2016 World Championships Bronze medallists and 2018 World Team Cup Bronze medallists as well.
Toriola served off action for Team Nigeria as he went against Paul Drinkhall, losing 2-3 (14-12, 9-11, 7-11, 11-13, 11-7), but Abiodun brought Nigeria back into the game with his 3-2 win over Liam Pitchford (8-11, 9-11, 11-4, 13-11, 11-5).
It was a blend of experience and youth for Nigeria in the doubles game as Toriola, the oldest member of the team, partnered with Omotayo, the youngest player, to defeat England's duo of Samuel Walker and Drinkhall (2-11, 11-7, 12-10, 11-6).
Omotayo succumbed to the superior serves of Pitchford (9-11, 11-4, 11-8, 9-11, 11-6), which led to a 2-2 tie. However, Abiodun turned out to be the game changer and tie breaker for Nigeria as he sent Samuel Walker packing (8-11, 11-9, 11-9, 6-11) to give Nigeria the overall victory.
Speaking afterwards, Omotayo who is making his debut at the Commonwealth Games, said: "It means a lot to me being in the team. I've had the opportunity to showcase my talent. I lost my singles match against Liam Pitchford and won my doubles pairing with Segun Toriola. I'm really excited and looking forward to the final which will be played in the next two hours."