Last weekend, we brought you the first part of our story on the Top 8 Nigerian athletes to watch out for at the 2018 Commonwealth Games in Gold Coast, Australia.
Having looked at the first four, let's now bring you the concluding part of the story, and hopefully, all eight athletes mentioned will live up to the hype when they compete in their respective events.
5) Oluwatobi Amusan
Just three years ago, Oluwatobiloba Amusan was contending for a breakthrough like every other home based athlete. However, she has since become one of the athletes Nigeria hinges its medal hopes on going into a major championship. Such has been her meteoric rise!
Last year, Amusan clocked a PB of 12.57s to win the 100m NCAA title and went on to compete in her first World Championships, getting to the semis where she finished 4th with a time of 13.04s. She turned pro afterwards and has not looked back ever since.
This year, she started her indoor season with a 60m Hurdles PB of 7.89s in Albuquerque. She then reached the final of the 60m Hurdles at the World Indoor championships in Birmingham, finishing ahead of the more experienced Sally Pearson in the heats with a time of 7.95s.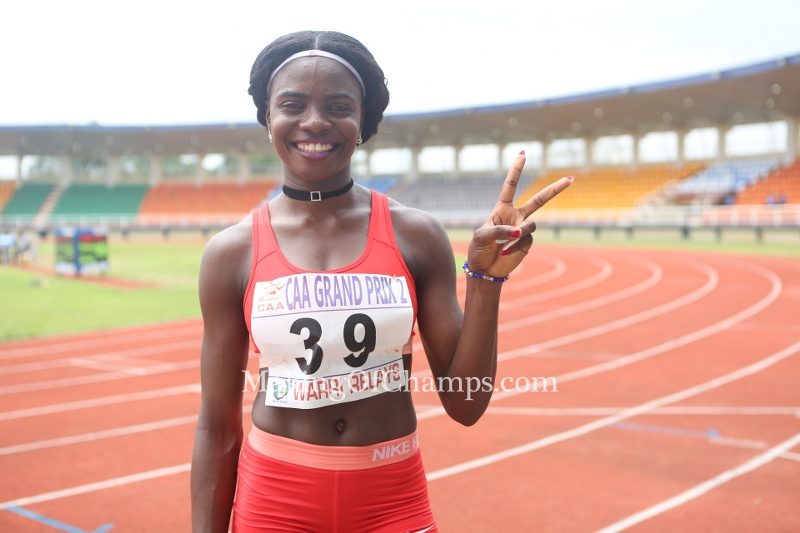 No doubt, that would boost Amusan's confidence when she squares up against the Australian in Gold Coast, and also with the news that Pearson is struggling with an injury, the Nigerian would fancy her chances.
"All athletes have niggling injury issues they have to face and I am no different. This is not a career ending injury but the timing is extremely disappointing,'' Pearson said of her injury going into the Commonwealth Games.
So if Pearson is not 100% fit and Amusan surmounts the challenge of Jamaica's Danielle Williams, who knows, Nigeria could be on the verge of winning a medal in the 100m Hurdles.
6) Seye Ogunlewe
There's no better incentive for Seye Ogunlewe to prove a point than to excel at the Commonwealth Games in Gold Coast. Having navigated the controversy that led to his initial exclusion from the Nigerian team, Ogunlewe will be more motivated to show that it would have been a very huge mistake to have left him at home.
During the Commonwealth Trials in Abuja in February, Ogunlewe only participated in the first two rounds of the men's 100m and did not start (DNS) in the final. That had heavy repercussions as he was left out in the initial 37-man list to the Games.
However, a lot of water has passed under the bridge since then and broken fences have since been mended, which led to his eventual inclusion.
Going by how well he celebrated after racing to a Season's Best of 10.23s at the Abuja Golden League, the 3-time defending champ has since demonstrated that he's still the fastest Nigerian this year and remains the one to beat.
Nevertheless, as at the time of writing this story, Ogunlewe has been listed to compete in just the 4x100m relay, with the trio of Enoch Adegoke, Ogho-Oghene Egwero and Idjesa Uruemu listed to compete in the 100m.
So, if Nigeria's entries remain like that until race day, Ogunlewe won't be participating in the individual 100m.
Four years ago in Glasgow, Ogunlewe competed in just the 200m, finishing 4th with a then PB of 21.21s. It will no doubt be shattering for him if he misses out again in the 100m.
7) Yinka Ajayi
In 2016, Yinka Ajayi was content with just being a team member of the Nigerian quartet that won Silver at the African Athletics Championships in Durban; but two years down the line, she's now cutting her teeth as an individual 400m runner the country is now banking on.
Ajayi steadily improved in 2017, first running a Personal Best (PB) of 51.57s at the National Trials, and then bettering the mark at the Warri Relays in Ozoro with a then lifetime best of 51.30s. She also made the semifinals of the women's 400m at the World Championships in London  and helped Nigeria finish 5th in the 4x400m with a time of 3:26.72.
It must be noted that Ajayi has been playing second fiddle to Patience Okon-George for long, and was yet to ever beat the reigning champion in any competition. In fact, it looked like it would be business as usual when Ajayi, hard as she tried during the Commonwealth Trials, still finished 2nd to Okon-George.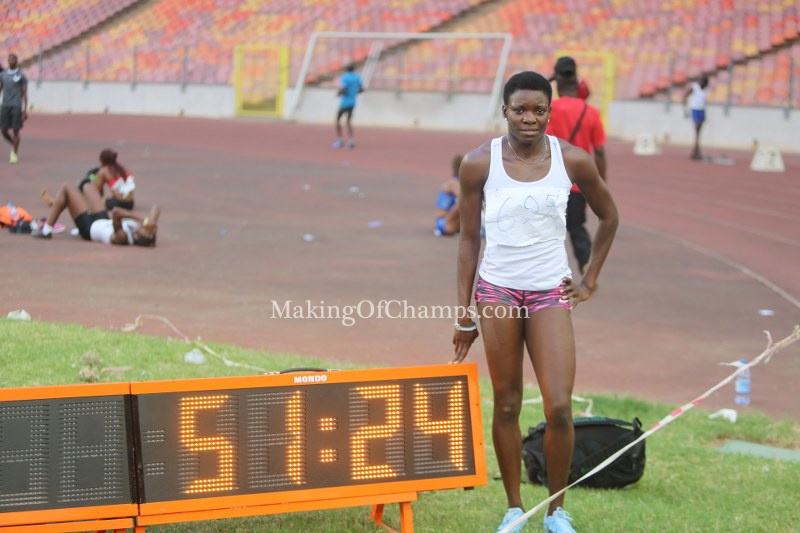 Unbeknownst to Okon-George, Ajayi had had enough of the losses and handed her a stunning defeat at last month's Abuja Golden League, making her move after the last bend and attacked the home straight with venom to post a new PB of 51.22s.
That time is the fastest by a Nigerian sprinter since last year, and now sees Ajayi ranked 5th in the world this season. Only Botswana's Amantle Montsho with a Season's Best (SB) of 50.66s (ranked 2nd) and Stephanie McPherson with an SB of 51.07s (ranked 4th) are going to be at the Commonwealth Games.
It therefore means that by ranking, Ajayi is a huge medal contender as she will be the 3rd fastest of all the female quarter-milers in Gold Coast.
No doubt, she will be brewing with a lot of confidence at the moment, having first conquered her first hurdle of beating Okon-George. Going by her current form, she will most definitely be gunning for a medal, and yes, she's on the cusp of running under 51s.
8) Queen Obisesan
Four years ago in Glasgow, Queen Obisesan was grappling with finishing 13th overall and not even making the final of the women's Hammer throw with her best mark then being 57.16m. All that is set to change now as she has vastly improved from her last Commonwealth Games outing.
At the moment, we seem to have lost count of the number of times Obisesan has broken the Hammer Throw National Record (NR). This has been the year that Obisesan has demonstrated that she means business, and that she's ready to challenge her foreign counterparts.
At the Port Harcourt Golden League where most people were focusing on the track events, all the attention swiftly changed to the women's Hammer event, and photographers swamped to take pictures after news started circulating that an NR had been broken.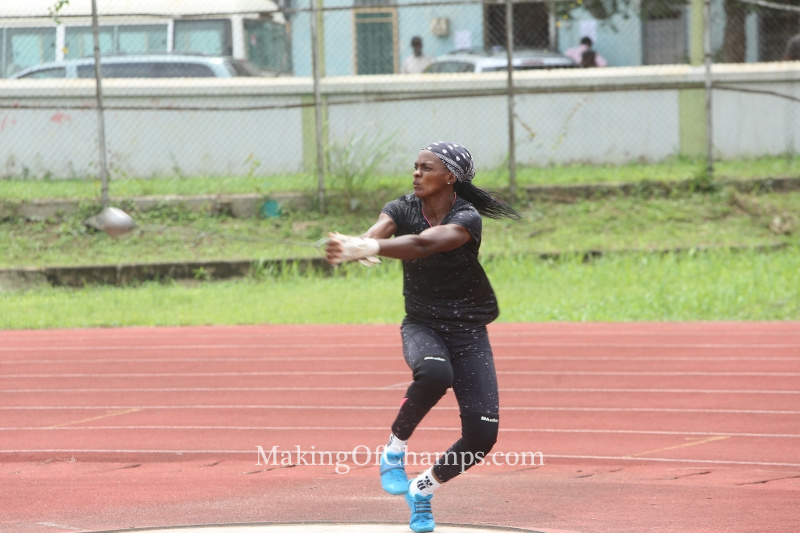 In fact, it was the highlight of that meet, as Obisesan who had finished competing by the time journalists got to the Hammer arc, had to do a special photo op afterwards because nobody initially felt something newsworthy was going to come out of the event.
Having thrown an NR in 2013, it took her five years to surpass the 63.79m she threw in Ilorin, and set a new one of 65.01m in Port Harcourt. Then it happened in Abuja at the Commonwealth Games Trials. Obisesan for the first time in her career, landed the Hammer a distance over 66m, throwing a new NR of 66.86m to take the win.
What was more remarkable about Obisesan's achievement was that of her six throws that day, five of them were within the 66m range. Now she's currently ranked 23rd in the world. The catch here is that of the 22 athletes above her in the rankings, only three are going to the Commonwealth Games, which makes her a huge contender for a medal in Gold Coast.
With the way she's going at the moment, surely she's in the frame to throw a mark close to 70m. Who knows, it could happen sooner than we expect.