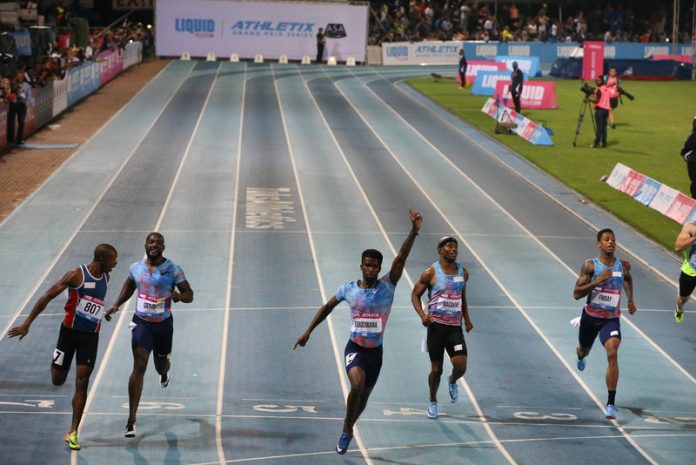 The second Liquid Telecom Athletix Grand Prix Series Meeting held at Tuks Athletics Stadium in Tshwane on Thursday, 8th March 2018, saw Caster Semenya win the 1000m women's race in a new South African Record, while Anaso Jobodwana brought down the house by taking the scalp of World 100m Champion, Justin Gatlin in the men's 150m race.
Jobodwana started celebrating 20 meters before the line, knowing that he had claimed one of the biggest victories of his career in a time of 15.08s, ahead of Roscoe Engel (15.17s) and Luxolo Adams rounding out the Top 3 (15.18s). Gatlin had to settle for 4th (15.23s), but that did not stop the American from spending time with the crowd and posing for endless pictures.
"It's all about the fans," said Gatlin. "They are the reason why we race".
Jobodwana had just become a father the day before. He said: "Before the race I was just thinking about the last two years (he had struggled with injuries), my wife in America and my son being born yesterday. All that gave me the power to execute and run my race. I am very happy, as I am almost back to where I was."
Gatlin was gracious in defeat, praising Jobodwana: "He ran a great race and it is good to see him running so well again. Next time I hope to come through earlier. I did feel a bit jetlagged, so my coach told me to focus on my first 100m and see how I best finish the last 50m. I still felt I would win with 30m to go, but the legs came off. I usually open in May, so this was a bit early for me. But overall I am happy."
The 150m was the final race of an evening that saw spectacular performances coming in quick succession. Akani Simbine lived up to his billing as the fastest man in South Africa, opening his 2018 season with a 10.05s win.
He said, "I am happy with the win. I made sure that I focused on the first 60m and I executed that well. It is important to me to do that. Everything is going well in my group and I'm looking forward to the season."
Caster Semenya broke the 35-year-old record of Ilse De Kock Wicksel in the women's 1000m,   crossing the line in 2:35.43. Wicksel's record was 2:37.0, run in 1983. Semenya was paced by 400m hurdler, Wenda Nel and was taken through the 600m mark in 93s, spot on for the record attempt.
"That was a good race for me. I know where I am in my training now and I am on track for what I want to achieve", she said. Semenya was congratulated by the former SA Record Holder, Ilse de Kock Wicksel.
Nicholas Bett won the men's 400m Hurdles, breaking 49s for the second time this year, winning the race in 48.88s ahead of Le Roux Hamman (49.22s) and LJ Van Zyl.
Ruswahl Samaai was too strong in the men's Long Jump with a leap of 8.24m. Isaac Makwala had targeted a sub 31s 300m, but had to settle for a 31.77s win over Thapela Phora (32.57s) and Ofentse Mogawane (32.68s).
Uganda's Joshua Cheptegei showed just why he is the world 10,000m Silver medallist, running a controlled 3000m race. Cheptegei sat behind pacemaker Elroy Gelant until he pulled off after 2000m.
Cheptegei then raced on his own dragging young Ryan Mphahlele to a sub 8-minute time. Cheptegei looked majestic as he won in 7:49.48, with Mphahlele clocking 7:59.77 in his first 3000m outing, once again taking some big scalps.  Ronald Musagala rounded off the podium.
The third and final Liquid Telecom Athletix Grand Prix Series Meeting takes place in Paarl at the Dal Josaphat Stadium on Thursday, 22nd March, 2018.