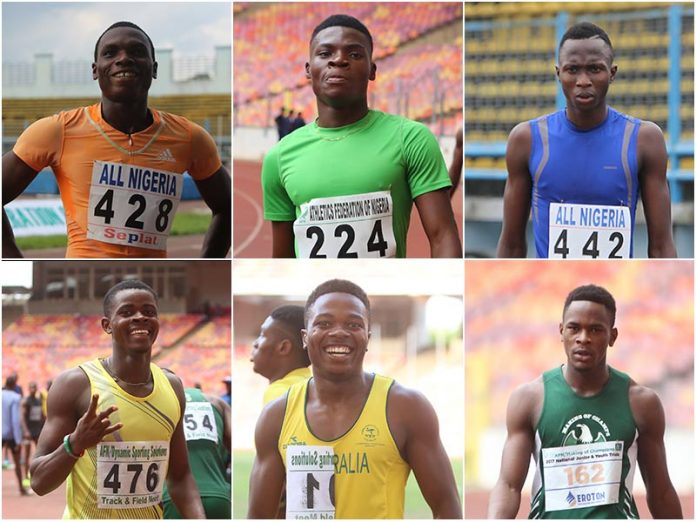 At the turn of every new season, there are always enterprising sprinters many watch out for, especially if they had shown tremendous promise from the previous season.
With the 2018 Nigerian Athletics season having commenced last Decemeber, we will be taking a detailed look at some of the best male sprinters who could shine this year and go on to dominate for many years to come.
Going by some of the performances witnessed at the Abuja All-Comers, Kaduna Golden League and the Commonwealth Games Camping Trials, not forgetting the American Collegiate Indoor season that has just started, we have drawn up a pool of six Nigerian male athletes to keep tabs on.
6) Jerry Jakpa
As a raw talent three years ago at the Top Sprinter auditions in Benin, Jerry Jakpa has gone from a budding athlete to becoming a medalist in his first ever appearance at a senior National Championships, and has grown in leaps and bounds in the little time he has joined the party.
At the Junior Championships in 2017, Jakpa showed great promise when in the 100m, he overcame a poor start to clinch Bronze with a time of 10.81s. A month later in the Senior Trials, he was part of an interesting 200m final that took over 15 minutes before a clear winner was ascertained. He won Bronze after setting a Personal Best (PB) of 21.21s.
It wasn't a bad way to draw the curtains on a season that he raked in two National medals from two events, and at two different levels. He opened up his 2018 season at the All-Comers event in Abuja, winning the 200m with a Season's Best (SB) of 21.28s and finishing 2nd in the 100m.
Although he comfortably won the 200m, it was in the 100m that he showed that he has come of age, running two semifinals in 10 minutes because of a rerun, and going on to clock a then PB of 10.53s, losing by one-hundredth of a second.
A week later at the Kaduna Golden League, Jakpa finished 2nd again to Usheoritse Itsekiri but this time with a PB of 10.49s, and also the extra incentive of crossing the line before former National champion Obinna Metu.
It might seem a bit early putting Jakpa in the same bracket as the established order. However, any keen follower of Nigerian Athletics in the last six months will know that Jakpa is on the threshold of something big.
5) Usheoritse Itsekiri
If there's any athlete who has shown over the last six months that he could go on to challenge the big guns in the 100m, it's Usheoritse Itsekiri, who is gradually charting his own course.
Itsekiri last season ran a PB of 10.43s in the 100m semis at the National Junior Championships, going on to win the title with a time of 10.60s.
A month later at the National Championships, Itsekiri competed in the 100m final, racing against the likes of defending champion Seye Ogunlewe, former champion Obinna Metu, with renowned sprinters like Ogho-Oghene Egwero equally in the mix, finishing 5th in the race.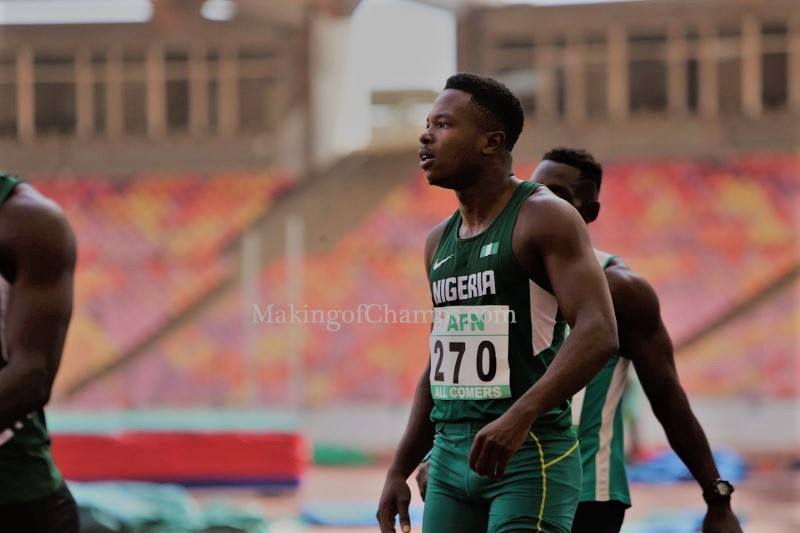 He has since taken the domestic scene by storm, winning the Abuja All-Comers in 10.52s, before going on to beat Jakpa and Metu to win at the Kaduna Golden League in 10.46s.
An elated Itsekiri couldn't conceal his excitement in Kaduna, crossing the line before Metu as he wheeled away in ecstasy. Although he finished 2nd behind Egwero at the Commonwealth Trials last month, he still posted a Season's Best (SB) of 10.44s.
Itsekiri will be an outsider for the title, but don't rule him out just yet as he will definitely have a say in the scheme of things.
4) Prosper Ogbonna
Not much was known about Prosper Ogbonna prior to the 2017 season. However, he has succeeded in etching his name in the minds of spectators as an athlete to keep an eye on.
Ogbonna initially started out running the 100m and has a PB of 10.59s, which he ran at the 2016 National Junior Championships in Lagos. However, he has since switched events and has found a new habour in the 400m.
It's the 400m that Ogbonna has gotten more joy in, winning the 400m title at the 2017 Junior Trials in Abuja, racing to a then PB of 46.56s ahead of the chasing pack.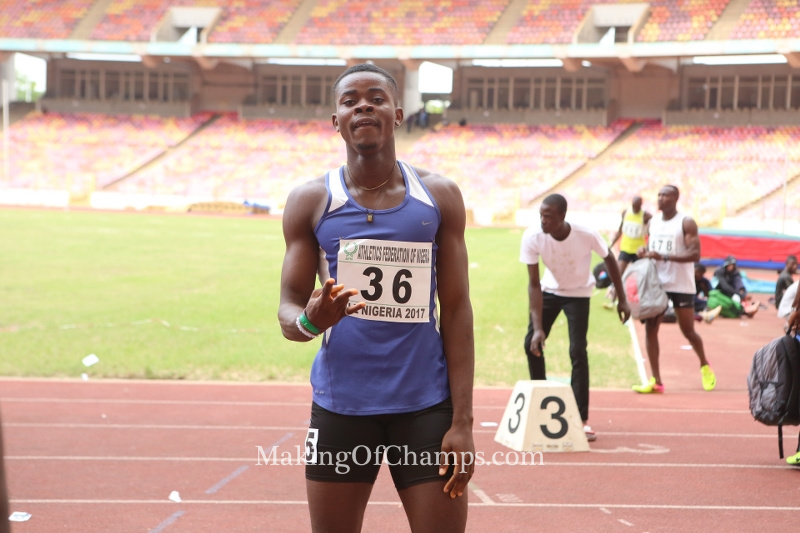 Ogbonna also showed that he could be a force to reckon with in the half lap event after clinching the 200m title ahead of Itsekiri, winning with a time of 21.21s, just short of his PB of 21.08s, which he ran some weeks before at the Dynamic Solutions Meet.
He went on to compete at the National Championships and even though he didn't win, having met a formidable opponent in Samson Nathaniel, Ogbonna still got on the podium with a 3rd-place finish that saw him clock 46.63s.
This season, he has made a statement already, running one of the fastest times of all heats in the 200m at the Kaduna Golden League. How he would have wished that his time of 20.87s was legal and not with an excessive wind reading of +5.0.
He might have used that 200m to open his season, but there is no doubt that he would be more concerned about the 400m, looking to possibly go toe to toe with Nathaniel this year.
3) Bamidele Emmanuel
Tall, lanky and sometimes looking languid when in full flight, that doesn't in anyway detract the immense potential of Bamidele Emmanuel who has now entered the fray in the battle for supremacy in the 400m.
Two years ago at the DK Olukoya Junior Trials in Lagos, Emmanuel clinched the 400m title in 47.77s, but these days, he has been running marks within the 46s range, underlining how much he has improved since then.
Last year at the Junior Trials in Abuja, although he finished 2nd behind a very resolute Ogbonna, Emmanuel clocked a time of 46.85s.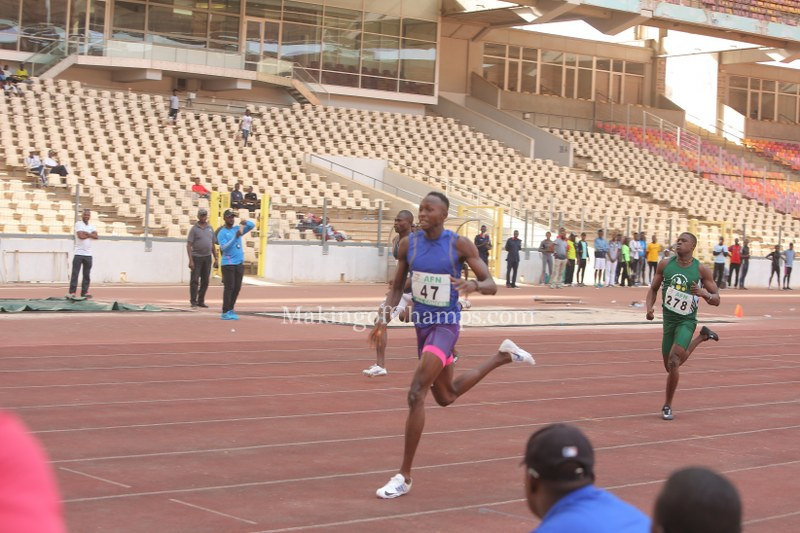 Having lost his junior title, a month later he came back rejuvenated and went one step above Ogbonna to finish 2nd at the National Championships behind Nathaniel who won the 400m title.
Emmanuel came out of that race with a then PB of 46.57s, trying so hard to match the pace of Nathaniel who won in 46.10s. It was a scant consolation to the end of his season.
When the 2018 season rolled in, Emmanuel was right on cue to start off on a winning note. He raced to an SB of 47.17s to win at the Abuja All-Comers, but it was a week later that he laid down the marker.
Racing amid difficult weather conditions in Kaduna, Emmanuel held his own and raced to a new PB of 46.48s to win the men's 400m ahead of Orukpe Erayokan. Meanwhile a day earlier, he had won his 200m heat in 21.55s, which he used to prepare for his 400m race the next day.
Nathaniel is yet to race this year and could do so soon, but Emmanuel will be waiting to give him a run, and who knows, maybe surprise him.
2) Raymond Ekevwo
It's been almost two years since Raymond Ekevwo won that famous 100m title at the 2016 National Junior Championships, winning with a PB of 10.37s. The race was so tense that there were two false starts before it finally happened, but the intriguing aspect of that race was how Ekevwo kept his cool and still posted a good time.
Although he couldn't defend his title in 2017 with Itsekiri pipping him to win the honours, he still ran a good race to finish on the podium, placing 2nd in 10.71s.
Ekevwo competed in the senior category and ran good races in the rounds to qualify for the final. Coming up against the likes of Ogunlewe, Egwero and Metu, he hardly stood a chance, with the gulf in experience quite glaring after he finished 8th.
That was the last heard of Ekevwo in 2017 as he left the borders, having secured a Track scholarship to study at Oral Roberts University in the US. Months after making the move, Ekevwo didn't show any adaptation problems as he hit the ground running.
Last weekend at the Arkansas Invitational held in Randal Tyson Track Center, Ekevwo stormed to a new PB of 6.69s to win Heat 4 of the 60m, and finish 2nd overall behind Kenzo Cotton who won Heat 5 in 6.63s.
This is the first time that Ekevwo is competing in an indoor circuit, but he handled it well to run his school's all-time second fastest time in this event. The time also ranks him at No.12 on the NCAA list for this season.
Ekevwo seems to be hitting form just at the right time, and just like 2016, there seems to be an interesting season in the horizon for him.
1) Divine Oduduru
After a hiatus that saw him largely inactive for almost a year, Divine Oduduru is back in the thick of things and roaring to hit the 2016 heights that saw him compete in his first ever Olympic Games.
Having left the Nigerian scene for the United States towards the end of 2016, Oduduru competed in a few meets for his school in 2017, but most of his absence was mainly due to an injury that ruled him out of the National Championships.
Oduduru made the semifinals of the 200m at the Rio Olympics, twice running in the same heat as the legendary Usain Bolt, and finishing 2nd in the first round with a PB of 20.34s.
Prior to the Olympics, he had lowered his 100m PB from 10.29s to 10.25s at the Sapele Golden League. He didn't pick on that form, having moved to the US and was still struggling to adapt to his new environment.
2017 rolled by, and Oduduru's injury ensured that he missed the chance of coming for the National Trials and subsequently missing the World Championships in London.
The former 200m champion now looks to have put last season behind him, and he has started off brilliantly in 2018. Only last weekend at the Corky Classic, he ran a PB of 6.66s to finish 2nd behind America's Mike Rodgers who won in 6.63s. That's Odururu first indoor competition this season.
With just under a month to the National Trials in Uyo, Oduduru seems to be hitting form just in time for the competition, and a fit Oduduru will not be coming to make up the numbers: he will always be up there in the echelon of top contenders!