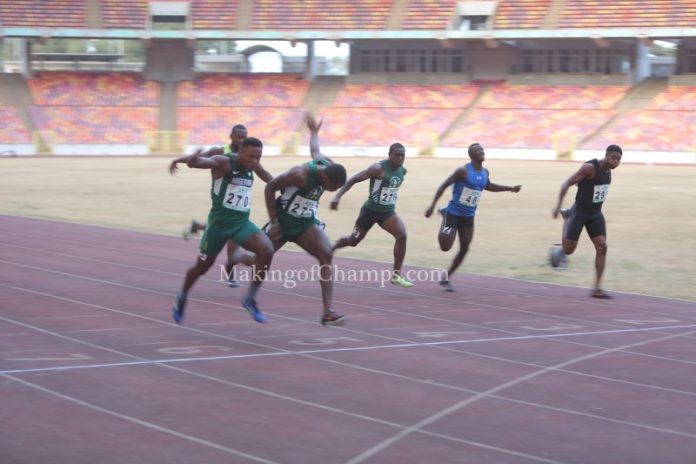 Usheoritse Itsekiri and Maria Thompson-Omokwe were the cynosure of all eyes at the Athletics Federation of Nigeria (AFN) All-Comers meet held on Friday, November 24th, at the Abuja National Stadium.
The pair braved all odds to clinch the 100m titles in the male and female category respectively on Day 1 of the competition.
The 2017 National U-20 Junior Champion was able to breeze his way through the heats and semis without much hassle. However, he had to contend with last year's National 200m Champion Emmanuel Arowolo, and Making of Champions' (MoC) Jerry Jakpa before he could secure the win.
Itsekiri was able to claim the victory in 10.52s just by the skin of his teeth as Jakpa gave him the race of his life as he also crossed the finish line one hundredth of a second after Itsekiri pulled through. Chukwudi Olisakwe placed 3rd in 10.73s, and MoC's Peter Edwin 4th in 10.80s.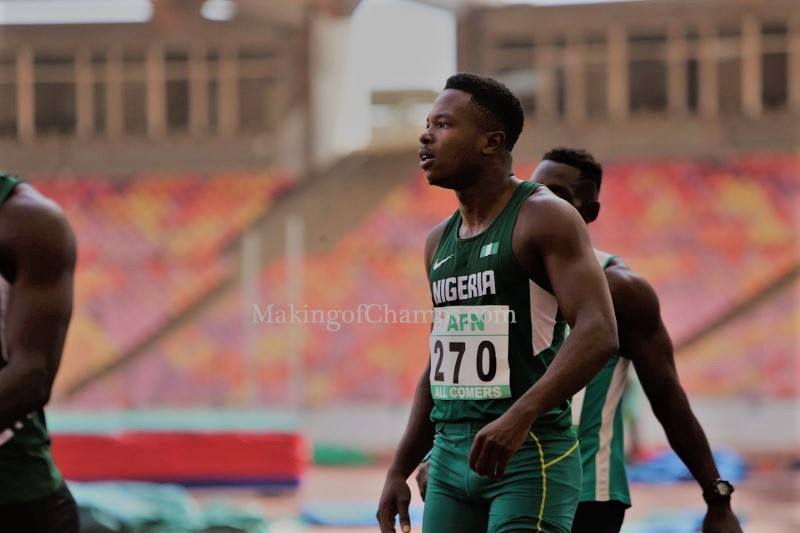 In the Women's 100m final, Thompson-Omokwe did not have such a problem as she cruised through her race to win the women's 100m in 11.80s. The duo of Rosemary Chukwuma (11.85s) and Grace Ayemoba (12.10s) placed 2nd and 3rd respectively.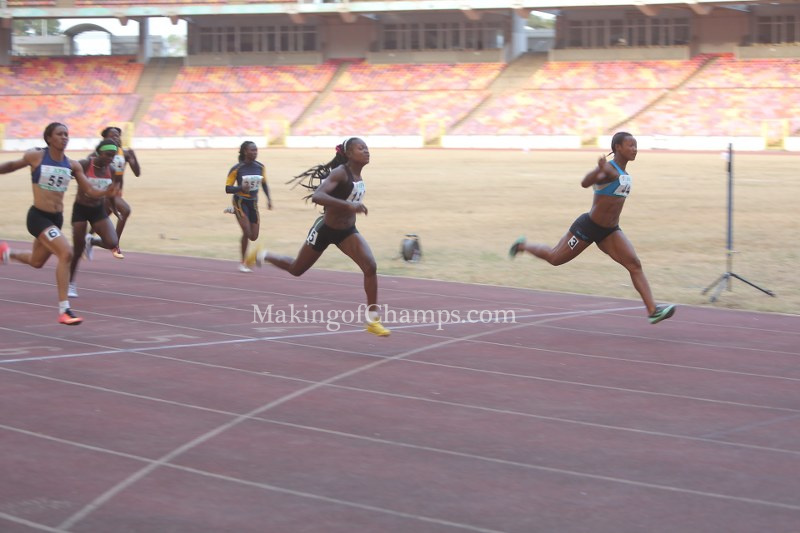 Also, the heats of the women's 400m took place as former African Champion Folashade Abugan made a return to the track after missing the majority of the 2017 season. She made light work of her competitors to qualify for the final in a time of 55.83s.
NSCDC's Margaret Etim won the other heat as she crossed the finish line in 55.76s as MoC's Ifunaya Muoghalu came 2nd in 56.08s; Oluchi Offorma and Blessing Obarierhu  placed 3rd and 4th respectively to book a place in the final tomorrow.
Hannah Adewale (5:30.69) and Yakubu Gyang (4:11.95) won the women and men's 1500m event respectively. Equally, Rose Akusho won the women's 10,000m with a time of 36:45.51, while Rotgang James was 2nd in 37:05.39; Onan Sale was 3rd in 37:15.83s. All three are from the Mountaineers Club in Jos.
In the Field events, Leticia Chime of NSCDC won the Shot put, as she threw a mark of 12.35m, while Oluwakemi Francis of the same team also jumped the farthest to clinch the Long Jump title, registering a mark of 5.69m.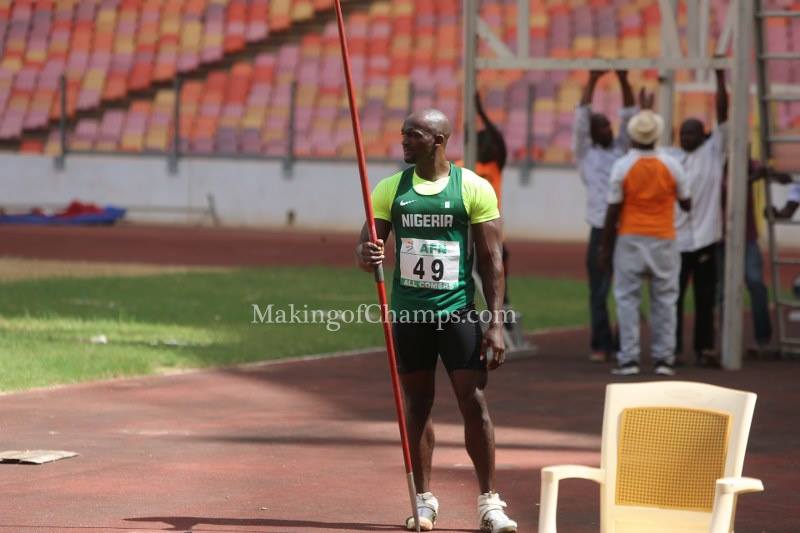 Also, National Javelin Champion Samuel Kure won his event by a mile as he threw a distance of 64.31m, while Obiora Arinze of team Defenders clinched the Men's High Jump with a mark of 1.90m.
The Men's Decathlon will continue tomorrow as the 200m, 400m and 800m finals will also be decided.