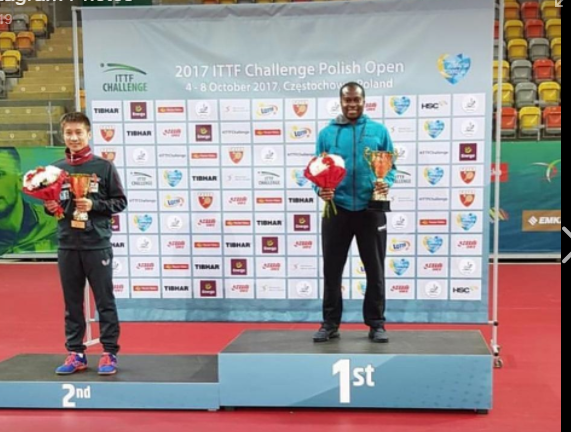 With a few days to the 2017 ITTF World Cup in Liege, Beligum, Aruna Quadri defied all odds on Sunday October 8, to emerge the men's Singles Champion at the ITTF Challenge tagged 'Polish Open'.
The Nigerian who has been listed among the Top 20 players in the world that will compete at the prestigious ITTF World Cup holding from October 20 to 22, defeated Japan's Kaii Yoshida 11-7, 11-13 11-8, 6-11, 11-8, 14-12 (4-2) to become the first African to win an ITTF title outside the continent.
The final match against the Japanese lived up to expectation as both players tested each other strength-for-strength and skill-for-skill, but it was the Nigerian that laughed last.
As the No.1 seed of the tournament, Quadri ensured that he maintained his status with a resounding victory to the chagrin of the Polish fans who queued behind the Japanese throughout the encounter.
Quadri's opponent enjoyed support from the home fans as he plies his trade in the Polish league, but this did not deter Quadri from raising his game to cage the Japanese and smile home with the trophy.
Prior to beating the Japanese in the final, Quadri had defeated Kazakhstan's Kirill Gerassimenko (11-5, 8-11, 11-8, 11-6, 7-11, 11-6) in the semifinal stage of the competition.
In the women's singles event, it was a Japanese affair as ITTF World Cup defending champion, Mima Ito defeated her compatriot Saki Shibata 4-1 to emerge as winner.