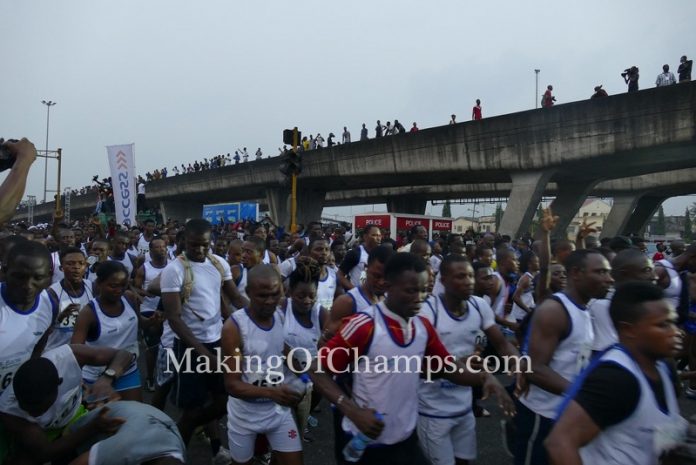 The Access Bank Lagos City Marathon has been awarded the IAAF Bronze Label by the governing body of Athletics, the International Association of Athletics Federations (IAAF).
IAAF label races are designated as leading road races around the world and were first introduced in 2008. In that first year, only Gold and Silver Labels were awarded. A third tier, the Bronze label was introduced in 2010 and in 2015, 88 races were listed in total.
All three categories require an international elite field, that requires at least five nations (four for Bronze) to be represented by runners with times faster than the IAAF's guidelines.
The conditions for the award of an IAAF Label include but are not limited to an international elite field, the race course closed to vehicular traffic, route measured to the Association of International Marathons and Distance Races (AIMS) standard, use of electronic timing to generate the results, a specified number of doping tests, and equal prize monies for the participants amongst other requirements.
Project Consultant of the Access Bank Lagos City Marathon Bukola Olopade said the Executive Governor of Lagos State Akinwunmi Ambode will formally present the certificate to Lagosians and Nigerians soon.
He said, "We are a global brand today because of Governor Ambode's vision and foresight. He is giving us all support we need. It is support that ensured that we got a personality like Norris Williamson, a grade A IAAF/AIMS measurer, who measured the route of Atlanta, Sydney, Athens and Beijing Olympics Games, to measure and certify our route, which ensured that we are a label race before our third edition''.
Olopade also thanked race sponsor Access Bank and others sponsors and supporters like 7Up, Bet Naija, Eko Hotels, Eko Atlantics, GAC Motors and the staff of the Marathon Office for making this achievement possible.
The Access Bank Lagos City Marathon is the second Nigerian Road Race to get an IAAF Label. In 2014, the Okpekpe 10km Road Race held annually in Edo State, became the first West African race to be granted a Bronze Label.