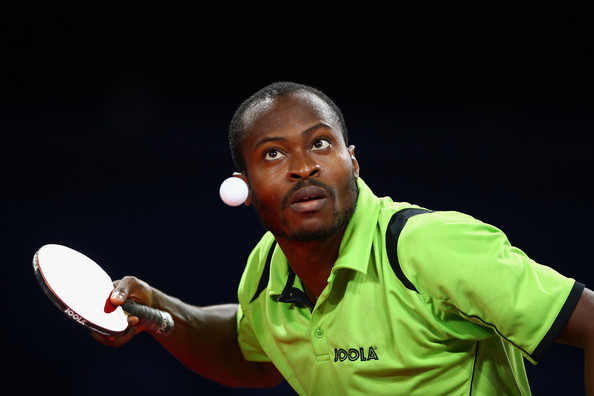 Nigeria's Aruna Quadri returns to the global stage as the 2014 ITTF Star Player has been seeded No.1 in the 32-man seeding list released for the ITTF Challenge 'Polish Open', which serves off on Thursday, October 6, in Warsaw.
Quadri who claimed his first title in the Portuguese League at the weekend after lifting the Portuguese Super Cup with Sporting, is joined on the seeding list by Sporting teammate – Joao Monteiro.
Quadri is hoping to use the Polish Open to prepare for this month's ITTF World Cup holding in Liege, Belgium, and he will be joined by Omar Assar of Egypt who will also be flying Africa's flag in Belgium.
Quadri and Monteiro have enjoyed celebrated moments during their careers; earlier this year the Nigerian won the African Cup in Agadir, Morocco, and more recently, Monteiro was pivotal to his country's Silver medal success at the recent Liebherr 2017 European Team Championships in Luxembourg.
Notable successes but as with Germany's Benedikt Duda, the No.3 seed, an ITTF World Tour or ITTF Challenge Series Men's Singles title remains elusive. Of the Top 3, Quadri was the closest to winning an ITTF event when he reached the final of the Nigeria Table Tennis Open in Lagos in 2015, but was beaten by Egypt's Omar Assar.
The goal for the Hong Kong duo of Ho Kwan Kit and Jiang Tianyi, who are the next two names in the Czestochowa order of merit, is to add to existing success. Ho Kwan Kit won in the Philippines in 2014; Jiang Tianyi emerged victorious in Brazil in 2008, and later in 2015 in Hungary. In terms of ITTF World Tour or ITTF Challenge Series Men's Singles titles, he is the most successful player on view in Poland.
England's Liam Pitchford, Poland's Wang Zengyi and Romania's Ovidiu Ionescu complete the Top 8 names. Like the Top 3, no member of the trio has won an ITTF World Tour or ITTF Challenge Series Men's Singles event. Only Wang Zengyi came close to achieving that feat in 2014 in Belarus, but he was beaten in the final by the host nation's Vladimir Samsonov.
That notwithstanding, some of the players set to compete in Czestochowa on Thursday have achieved such feats.
On the ITTF World Tour, Romania's Adrian Crisan, the No.13 seed, won in Brazil in 2005; Austria's Daniel Habesohn emerged successful in 2014 in Hungary; last year the Czech Republic's Tomas Konecny succeeded in Bulgaria, while India's Sathiyan Gnanasekaran prevailed in Belgium.
In Czestochowa, Konecny is the No.14 seed; Gnanasekaran is the No.24 seed, followed immediately by Habesohn.
Meanwhile, one more name can be added to the list; Soumyajit Ghosh, the No.20 seed, won earlier this year at the ITTF Challenge Series Chile Open in Santiago.