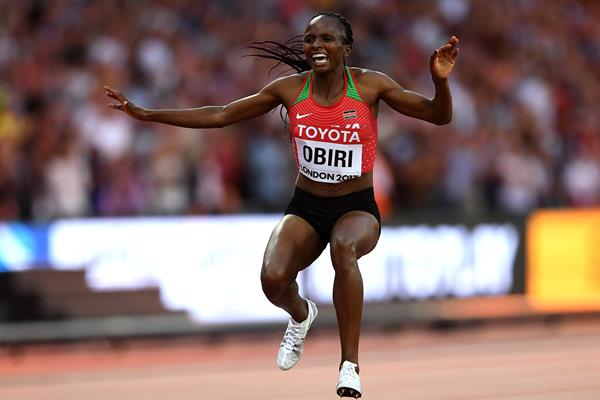 Kenya's Hellen Obiri produced a fine tactical display as she defeated defending champion Almaz Ayana to win the women's 5000m title at the World Championships in London.
Obiri, who won Silver last year in Rio, teamed up with compatriot Vivian Cheruiyot who claimed GOLD, to stop Ayana from winning the event. This time around however, she did the job alone as she emerged tops with a time of 14:34.86.
The Kenyan stayed with Ayana all through, deciding to take the kick in the last 400m, with Ayana lacking the pace to match her. Ayana, who is running her second 5000m race this year, finished with Silver in a Season's Best (SB) of 14:40.35, while Sifan Hassan came in 3rd to win Bronze in 14:42.73.
Having competed in the 10,000m earlier where she won GOLD, it looked like the race took the sting out of Ayana who seemed a bit tired and was not willing to push much harder in the 5000m.
Obiri was delighted with the win and glad she had to kick early ahead of Ayana: "I was telling myself to go. I could see Ayana was not going so I thought, why not? So I said, go. I am mentally strong so I knew I was capable.
"When I crossed the line I was extremely happy, and just wanted to celebrate. All my emotion came out. I wanted the 5000m gold a lot," Obiri added.
Ayana who was fatigued after the race said: "It was a difficult race. I am better at leading it to get the win rather than challenging in a final sprint. It was difficult to push Hellen (Obiri) through to the finish line
"Compared to Rio this is a bigger achievement. I've had many injuries this year so I am very happy with two medals.
"I have been injured for the whole season and haven't been able to get over it. The pain came back after the 10,000m. I did my best today but Hellen was too good at finishing. It was all I could today.
"But I won't give up going for 5000m and 10,000m. I won gold and bronze in Rio and now gold and silver, so this is a step up," Ayana added.