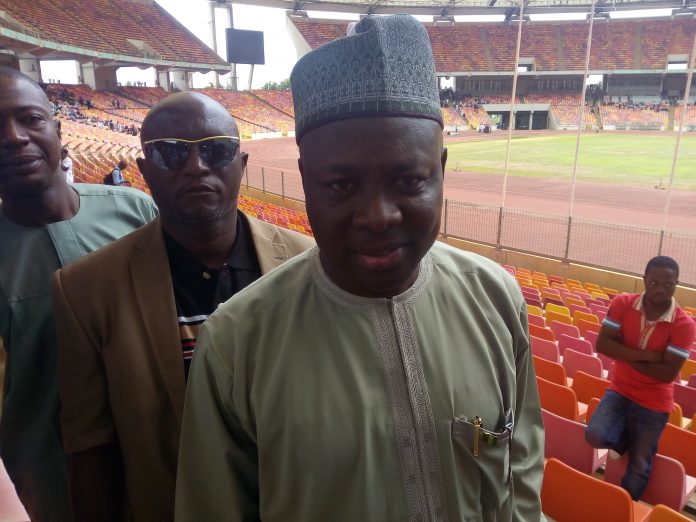 Two-time board member Ibrahim Shehu Gusau has emerged the new President of the Athletics Federation of Nigeria (AFN) following an election fraught with intrigue and controversies, held at the Main Bowl of the Abuja National Stadium on Tuesday.
Gusau returned to the AFN board for the third time after amassing a landslide victory in which he defeated former African Triple Jump Champion Rosa Collins by 48 votes to 2, to take up the reins of leadership of the federation.
The path had already been cleared for the former Vice President after he was voted as representative of the North-West Zone in elections held earlier in the day.
He will be supported by Olamide George who polled 43 votes to beat five-time Olympian Mary Onyali to the post of Vice President. The two-time Olympic medallist could only secure three votes at the end of the day.
George who is Chairman of the Ondo State House Committee on Sports defeated former Athletes' Representative on the board, Falilat Ogunkoya, and Professor Tunde Makanju to win the slot allocated to the South-West region.
The only other member making a return to the board is Sydney 2000 Olympic GOLD medallist Fidelis Gadzama who swept all votes from the North-West zone.
Former AFN Vice President Tunde Abdulkareem was not spared by the tornado that swept members of the previous administration away as he lost out in the zonal elections for the North-Central Zone.
He secured one vote, whilst his opponents Commander Ayodele Titus, and Amanzi Solomon were tied at three votes each. A bye election saw Amanzi win the slot ahead of Titus.
Gabriel Okon beat former AFN Technical Director Omatseye Nesiama by 4 votes to 2 to emerge representative of the South-South region on the new board.
A number of irregularities marred the election, with 10 of the 25 candidates seeking for election into the board being disqualified for various reasons ranging from no tax clearance, no age declaration, to no constituency.
Some of the affected candidates protested the decision of the electoral committee, which stalled the election. However, they were eventually cleared to vote, but some of them had already pulled out and decided not to stand for the elections.
In a bizarre twist, former African Triple Jump Champion Rosa Collins who was voted into the board on the platform of National Association of Women in Sport (NAWIS), was replaced with former board member Gloria Obajimi who did not stand for elections on the said day.
Also, Brown Ebewele who won the Technical and Coaches election, was replaced with Gad Onumaegbu who already stepped down from the contest on the day of election.
It still remains to be seen how this situation pans out, and which of the candidates will eventually retain their seats on the board.