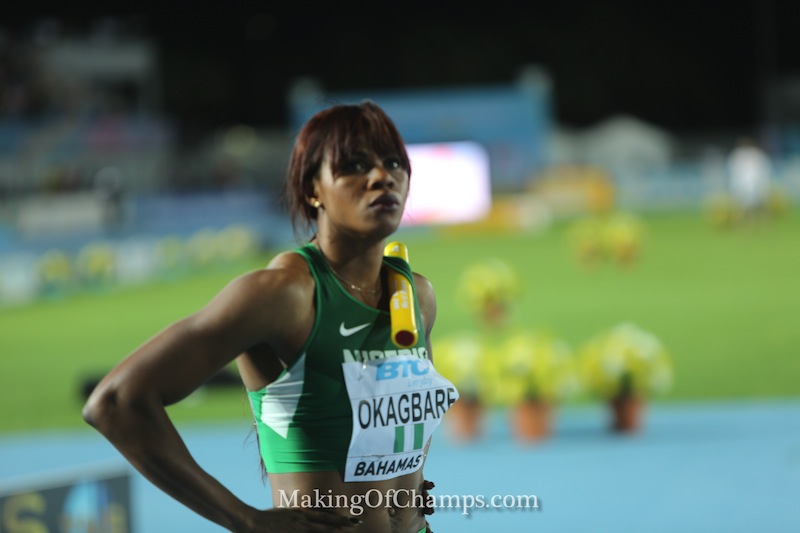 Blessing Okagbare will be leading Nigeria's charge in this year's World Relays taking place in Nassau, Bahamas this weekend as she makes her first competitive appearance on the track in 2017.
There have been questions whether Nigeria will present a team at the Championships, but the recent release of provisional entries by the IAAF shows that Nigeria will be competing in the women's 4×100, 4x200m and 4x400m.
Intriguingly, Nigeria does not have any team registered in any of the men's relays, with only the women events signed up for. Having presented teams that competed at the last World Relays in 2015 in both the men's 4x200m and 4x400m, it is surprising that they are not presenting any team in the men's category this time around.
Meanwhile, the women's 4x200m team that won GOLD in 2015 with a National Record (NR) of 1:30.52 will have an opportunity to defend their title this weekend, with Okagbare and Dominque Duncan the only two from that quartet returning.
Praise Idamadudu, Mercy Ntia-Obong and Patience Okon George are the local athletes drafted into the team, to be complimented by US based Jennifer Madu, bringing the tally of the 4x200m team to six.
For the 4x100m, Okagbare, Madu, Ntia-Obong, Duncan, Peace Uko, Stephanie Kalu were listed. While in the 4x400m: Folashade Abugan, Jennifer Adaeze Edobi, Margaret Bamgbose, Omolara Omotoso, Okon George and Ugonna Ndu are the six listed athletes.
The final eight countries in the 4x100m and 4x400m will gain an automatic qualification to the World Championships later this year, and Nigeria will be hoping they can secure this route to London.