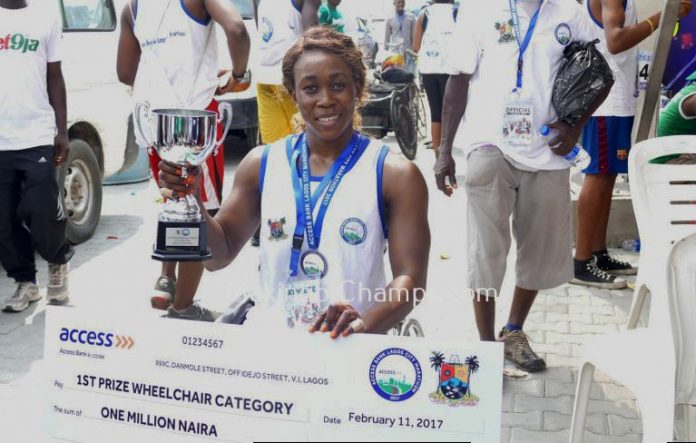 The 10km Wheelchair race at the 2017 Access
Bank
Lagos City Marathon held on Saturday, was a two-horse race between
Sefiu Adewale and Rio 2016 Paralympian, Hannah Babalola, but Adewale prevailed to win the men's race, while Babalola followed closely and finished tops in the women's event.
Unlike last year when there was no incentive in the Wheelchair race, a cash prize
of N1 million was at stake at the 2017 edition of the men and women's categories respectively, which saw an increase in the number
of athletes that competed in the event.
Adewale who is yet to represent Nigeria at the Paralympics, says his performance
in the 10km race is proof of his hard work and dedication.
He said: "I feel so excited even though
I was expecting this performance
because I have trained a lot for this competition
. I thank God for giving me the strength to finish the race. I'm happy that prize
monies were introduced this year, because there was nothing like that last year.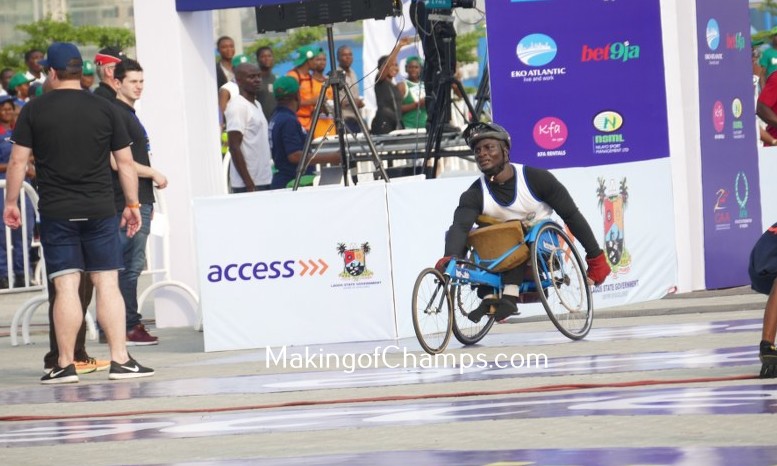 "They have encouraged us by doing this. They believed we could do it, and that is why they introduced this incentive. I finished 3rd in the men's category last year so this is an improvement
. I haven't competed in the Paralympics before, but I hope to do so very soon."
Meanwhile, Babalola, who finished overall 1st last year (male and female), and is the African Record holder in the T54 category of the 100m/200m, says she is fulfilled, having clinched N1 million prize
:
"I'm so excited and feel fulfilled. I believe I had an awesome race, so I'm proud of myself, Lagos State, and all the sponsors of the Access
Bank
Lagos City Marathon. I think they have done a great job. Last year was good, this year was a little better. I hope this competition
continues
", she said.
When asked if winning the star prize is enough consolation for not getting a medal at the Rio Paralympics, Babalola said: "Actually I did well
at the Paralympics. I am the first Nigerian to get to the final in the T54 category, so it is a record for me.
"The Paralympics is very competitive, but we do not have regular competitions here in Nigeria. Tokyo 2020 is going to be awesome if initiatives like these are continued. I believe I will pick a medal in Tokyo because my preparation starts right now."