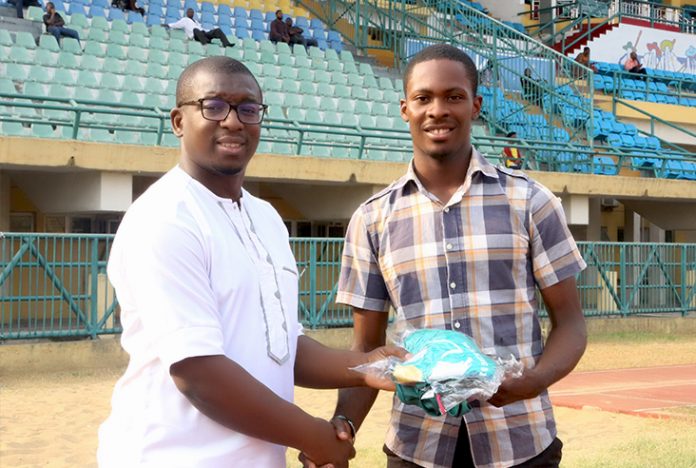 More athletes are joining the Making of Champions (MoC) Track Club, with 16-year old Bowofoluwa Egbeyemi becoming the latest budding athlete to be unveiled. This comes a month after five new athletes joined the club in an event held in Lagos.
However, Egbeyemi's good form and potential has not gone unnoticed, having impressed the management enough to bring him on board. He is MoC's 13th athlete and the first to be inducted in 2017.
Despite not competing in any of the 2015 Top Sprinter auditions having been tied down with school commitments, writing his A-Level exams then, Egbeyemi competed at the Lagos Finals where he shone, finishing 3rd in the 200m Junior category after clocking a time of 22.73s.
He then competed at the 2016 Top Sprinter competition where he enjoyed a good outing, finishing 3rd in the 200m, and 1st in the 100m, clocking 23.41s and 11.58s respectively. Egbeyemi currently trains with Olympic medallist and MoC Head Coach in Lagos, Deji Aliu, and is about to begin his second year as a Mechanical Engineering student at the University of Ibadan.
At the induction ceremony held in Lagos on January 20, MoC Founder/CEO, Mr. Bambo Akani stated that he is optimistic that Egbeyemi is going to be an asset to the club, and is MoC's first athlete in Ibadan.
He said: "Egbeyemi is someone we are very excited about. We first saw him at the 2015 Top Sprinter Lagos Finals and at the tender age of 15 he competed in the Junior category of the 200m and finished 3rd. Last year he went to the University of Ibadan and he's a straight A student.
He had eight distinctions in his secondary school leavers' exam. This guy is as clever in the classroom as he's fast on the track. I'm very pleased for him to be our first athlete in Ibadan. He will train with coach Deji when he's in Lagos, and will continue to train with his school coaches when he's at Ibadan."
Whilst receiving his kit from Mr. Akani, an excited Egbeyemi said: "I feel very happy to be joining MoC's Track Club. I've always wanted to be a part of MoC from the first time I heard about them, so this is a dream come true for me. I am one step closer to fulfilling my ambition of becoming a professional athlete. I want to thank the founder for this opportunity, and also everyone who is a part of this movement."
Egbeyemi hopes to become the first Engineer to win an Olympic or World Championships medal.