The exploits of Track and Field Athletes in Year 2016 will not be forgotten in a hurry! Being an Olympic year, Athletics fans expected the very best in terms of performance. The stage was set and it was time for the actors to deliver their lines.
Many of them did, and even surpassed expectations, setting Olympic and World Records in the course of their delivery. Here is Part 1 of our countdown of the World's Top 10 Athletes in 2016, featuring Nos. 10 to 6.
10. KENDRA HARRISON
This 24-year old is making her debut on our Top 10 rankings and is the only athlete on our list who doesn't have an Olympic title to her name, as she didn't get to compete at the Rio Games. That notwithstanding, Harrison took the 100m Hurdles by storm in 2016 and virtually dominated the event for the better part of the season.
She kicked off her outdoor campaign with an astonishing time of 12.36s, which is the fastest ever opener recorded by a hurdler. She was unstoppable in the IAAF Diamond League (DL) series, stunning her rivals at the Prefontaine Classic in Eugene where she raced to the second fastest time in history and an American Record of 12.24s. She also snatched victories in Birmingham, Lausanne and Paris.
She was favoured to win the US Olympic Trials held at the Hayward Field in July but she unexplainably fell short, placing a distant 6th, while the three Olympic slots went to Brianna Rollins, Nia Ali and Kristi Castlin. Incidentally, the trio went on to make a clean sweep of all medals at stake in the event in Rio.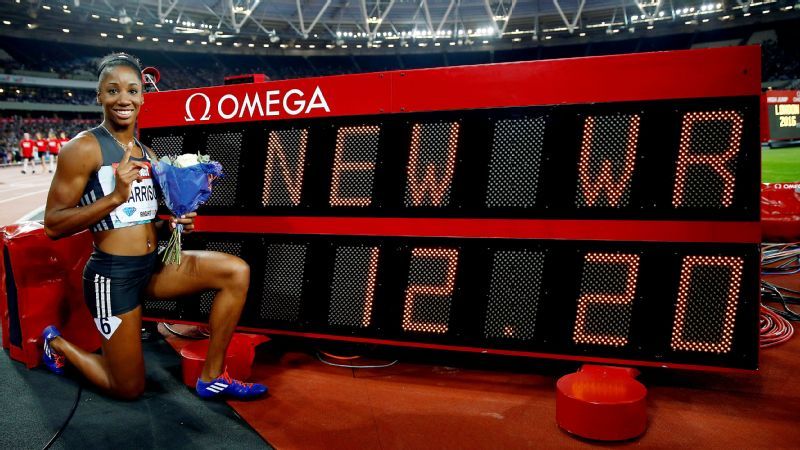 Not making the Olympic team was the only dent in Harrison's impeccable CV this season. She wasn't down for long though. Two weeks later at the London DL, the 2015 NCAA Champion (Indoor and Outdoor) made the biggest statement of all as she smashed Yordanka Donkova's 28-year old World Record (WR), setting a time of 12.20s to prove to the world that her past successes were no fluke.
She ended the season on a high by winning the Diamond Race Trophy after finishing tops at the Zurich DL.