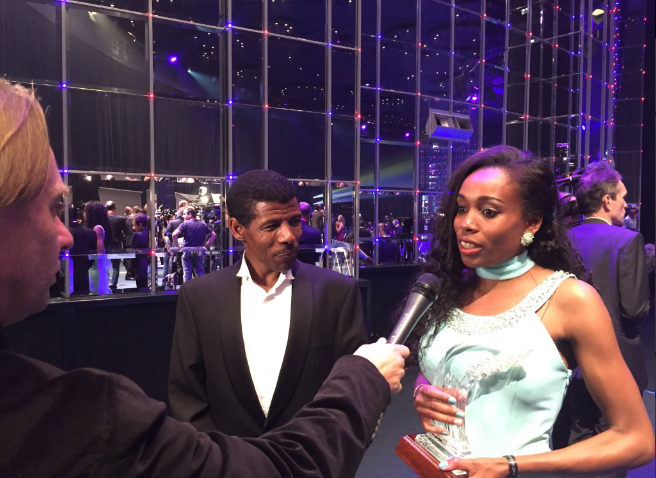 Almaz Ayana has won the Women's athlete of year award in a ceremony organised by the International Association of Athletics Federation (IAAF) in Monte Carlo.
Interestingly, she is toeing the path of her compatriot, Genzebe Dibaba who won the prestigious award in 2015 having smashed the 1500m World Record and also winning the World title.
For Ayana, she had to shake off stiff competition from double Olympic medallist, Elaine Thompson and also Hammer Olympic champion Anita Wlodarczyk .
Ayana had an outstanding 2016, shattering the World Record (WR) in the women's 10,000m with a time of 29:17.45. What better place to break the WR than the Olympics, shaving off as much as 14s from Junxia Wang's 29:31.78
The Ethiopian also came very close to breaking Tirunesh Dibaba's 5000m on two occasions, with the closest being at the Rome Diamond League where she narrowly missed it by just 1.44s. For better context, Dibaba's WR is 14:11.15 and Ayana ran a time of 14:12.59.
"I don't have words to say about the feeling right now, I'm so excited" Ayana said.
The other two women finalists would have been deserving winners as well going by their feats in 2016.
Thompson shook off a niggling injury earlier in the season to storm to a historic double at the Rio 2016 Olympics where she won both the 100m and 200m titles. In fact she has the fastest time over both distances this year, proving that she has all the attributes to succeed the legendary Shelly Ann Fraser Pryce.
The 24-year old ran a World Leading (WL) time of 10.70s to win the 100m title at the Jamaican Championships, and then clocking 21.78s another WL in the 200m in Rio in what was an epic contest with Dafne Schippers.
Another of the women's finalist, Wlodarczyk could have also been a worthy winner going by her heroics this year. Virtually competing against herself, Wlodarczyk followed up her impressive WL of 80.26m, going on to smash her own WR at the Olympics where she clinched GOLD with a new mark of 82.29m.
Ordinarily she would have relaxed with that feat, but she went on to further raise the bar weeks later at the Skolimowska Memorial in her homeland, throwing a new mark of 82.98m, just short of 83m.
In the other awards, Belgium's Nafissatou Thiam who clinched GOLD in the women's Heptathlon won the IAAF Rising Star Award, while former middle-distance champion Polyxeni Argeitaki, won the IAAF Women in Athletics Award