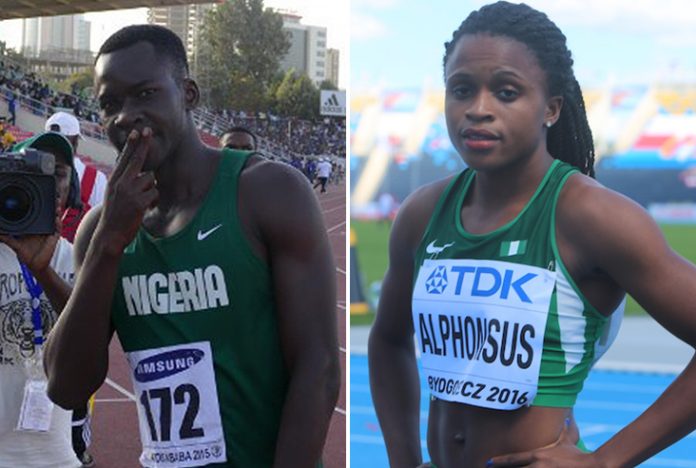 Year 2016 will end on a high note for the Nigerian duo of Aniekeme Alphonsus and Victor Peka who have been granted full Track Scholarships to the Oral Roberts University (ORU) in Tulsa, Oklahoma in the US.
The school signed seven new athletes into its fold, the two Nigerians inclusive, and will be hoping to see them compete for the Golden Eagles in the near future. They will join two other Nigerians, Omeiza Akerele and Mercy Abire at the institution.
Peka was admitted to study Physical and Health Education at ORU, and is overjoyed at the development. The sprinter who won two medals at the 2015 African Junior Championships in Ethiopia said: "I'm feeling very good right now and really grateful to God for this opportunity.
"I am looking forward to joining the likes of Akerele, Mercy and Aniekeme there because it's going to be fun having my compatriots with me. I also believe that the change in environment will definitely help me improve. I am working very hard ahead of 2017; I want the best for myself next year. Let's see what God will do."
Alphonsus is to study Human Kinetics at ORU and has already won several medals for Nigeria at Youth and Junior levels including three medals at the 2015 African Junior Championships, and four medals at the Commonwealth Youth Games in Samoa later that year.
She set her Personal Best (PB) of 11.34s at the 2016 Nigerian Youth and Junior Athletics Championships staged by the Athletics Federation of Nigeria (AFN) at the Yaba College of Technology, Lagos. She also represented the country at this year's IAAF World Junior Championships in Bydgoszcz, Poland.
According to oruathletics.com, the five other athletes who were signed by the school as announced by its Track and Field Head Coach, Joe Dial are: Emmanuel Mwewa (Lusaka, Zambia), Christian Patterson (Shawnee, Oklahoma) Alyssa Solberg (Tulsa, Oklahoma), Aliyah Trotter (Arlington, Texas) and Heather Ward (Owasso, Oklahoma).
In a similar move, Texas Tech University also announced that Nigerian 200m Champion Divine Oduduru will be joining the Red Raiders in the incoming season.