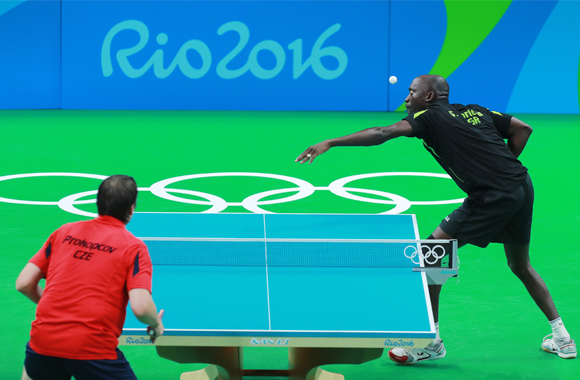 Veteran Segun Toriola's journey in the men's singles at the Rio 2016 Olympic Games, came to an end on Sunday after he succumbed to a 4-2 defeat to Japan's Koki Niwa in Round 2 of the Table Tennis event at the Riocentro Pavilion 3.
The 41-year old had won the first game 11-9. However, his Japanese rival raised the stakes by taking the next two games 11-5 and 11-7. The Nigerian then followed with an 11-4 victory, while Niwa out-served Toriola by 11-6 and 11-1 in the last two games, thus sealing the fate of Africa's most decorated Table Tennis player.
The Rio Games is a historic one for Toriola who is making his seventh and final Olympic appearance. The day before, Toriola had served off his Rio campaign in style, winning his opening match against the higher ranked Dimitrij Prokopcov in Round 1 of the competition, recording a 4-2 (8-11, 11-6, 11-8, 9-11, 11-8, 11-8) victory.
As it stands, Aruna Quadri is Nigeria's last man standing in the singles event, following the exit of Funke Oshonaike and Offiong Edem in the women's singles. The continent's best player, ranked 27th, will battle with Slovakia's Yang Wang at 6.30pm this evening.
Toriola will be consoled by the fact that he still has team event to compete in, even as he partners with Quadri and Bode Abiodun to represent the continent in the men's team event.