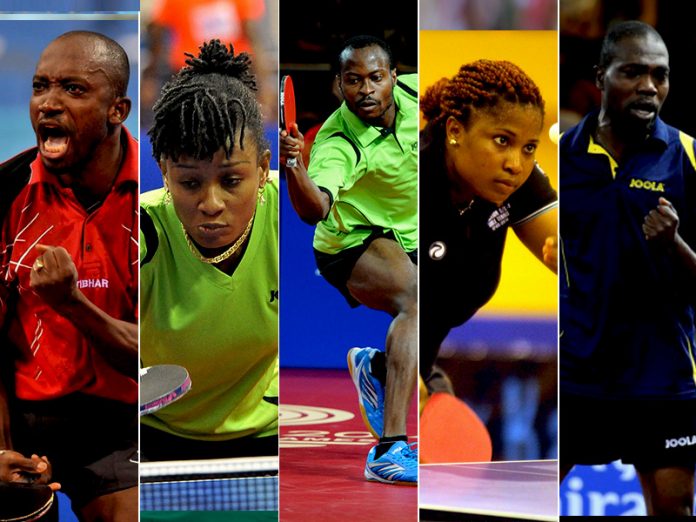 No African country has ever won a Table Tennis medal at the Olympics! However the Nigerian team is aspiring to change that when they begin their historic outing at Rio 2016 in Brazil, on Saturday, August 6th.
The team consists of three male players: Segun Toriola, Aruna Quadri and Bode Abiodun, and two female players, Funke Oshonaike and  Offiong Edem, and boasts of a vast wealth of experience, and are rated among some of the best in Africa.
Toriola will be the most famous name on the lips of fans when he steps out on the 3rd Pavilion of Riocentro Battle Ground, venue of the Table Tennis event. Not only is he the oldest player on the Nigerian team, aged 41, but this will be his 7th Olympics appearance, the most by an African athlete of any sport. Going to Rio, he's seeded 54th in the men's Singles rankings.
Quadri won't be left out of the spotlight as well. He is currently the most promising star in Africa and comes in as the continent's highest ranked player, seeded 27th in the men's Singles.
Team Nigeria's assistant captain, Oshonaike will also be making her 6th Olympic appearance in Rio, while it will be Edem's 3rd appearance, and both are seeded 62nd and 63rd respectively in women's Singles rankings.
Abiodun didn't qualify for the singles event, but will team up with Toriola and Quadri in the Doubles as Africa's only representatives.
THEIR OPPONENTS
Preliminary Stage (Women's Singles)
Date: Saturday, August 6 – (1pm Nigerian Time)
Edem Offiong vs. Fiji's Sally Yee.
Date: Saturday, August 6 – (1:45pm Nigerian Time)
Funke Oshonaike vs. Lebanon's Mariana Sahakian.
Round 1 (Men's Singles)
Date: Saturday, August 6 – (8:45pm Nigerian Time)
Channel: Supersport 2A
Segun Toriola vs. Czech's Dimitry Prokoptsov
Round 2 (Men's Singles).
Aruna Quadri gets a bye into this round as the highest ranked African player. His opponent is yet to be determined.
How did Team Nigeria qualify for the Rio Olympics?

SEGUN TORIOLA
Four-time African Table Tennis Singles Champion, Toriola would be the first and only African to have appeared seven times at the global showpiece.
The 41 year old is currently the most successful African Table Tennis player of all time, and has represented Nigeria at every level, from the All African Games to the Commonwealth Games and the Olympics.
Toriola made his Olympic debut at Barcelona 1992, where he teamed up with Oluyemi Bankole in the men's Doubles, recording a win in the group phase against Cuba. Atlanta 1996 and Sydney 2000 were not too impressive for him as he exited in the first round, in both the Singles and Doubles event.
Four years later in Athens, the four-time African Games Champion improved on his outing, this time bowing out in the third round of the Singles event before even raising the bar higher in Beijing, where he went as far as making the quarter-finals.
At age 37 in London 2012, Toriola didn't make it past the second round after losing to Sweden's Jorgen Persson.
The 2002 Commonwealth Singles Champion, booked his ticket to Rio on February 18, at the ITTF Africa Olympics qualification tournament in Khartoum, Sudan with a 4-0 (11-7, 12-10, 11-9, 11-6) victory over Togo's Mawussi Agbetoglo in the final qualification stage, thereby becoming the fourth 7-time Table Tennis Olympian in history.
Rio 2016 will be the last outing for the Nigerian veteran who will hope to make his outing in Rio count when he kicks off his campaign in Round 1 of men's singles on Saturday, August 6.
ARUNA QUADRI
Quadri will be making his second appearance at the Olympics. The first was at London 2012, where he bowed out in the 2nd Round of the Singles event, but not without gaining the respect and admiration of the crowd.
Since then, he has made giant leaps in his career with highlight of rising to No.30 in the world in 2014, following a quarter-final appearance in the Liebherr Men's World Cup. His outstanding feat won him the 2014 ITTF World Player of the year, and his rank the highest ever by an African Player.
This year, Quadri has had a string of impressive performances in his build up and qualification for Rio. He opened his season at the Hungarian Open where he lost in the quarter-finals to Frenchman Simon Gauzy by 2-4 (11-13, 6-11, 11-4, 6-11, 13-11, 6-11). He also teamed up with Bode Abiodun in the Doubles event, where they bowed out in the quarterfinal to China by 1-3.
A week later at the German Open, Quadri exited in Round of 32, losing 4-0 ( 11-8, 11-6, 11-4, 11-8) to Chinese Taipei's Chuang Chih-Yuan.
But his performances in the European cities were enough to get him prepared for the ITTF Africa Olympic qualifier in Khartoum, Sudan where he won the Singles final against fierce rival, Egypt's Omar Assar by 4-1 (8-11, 11-8, 11-7, 11-6, 11-9) before closing his season at the Japan Open losing to Chinese Taipei's Liao Cheng-Ting by 2-4 in the first round.
Quadri will begin his Olympic glory on Sunday August 7, in the second Round of the singles event. He has a bye to this round because he's the highest ranked player in Africa, and will have high expectations, hoping for a favourable draw that'll move him higher than what he achieved in London.
FUNKE OSHONAIKE
Team Nigeria's Assistant Captain, Oshonaike has been present in every Olympic Games since her debut in Atlanta 1996, where she was 3rd in the qualifying round. However at London 2012, she made it out of the preliminary stage into Round 1, where she lost to Italy's Wenling Tan Monfardini by 4-0.
Asides the Olympics, She has represented Nigeria at the Commonwealth Games, various World Championships and remains the most successful female table tennis athlete at the African Games, having claimed the women's singles title twice in 1999 and 2003, while she was runner-up in 1991 and 2011.
At the 2015 edition in Brazzaville, the trained cosmetologist marked her seventh appearance and made it a memorable one by clinching her sixth Olympic qualification, with a 3rd place finish in the women's Singles event.
Rio may likely signal the end of her Olympic journey, which will be highly savoured by the Physical and Health Education graduate from University of Lagos, especially after being chosen to be the flag bearer of Team Nigeria at the opening ceremony of the Games at the Maracana Stadium.
OFFIONG EDEM
Edem enjoys the enviable position of being a three-time Olympian, with appearances in Athens 2004, London 2012 and Rio 2016.
The 2011 African Games women's Singles Champion didn't have an easy ride qualifying for Rio, having failed to make the semifinals at the African Games in Brazzaville, losing to Egypt's Dina Meshref in the quarterfinal by 4-2 (11-9, 11-2, 8-11, 11-8, 10-12, 11-7).
Going to the ITTF African Olympic Qualification Tournament in Sudan as the highest ranked female athlete among the qualifiers, Edem almost had a scare in the quarterfinal going down by 2-0 to Algeria's Islem Laid before recovering to make it a 4-2 win.
The 29 year old won her semifinals easily before securing her Olympic spot in the final, with a 4-0 (11-6, 11-4, 11-4, 13-11) win over Tunisia's Safa Saidani.
At the Premier Lotto Nigeria Open, she exited in the quarterfinal to Portugal's Shao Jieni, before teaming up with Cecilia Akpan in women's Doubles where they also exited the competition in the Round of 16.
BODE ABIODUN
Abiodun will team up with Toriola and Quadri in the men's Doubles, after failing to secure Singles qualification at the African Games in Brazzaviile, and the ITTF African Olympic Qualification Tournament in Sudan.