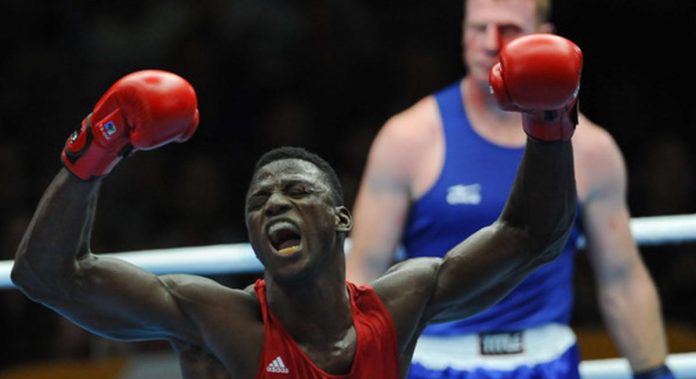 Nigeria used to be so good in Boxing that of all the 23 medals the country has won at the Olympics, six came from the pugilist sport.
In fact, the very first medal Nigeria got at the Olympics came from Boxing through Nojim Maiyegun who won Bronze during the 1964 Tokyo Games, competing in the men's Light Middleweight.
So with Nigeria's rich history in sport, it is baffling that only one Boxer, Efe Ajagba will be representing the country at the Rio 2016 Olympics, competing in the Super Heavy-weight division.
So who is Efe Ajagba?
According to sources, Ajagba formerly worked in a bakery! Well, that was before discovering his boxing abilities and taking to the sport that has now given him some recognition.
Interestingly, Ajagba once had a stint in football before finally delving into Boxing in 2011. For a moment, just picture him with his big frame in the heart of Super Eagles defence… yes you understand what I mean, "Un-passable"!
He was the only Nigerian boxer to qualify for the Olympics after he won GOLD in his Heavyweight category at the African Boxing Olympic Qualification Tournament held in Cameroon in March.
Ajagba represented Nigeria at the 2014 Commonwealth Games in Glasgow, winning the Bronze medal. He went on to improve on that at the 2015 African Games in Brazzaville, winning GOLD with his triumph over Keddy Angnes.
Nigeria's History in Boxing at the Olympics:
Isn't it interesting that the first three medals won by Nigeria at the Olympics all came from Boxing?
* Nojim Maiyegun has the honours of being Nigeria's first ever Olympic medallist, winning Bronze in the Men's Light Middleweight category at the Tokyo 1964 Games.
* Eight years later Isaac Ikhouria won Nigeria's second medal at the Olympics, winning another Bronze in Men's Light category at the 1972 Munich Games.
* Then another medal 12 years later through Peter Konyegwachie who won Silver in the men's Featherweight category at the 1984 Games in Los Angeles.
* Two more Silvers were won at the 1992 Barcelona Olympics through David Izonritei in the Men's Heavyweight and Richard Igbineghu in the Men's Super Heavyweight category.
* At the very next Olympics, Duncan Dokiwari continued Nigeria's impressive outing in Boxing, winning Bronze in the Men's Super Heavyweight
Time of Bout August 13th:
African Games Champion, Efe Ajagba vs. Trinidad and Tobago's Nigel Paul.
Live Channel: SuperSport (SS5A) and SuperSport (SS5N)
Do You Know:
*Nigeria took ten boxers to the African Boxing Olympic Qualification Tournament with only Ajagba qualifying?
*Also, the last time Nigeria won a medal in Boxing was in 1996. 20 years after, can Ajagba join the elite list of six boxers to have won a medal?