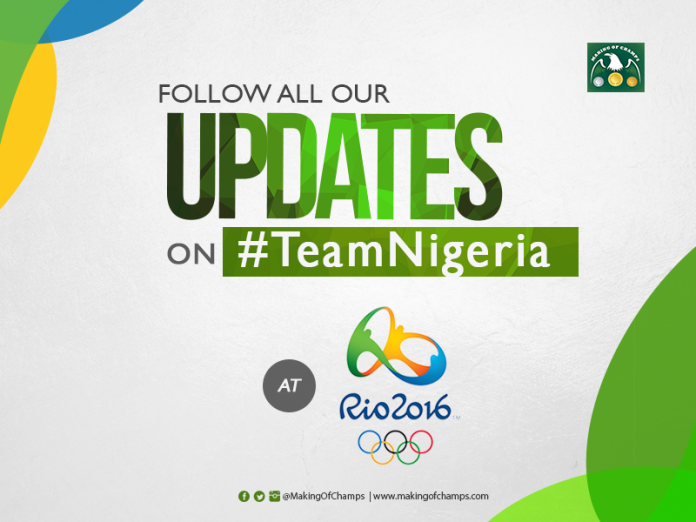 One gets to witness the Olympic Games once in every four-year cycle, making it one of the most eagerly anticipated sporting fiesta across the globe. From Australia down to Africa, nobody wants to miss any bit of it as the frenzy it generates can be felt in virtually every continent.
After a long wait from the magnificent London 2012 Olympics, Rio 2016 Games is just days away and the excitement levels have gone up to fever pitch.
So in the spirit of the Olympics and the buzz it generates, Making of Champions is delighted to announce that we would be moving away from the norm as we will 24/7 cover every sport Team Nigeria will be participating in at the Games.
No doubt Athletics is and will remain our forte, but we would also bring live updates on other sports like: Football, Basketball, Wrestling, Weightlifting, Boxing, Swimming and even Canoeing & Slalom.
So we won't just be talking about Blessing Okagbare coming through the bend in the 200m, we would also tell you how John Obi Mikel marshalled the midfield, how Chamberlain Oguchi made a 3-point shot and Ike Diogu's rebounds, not also forgetting Johnny Akinyemi's paddling in the waters.
Keep tabs with us across all our social media platforms as we bring you live updates and analysis on all these events we have mentioned and many more.
Also we would have preview and review stories for anything you missed or might want to know, in case you are interested in finding out about schedules of Team Nigeria.
We have a media team very poised for the Olympics to bring the best coverage of the Games, just as we have done with other Championships.
So why don't you keep a date with us during and after the Olympics, as we guarantee you the best of sports reporting, hoping that Team Nigeria will make us all proud.
Team Nigeria athletes and events to look out for this week:
-Friday ( August 5, 2016)
* Football : Dream Team Vs Japan (Thursday)
-Friday
* Opening Ceremony
-Saturday
* Table Tennis: Men & Women's Singles (Quadri Aruna, Segun Toriola, Funke Oshonaike & Offiong Edem)
* Boxing: Super Heavy-weight Super Heavy-Weight preliminaries (Efe Ajagba)
-Sunday
* Men's Canoeing (K1 Slalom) – Jonathan Akinyemi
* Swimming (Women's 100m Breaststroke) – Rachael Tonjor
* Women's Rowing (Single Sculls) – Chierika Ukogu
* Basketball: D'Tigers Vs Argentina
* Football: Dream Team Vs Sweden