Team USA lived up to their reputation as the powerhouse of the relays at junior level after securing victories in the men and women's 4x100m on Day 5 of the IAAF World U20 Championships in Poland, retaining the titles they won in Oregon two years ago.
The quartet of 200m Champion Michael Norman, Hakim Montgomery, Brandon Taylor and 100m GOLD medallist Noah Lyles did justice to the race, with Lyles coming from behind to run a monstrous anchor leg to finish ahead of Japan, setting a World U20 Lead of 38.93s.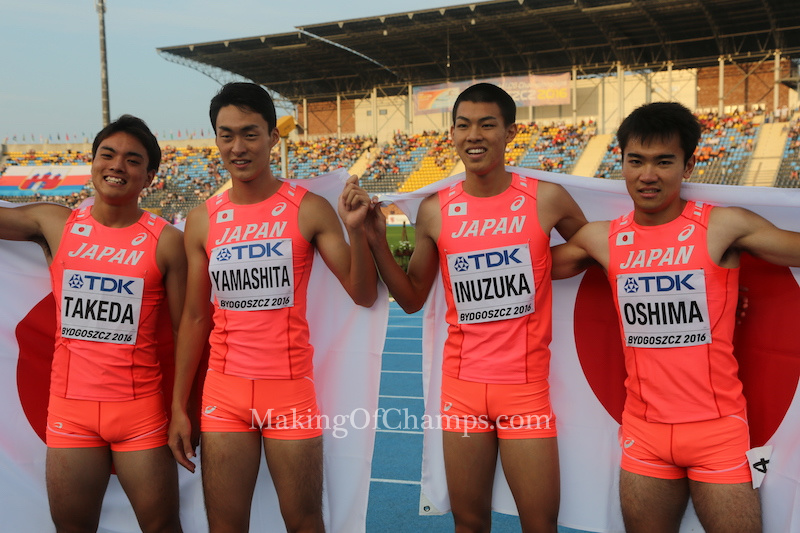 The Asians who were very impressive, almost challenged US for the title but eventually settled for Silver in an U-20 Asian Record 39.01s, replicating their feat from Oregon in 2014.  However, Germany pipped Jamaica to take the Bronze medal in an U-20 National Record (NR) of 39.13s, denying the Caribbeans of their 3rd place finish from two years ago.
The women's event didn't go any different for the USA as Tia Jones, Taylor Bennett, Kaylor Harris and Candace Hill formed a formidable force, borrowing a leaf from their male counterparts who set a WL to do same, clocking a time of 43.69s to hold off the challenge posed by France who won Silver in 44.05s. Germany added another Bronze medal to their kitty after storming to a Season's Best (SB) of 44.18s.