The French U-20 4x100m women's team stunned their American and Polish rivals to win Heat 2 of the preliminaries after racing to a World Leading (WL) time of 43.82s to finish at the top of the standings on Day 4 of the IAAF World U-20 Championships in Poland.
The US team anchored by 100m Champion Candace Hill was 2nd in a Season's Best (SB) of 44.31s, while the home team anchored by Silver medallist Ewa Swoboda finished 3rd in a National record (NR) of 44.55s.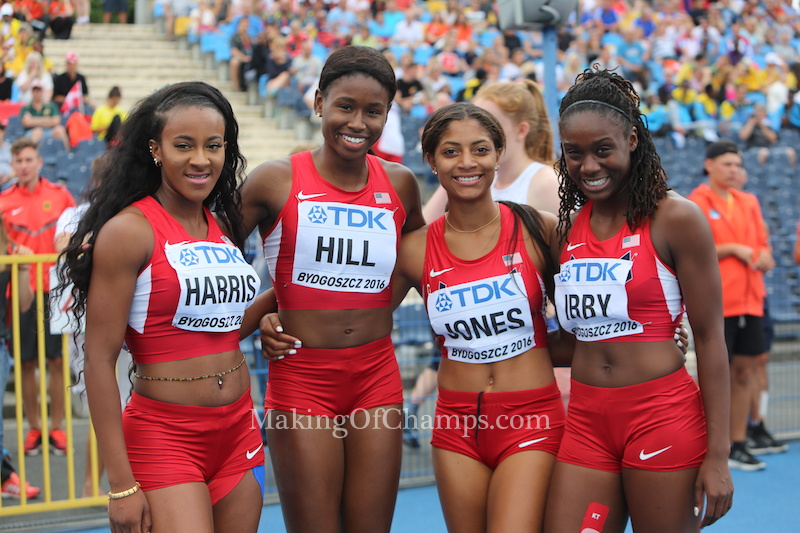 Spain also set an NR to win Heat 1 ahead of sprinting power house Jamaica, clocking a time of 45.10s. Ecuador was 2nd in an SB of 46.20s and Jamaica 3rd. However the Jamaican team got disqualified for a lane violation and will be missing in Saturday's final.
New Zealand was impressive in Heat 3, racing to an NR, but was subsequently disqualified for a lane violation also, and Germany awarded the 1st position (44.73s).  Other teams that qualified for the final are Ireland (45.09s, SB) and Australia (45.18s).
Japan clocked the fastest time overall to top the men's standings after winning Heat 3 in an SB of 39.53s. Other teams that qualified for the men's 4x100m final are Australia (39.67s), Germany (39.69s, SB), USA (39.70s, SB), Jamaica (39.80s), Great Britain (39.91s, SB) and Poland (39.98s, SB).
Nigeria only featured in the men's 4x100m relay, with the quartet of Raymond Ekevwo, Abiola Soyemi, Godwin Ashien and Emmanuel Arowolo finishing 5th in Heat 3 with an SB of 40.39s.