Former Nigerian athlete Ofonime Odiong scored many 'firsts' at the ongoing IAAF World U20 Championships in Poland. The 19-year old broke 23s for the first time in her career to win her first major silverware for adopted country Bahrain, after maintaining an unbeaten streak for the entire duration of the competition.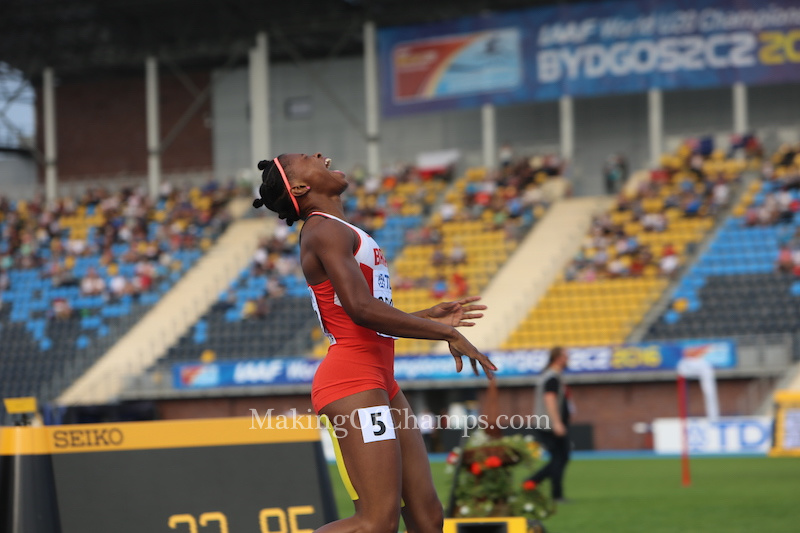 The former Nigerian Junior Champion in the 400m raced to the women's 200m title, setting a Bahraini U20 Record (NR) of 22.84s to win GOLD ahead of Colombia's Evelyn Rivera who set a Personal Best (PB) of 23.21s to take Silver, while Estelle Raffai of France claimed Bronze in 23.48s.
The 2013 African Youth Champion proved too strong for her rivals, pulling away from the curve to establish a wide gap between she and the rest of the field, glancing at the clock as she crossed the finishing line.
Odiong could hardly believe that she had broken 23s, screaming in excitement as she hit the ground, and taking some dance steps afterwards, before doing a victory lap with the Bahraini national flag.
The teenager would be reminiscing on her last official outing for Nigeria two years ago where she left Oregon without a medal, and would no doubt count herself lucky to be referred to as 'World Junior Champion', albeit in the colours of her adopted country.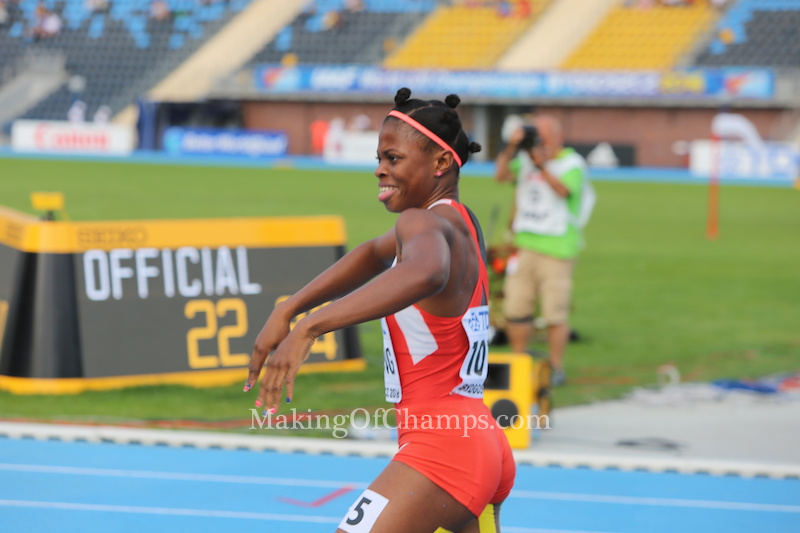 Incidentally, no Nigerian athlete either on junior or senior level, apart from Blessing Okagbare, has run this fast since 2012.
She would have been gearing for another GOLD medal in the 4x400m, but for the fact that the Bahraini team consisting of three Nigerian-born athletes was disqualified for an infringement.
The World Juniors is only Odiong's second outing in the red and white colours of Bahrain. Her first outing was at the Arabic Games in Algeria earlier this year. Odiong will set her sights on winning more trophies for Bahrain as she gets set to make her debut Olympics outing in Rio.