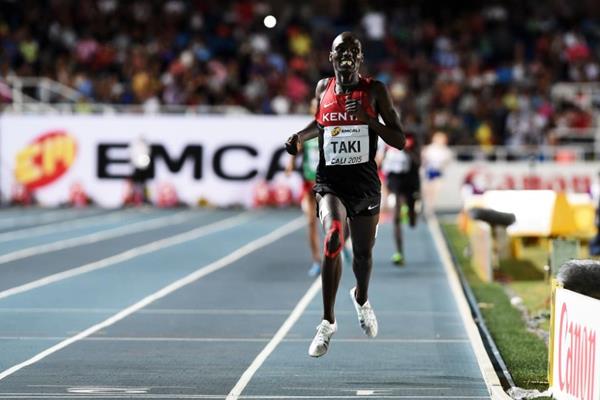 Kenya's Kumari Taki demonstrated the true meaning of never giving up till the end as he practically threw himself over the line to win the GOLD medal in the men's 1500m at the World Junior under-20 Championships in Bydgoszcz, Poland.
Taki who is the World Youth 1500m champion, won the title in Colombia by as much as 5s, but it was with the slightest of margin that he was able to get the Junior title on Thursday, in fact he won by 0.14s.
Having approached the last 150m, Taki was in the lead and looked very comfortable in the home straight, somehow in the last 20m the pressure from Ethiopia's Taresa Tolosa got to him and his leg seemed heavy as he tripped and fell, but luckily for him his hand crossed the line first clocking 3:48.63.
It was so close that Taresa who won Silver finished in 3:48.77 and could have even won the race if not that he was trying to avoid Taki who fell on the track. Kenya's Anthony Kiptoo got the Bronze running a time of 3:49.00.
Meanwhile in the women's 800m, it was an American 1-2 with Samantha Watson flawlessly executing a good race to win GOLD in 2:04.52. Her compatriot Aaliyah Miller got the Silver in 2:05.06 and Ethiopia's Tigist Ketema taking the Bronze in 2:05.13
Photo Credit: iaaf.org