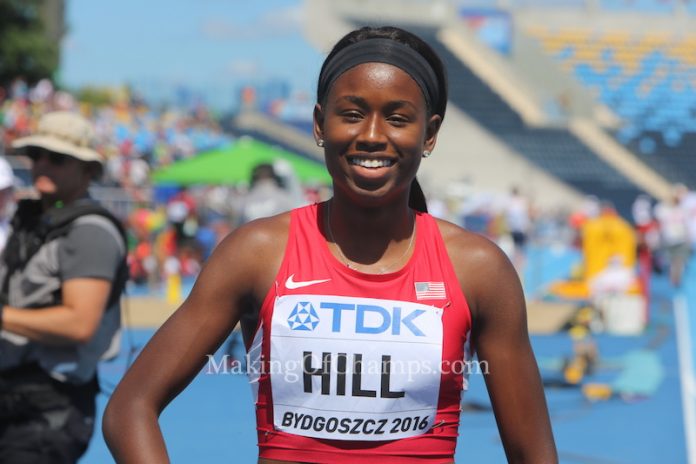 Candace Hill lived up to the big reputation she had coming into the World Juniors in Bydgoszcz, racing to a Championship Record (CR) of 11.07s to win women's 100m title in Poland, and making it double world titles just a year after winning GOLD at the World Youth Championships in Colombia.
Poland's Ewa Swoboda ran a National under-20 record to win Silver in 11.12s as Trinidad & Tobago's Khalifa St Fort placed 3rd in 11.1.8s.
The American had firm control of the race, although she was under immense pressure from Swoboda who was with her all the way, but Hill's longer strides saw her get to the finish line first.
In a space of two hours, Hill twice broke the Championship Record of Veronica Campbell Brown which has stood for 16 years, first racing to a CR of 11.12s in the semis before lowering it further in the final.
It goes to show the progress Hill has made since she won GOLD at last year's under-18 Championships in Cali, Colombia which made her the firm favourite coming to Poland, especially putting into consideration that she is the first teenager to go under 11s with a Personal Best of 10.98s.
Hill must have seen what happened on Day 2 of the preliminaries where Swoboda and Great Britain's Imani-Lara Lansiquot dominated the headlines with the top two fastest times, and the American came to the semis on Day 3 sounding notice that she was still the one to beat, and didn't disappoint in the final.
Lansiquot finished 4th in the final with a 11.37s, but she will be delighted with the progress she made at the Championships, which saw her run the fastest time in the preliminary stages. Meanwhile, Team Nigeria's Mercy Ntia-Obong finished 8th in the race clocking 11.79s.
There's now a new generation of talented females sprinters. Who knows the quartet of Hill, Swoboda, Lansiquot and St Fort could start dominating the senior scene even before 2020 Olympics.