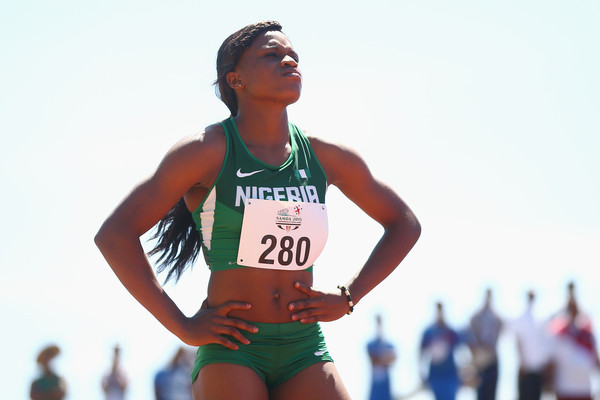 Here's the full schedule of ALL Team Nigeria Athletes competing on DAY TWO (July 20th) at the 2016 IAAF World U-20 Championships, Bydgoszcz Poland. You can follow Making of Champions on any of our social media platforms for LIVE TWEETS on Twitter and POSTS on Facebook throughout the day.
Men's 110m Hurdles Heat 5
9:23am – African Junior Champion, Bashiru Abdullahi vs. Australia's Nicholas Andrews and Colombia's Joshuan Berrios.
Women's 100m Heat 4
11:56am – Nigerian 200m Junior Champion, Mercy Ntia-Obong vs. World Junior 60m Record Holder, Ewa Swoboda of Poland and African Junior 100m Champion, Thamzin Thomas of South Africa.
Women's 100m Heat 5
12:03pm – Nigerian 100m Junior Champion, Alphonsus Aniekeme vs. Bahrain's Iman Isa Jassim.
Men's 110m Hurdles Semi-Final
5:10pm – Hopefully Bashiru Abdullahi makes it to this stage.
Picks of the Day from other Countries
Men's 110m Hurdles Heat 2
9:02am – South Africa's Mpho Tladi vs. Jamaica's De'Jour Russell.
Men's 400m Heat 3
10:56am – World Junior leader, Baboloki Thebe of Botswana vs. Ethiopia's Gamechu Alemu and Luis Charles of the Dominican Republic.
Men's 400m Heat 6
11:20am – Botswana's Karabo Sibanda vs. Kenya's Edwin Ngeeti and Jamal Walton of the Cayman Islands.
Women's 100m Heat 1.
11:35am – 2015 World Youth 100m Silver medallist, Khalifa St. Fort will be favourite for a win in this Heat as she goes against Great Britain's Hannah Brier and Tristan Evelyn of Barbados.
Women's 100m Heat 2
11:42am – World Junior Record Holder, Candace Hill of USA, is expected to take it smooth against Jamaica's Patrice Moody and Ukraine's Yana Kachur.
Men's 100m Semi-Final 1
6:20pm – Italian Junior Champion, Fillipo Tortu vs. Mario Burke of Barbados vs. USA'S Hakim Montgomery vs. Jamaica's Raheem Chambers.
Men's 100m Semi-Final 2
6:27pm – American Junior Champion, Noah Lyles vs. Great Britain's Oliver Bromby.
Men's 100m Semi-Final 3
6:34pm – Commonwealth Youth Champion, Tlotliso Leotlela of South Africa vs. Jamaica's Jhevaughn Matherson vs. Great Britain's Rechmial Miller vs. Paulo Oliviera of Brazil.
Women's 400m Semi-Final 2
7:03pm – World Junior leader, Junelle Bromfield vs. Kenya's Maureen Thomas and Bahamas's Shaquania Dorsett
Please Note: Only Afternoon Sessions can be watched LIVE on DStv (SuperSports6A) from 4:50pm.