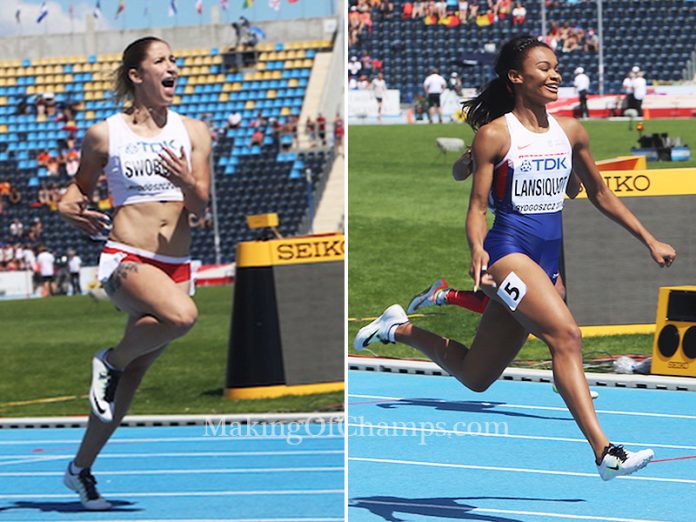 Home favourite Ewa Swoboda and British rising star Imani-Lara Lansiquot showed that you could be looking in the wrong direction for women's 100m title taking the shine on Day 2 of the ongoing World Junior under-20 Championships in Bydgoszcz, Poland.
Having been tipped as the ones to beat coming into the Championships following their feats at last year's World Youth Championships, many backed USA's Candace Hill Trinidad & Tobago's Khalifa St Fort to land the top two laurels respectively like they did in, Cali, Colombia. However the results of the 100m preliminaries proved otherwise. Hill and St Fort won their heats clocking 11.43s and 11.50s respectively, but they sure took notice of what happened in other heats.
Lansiquot who finished 4th at last month's British Olympic trials with a time of 11.25s, stormed through heat 3 with a Personal Best (PB) of 11.17s, giving notice that she will be a medal contender. In fact she was not in the reckoning for a top three finish, but she is now.
Heat 4 was even better, as Swoboda racing in front of her home crowd, ran an even faster time of 11.10s, the fastest time of the six heats. Unlike Lansiquot, Swoboda is more known and has been tipped as a contender, making the 100m final at the World Youth Championships. Although she has cut her teeth more in the Indoors, in fact, she holds the world junior record of 7.07s in the 60m.
With the semifinals coming up tomorrow, both Swoboda and Lansiquot will no doubt draw the attention when the races commence, and there is a possibility that either of them could race against St Fort or Hill, who still remain the favourites.
However, even the favourites will know that they will have to be at their best if they are to beat the emerging forces, especially Swoboda who will have the home crowd cheering her.