The 20th edition of the African Senior Athletics Championships kicked off on Wednesday, June 22, with hosts South Africa setting the pace after ending Day 1 of the competition with two GOLD medals courtesy of Stephen Mokoka (10000m) and Jaco Engelbrecht (Shot put).
Mokoka stunned his East African rivals as he powered home at the Kings Park in Durban, dismissing the threats from Kenya's Wilfred Kimitei (28:03.18) and Namakew Nkhasi (28:06.33) of Lesotho to cross the finishing line in 28:02.97, much to the delight of the home crowd who cheered him to victory.
Despite winning his event, the time was slower than his Season's Best (SB) of 27:48.84 clocked at the Eugene Diamond League last month. Ethiopia's Yimer Jemal Mekonnen was 4th in 28:08.92.
Engelbrecht continued the winning streak for South Africa after claiming GOLD in the men's Shot put final which he won with a throw of 20.00m.
Congo's Franck Dannique Elemba was 2nd in 19.89m, while Nigeria's Stephen Mozia finished 3rd with a mark of 19.84m. Another Nigerian, Ogheneakpobo placed 4th with 19.57m.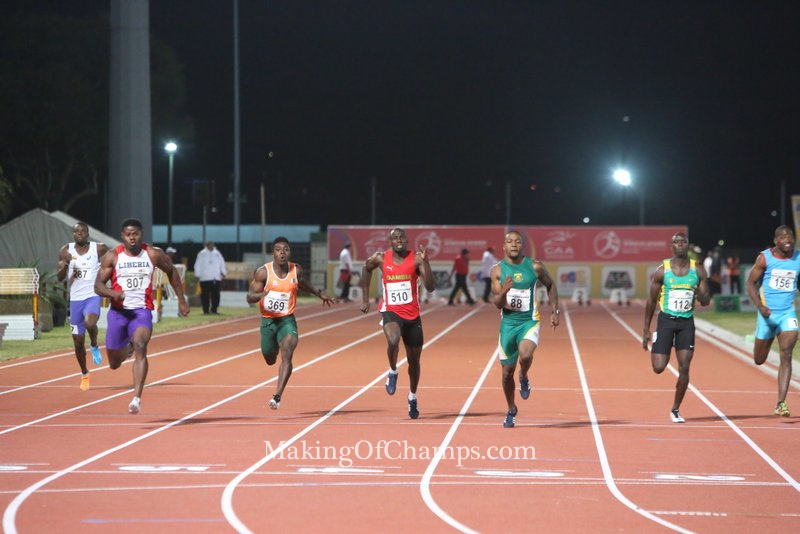 The final event to be decided on Day 1 was the women's Hammer throw, which was won by Senegal's Amy Sene with 68.35m. She was followed by Laetitia Bambara of Burkina Faso with a mark of 68.12m, while Sarah Saad of Tunisia claimed the Bronze medal with a distance of 62.53m.
The men and women's 100m heats and semis were held on Day 1 of the championships, with Ben Youseff Meite clocking 10.15s to win Heat 1 of the semis.
Lesotho's Mosito Lehata (10.20s) and Zambia's Gerald's Phiri (10.24s) were the top finishers in Heat 2, while Liberia's Emanuel Matadi (10.20s) raced to the finishing line ahead of tournament favourite Akani Simbine (10.25s).
In the women's race, African Games double champion Marie Josee Ta Lou raced to victory in Heat 1 of the semis in a time of 11.20s, with Ghana's Gemma Acheampong following in 11.60s.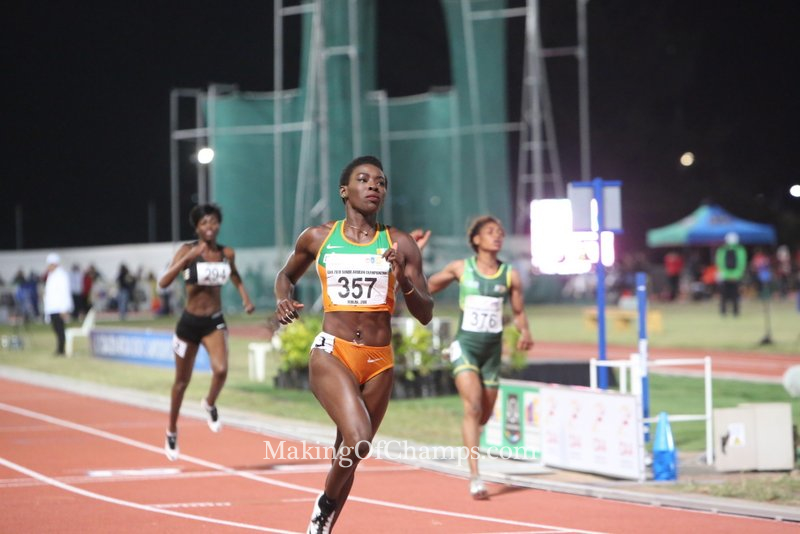 African Record holder Murielle Ahoure posted 11.08s to win Heat 2, while Swaziland Phumlile Ndzinisa followed in 11.45s. Nigeria's Agnes Osazuwa placed 5th in 11.54s.
The final semi was won by home girl Carina Horn who returned a time of 11.14s to finish ahead of Nigeria's Gloria Asumnu (11.51s).
Botswana's Isaac Makwala began his campaign for a third consecutive title after winning Heat 1 of the men's 400m in 46.14s. The former African Record holder basically jogged down the finishing line, and would have gone much faster if he wanted to. Compatriot Baboloki Thebe won Heat 2 in 46.00s, with Chidi Okezie coming 2nd in 46.30s.
Two Nigerian athletes Orukpe Erayokan and Tubotein Taylor competed in Heat 3 which was won by Pieter Conradie of South Africa in 46.45s. Alagie Salim Drammeh of Gambia was 2nd, while Emmanuel Dasor (46.71s) finished 3rd.
Taylor (46.93s) and Erayokan (48.10s) were 4th and 5th respectively. Shaun De Jager (48.06s) and Botswana's Karabo Sibanda 45.99s won heats 4 and 5 respectively.
African Games Champion Kabange Mupopo was the woman to beat in Heat 1 of the 400m where she clocked 52.11s. Patience Okon-George dominated Heat 2 where she ran the fastest time overall of 51.84m. Compatriot Regina George (52.67s) fought off exhaustion to finish in 2nd place.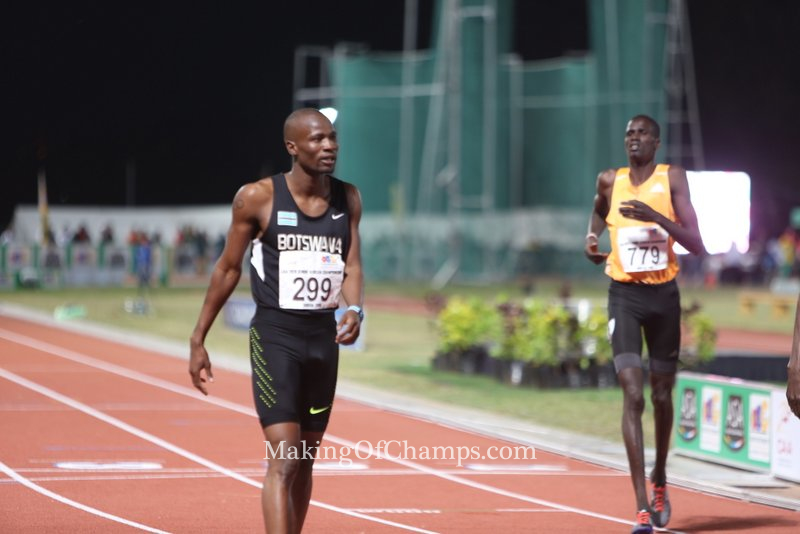 Kenya's Margaret Nyairera raced to victory in Heat 3 with a time of 52.27s, finishing ahead of Christine Botlogetswe (53.16s) and Yinka Ajayi (53.32s) who is making her debut outing as on the senior team. The final heat was won by Botswana's Lydia Jele.
African Games Champion and 2015 Diamond Race winner Nijel Amos was in action in the men's 800m where he posted a time of 1:50.19 to win Heat 1. Heats 2, 3 and 4 were taken by Benedicto Makumba (2:02.22), Boaz Kiprugut (1:48.63) and Jacob Rozani (1:49.91).
There were two heats in the 100m Hurdles: South Africa's Claudia Heunis outpaced the rest of the field to finish her race in 13.58s and win Heat 1, with Gnima Faye (13.66s) coming 2nd.
Yasmine Marthe Koala won Heat 2 in 13.43s, and was followed by Maryke Brits (13.52s) and Rahamatou Drame (13.60s). 2007 African Games Champion Toyin Augustus (14.19s) who is making a return to international duty, finished 5th with a time of 14.19s.