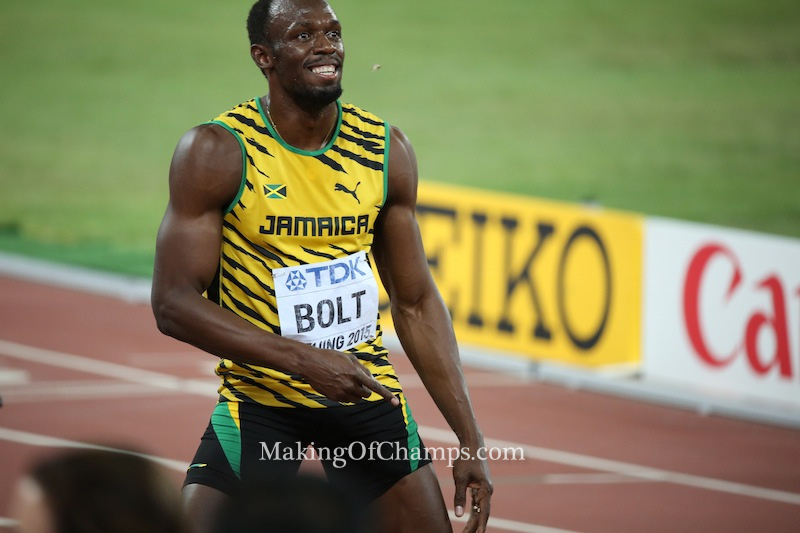 World Record (WR) holder Usain Bolt competed in his first race of the season, winning the men's 100m with a time of 10.05s at the Cayman Islands Invitational.
It is the first meet Bolt is competing in this year as he finetunes preparations in his bid to claim a triple successive 100m GOLD titles at the Olympic Games when he participates in Rio in August. Bolt took it coolly, coming through to win, with Dentarus Locke finishing 2nd in 10.12s as Kemar Bailey-Cole was 3rd in 10.18s.
With Justin Gatlin running 10.02s to win in Japan, and following it up a week later with another win and an even better time of 9.94s in Shanghai, expectations of a duel with Bolt have started cropping up.
Last year at the World Championships, Bolt came through when it mattered most. However he will be wary of Gatlin who must have learned from his mistake when he floundered before the finish line in Beijing.
It might not be a two-horse race in Rio as many expect though. It could be three challengers for the top prize considering how good Yohan Blake has been since his comeback to full fitness.
Also this weekend, Blake clocked 10.03s to win the 100m at the Adidas Boost Athletics Meeting in Herzogenaurach. Warren Weir finished 2nd in 10.20s with Keston Bledman 3rd in 10.27s.
Listen to our thoughts on this in this Global Athletics Weekly Podcast episode:
https://www.youtube.com/watch?v=h1qxeuw4X_E
Last month, Blake ran a then World Leading (WL) time of 9.95s to win at the MVP Track and Field meet in Jamaica, his first sub 10s in over two years.
With the trio of Bolt, Blake and Gatlin taking the podium places at the London 2012 Olympics, who knows if it could still finish in that order this time around or perhaps swap places as the case may be.
Meanwhile in the women's 200m at the Cayman Invitational, Nigeria's Ngozi Onwumere finished 5th with a time of 23.66s. Jenna Prandini won the race in 22.63s, while Audra Segree finished 2nd in 23.08s and Alexis Love 3rd in 23.26s.
Regina George finished 4th in the women's 400m with a time of 52.35s with Phyllis Francis winning the race in 50.71s. Libania Grenot came in 2nd in 52.09s as Sada Williams finished 3rd  in 52.18s.
In the women's 400m Hurdles, Ajoke Odumosu finished 6th running a time of 1:00.40 in a race won by Ristananna Tracey in 55.97s. Turquiose Thompson placed 2nd in 56.35s, with Danielle Dowie 3rd in 56.91s.